The regional food of Jeju Island, which is located to the southwest of the Korean peninsula, is quite distinct compared to food from mainland Korea. Its established specialties are the result of time-honored culinary traditions, and the food is characterized by the spare use of seasonings to highlight the natural flavors of each dish's ingredients. This feature makes the regional food of Jeju highly popular among tourists.

Due to its environment, Jeju rarely produces rice. Instead, beans and other grains like barley are produced. Seafood is bountiful, and the livestock industry is also well developed. Locally, there are many dishes centered on pork, chicken, and fish. Seaweed is also a popular ingredient, which is usually seasoned with soy bean paste. Read on to find out how these ingredients have Jeju known for bringing out the best in natural flavors.
Gogi-guksu, Savory Pork Noodle Soup

Jeju's gogi-guksu (meat noodles) is a major noodle dish of Jeju Island. This popular dish is prepared on festive days in villages in the Seogwipo region. The broth used for the noodle soup is made by boiling black pig bones and meat for a long time. The noodles are served in the broth along with some slices of pork meat. This noodle dish originated from the practice of disposing bones and left-over meat from a slaughtered pig by boiling them in water for a long time, the broth of which was eaten with noodles. Recently, some restaurants make the broth using the head of the pig as well. There are restaurants specializing in this dish around Dongmun Market and Samseonghyeol, and the dish is relatively cheap, ranging between 6,000 and 7,000 won.

Jeonbok-dolsotbap, Abalone Hot Stone Pot Rice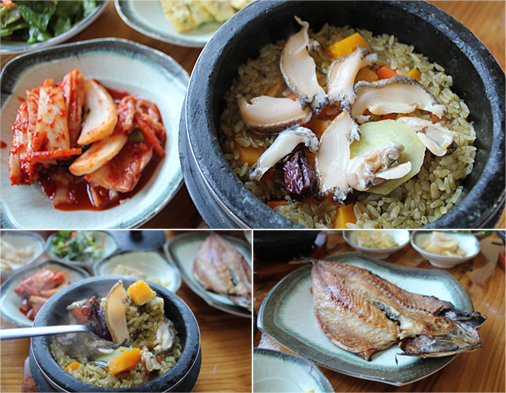 Jeju Island utilizes a variety of seafood caught it its clean coastal waters. Around Seongsanpo and Seopjikoji, there are many restaurants specializing in abalone dishes. Jeonbok dolsot-bap (abalone hot stone pot rice) is rice topped with abalone and vegetables served in a sizzling hot stone pot. First, rice is fried with abalone innards inside the hot stone pot. When it is done, it is topped with thinly sliced abalone, sweet pumpkin, and jujube. To eat this dish, first scoop the rice out of the hot pot into a separate bowl. Then, pour hot water into the hot stone pot and cover it. By the time you finish your abalone and rice, the rice stuck on the bottom of the hot pot will turn into nurungji (scorched rice). The price for this dish is around 15,000 won per person.

Mom-guk, Nutritious Gulfweed Soup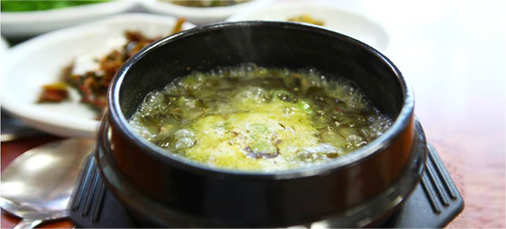 There is a traditional dish called mom-guk in Jeju. Mom is Jeju dialect for gulfweed, which is rich in fat, calcium, and vitamins and grows in between rocks in the sea. The tender leaves are picked and used in local dishes. On Jeju Island, mom-guk is a dish frequently eaten for private occasions such as celebrations and condolences. On such occasions, it is customary for a host to slaughter a pig. The bones and intestines are used to make the broth, to which gulfweed is added and boiled. This soup is highly nutritious and can be had with finely chopped kimchi, red pepper flakes, or ground pepper. The price of the soup ranges between 5,000 and 7,000 won.

Heukdwaeji, Jeju Black Pig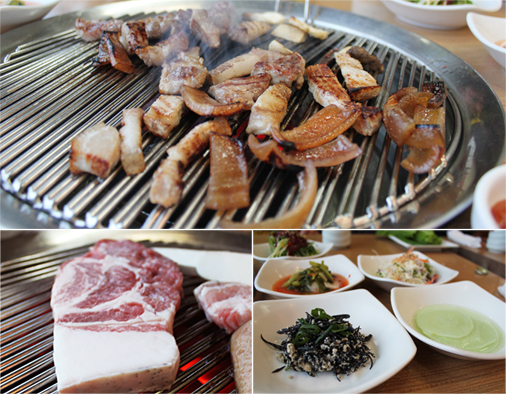 Heukdwaeji is a species of pig traditionally found on Jeju Island. Pigs found in other regions are related to a smaller species raised in the northern regions of China during the Goguryeo Kingdom. This variety of pig was spread to Jeju during the same period and would eventually become a domestic breed of the island. The black pig is covered with shiny, black hair all over the body. The face is small and the mouth long. The meat of black pig is considered more tender than other pork. The skin is rich in protein and has a rich taste. Black pig pork can be had in specialty restaurants in Jeju and usually costs around 15,000 won for a one-person serving.

Galchi-jorim, Hot and Spicy Braised Cutlassfish

Galchi-jorim, or braised cutlassfish, is available in restaurants in the Seogwipo area of Jeju. It is made with fresh cutlassfish. In the past the dish was made with radish and soy sauce, but now it is seasoned with soy sauce, red pepper flakes, and gochujang sauce, so the dish is hot and spicy and red in color. The cutlassfish is prepared by being gutted and then cut into pieces that are 7 to 8 centimeters long. Rather thick radish slices are placed in the bottom of the pot. The cutlassfish slices are placed on top of the radishes and when the radish slices are cooked, minced garlic and ginger are added. The dish is braised for some time and the heat is turned off when the liquid begins to thin. The price varies by serving size but usually costs between 38,000 won and 50,000 won.

Seongge Miyeok-guk, Nutritious Sea Urchin and Seaweed Soup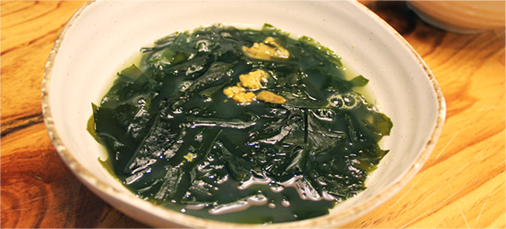 To make seongge miyeok-guk (sea urchin seaweed soup), seaweed is soaked in water so it expands. After rinsing the soaked seaweed, it is fried in sesame oil and then boiled in water. After the seaweed is boiled for a long time, sea urchin is added along with garlic, ground pepper, soy sauce, salt, and sesame seeds. The soup is then boiled some more. Sea urchin and seaweed soup is rich in protein, vitamin, and iron but low in calories. The soup costs between 8,000 won and 10,000 won per person.

Haemul-jeongol, Fresh Seafood Hot Pot

Available throughout Jeju, haemul-jeongol (seafood hot pot) is a delicious seafood hot pot with an invigorating and flavorful broth. To make the dish, a variety of seafood and vegetables are placed in a hot pot with the broth, and the dish is boiled on the spot. The various ingredients combine into a delightful mix of flavors. In some coastal regions of Jeju, the dish can contain abalone, octopus, sea cucumber, and sea squirt freshly caught by local female free divers.

Omaegi-tteok, Sweet Rice Cakes

A local rice cake of Jeju called omaegi-tteok is made from black glutinous millet. The rice cake is usually made and consumed between May and July. Millet has long been an important crop in Jeju. It is a great source of protein and is easily digestible. To make the rice cake, millet is washed thoroughly and soaked in water for five to six hours. Then, the millet is ground into powder with some salt. The powder is mixed with water and then cooked in boiling water. The dough is then shaped like a donut five centimeters long and cooked again in boiling water. After it is cooked, the dough is rinsed in cold water and drained. Then, it is covered with bean powder and red azuki beans. Omaegi-tteok is best when eaten hot. It can be purchased in traditional markets or rice cake shops throughout Jeju. The price varies by shop, but a pack of six usually costs around 3,000 won.