Walking tours are increasing in popularity all over the world. Not only are they beneficial for health, they are also environment-friendly and less costly. In Korea, the interest in walking tours originated in Jeju. The entire island of Jeju is great for sightseeing and is home to many walking trails. As of 2013, there are 21 trails available on the Jeju Olle Trail, a series of trails mostly around the perimeter of the island. Each year the Jeju Olle Walking Festival is organized around a few sections of the trail, usually combining routes through mountain paths (oreums), along the sea, across fields and more. Each route is unique, with some having a great view of the sea, farmland, or even a view of a valley. Even if this is the first time on the Jeju Olle Trail, there is no need to worry about getting lost as you will be guided by blue and red ribbons that mark the trail. So, begin your walking tour on the Jeju Olle, a place to feel at ease among nature.
Route 14: Jeoji Hallim Olle (19.3 kilometers)

Depart from Jeoji Community Center (0km) → Sonang Forest Path (2.4km) → Osirokheon Field Path (4.2.km) → Gulleongjin Forest Path (5.3km) → Mumyeongcheon Stream Path (7.2km) → Wollyeong cactus field (10.3km) → Haenyeokon bean field (12km) → Ongpopogu Port (16.9km) → Biyangdo Island Hallimhang Harbor Ferry Dock (19.3km)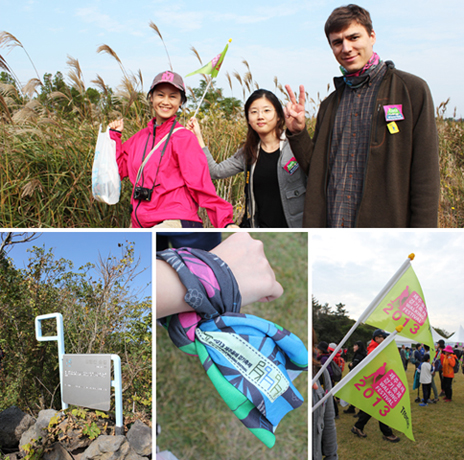 Held from Thursday, October 31, 2013 to Saturday, November 2, 2013, the 2013 Jeju Olle Walking Festival is an event for all ages. In 2013, the trails ran along the strikingly beautiful coastal, agrarian and wooded landscape of Jeju Island. Olle is a local word meaning "narrow pathway" and, more generally, refers to the narrow path between the street and one's doorstep.
The festival is held every fall, and over the course of the three day festival, a Jeju Olle course is completed each day. The 2013 festival treated participants to a walk with views of the sea and the peaceful ambiance of Jungsangan Village through Routes 14, 15, and 16.
The walk starts at Route 14 after the opening ceremony on October 31, passing through dense forests, stone paths, cactus fields, and a fine sandy beach. The paths by the fields, a common landscape on Jeju Island, are connected with thick groves like the one in Gotjawal, which will eventually lead to the sea. The route is about 19.3 kilometers long and wonderful views of Biyangdo Island are visible throughout the entire walk by the sea.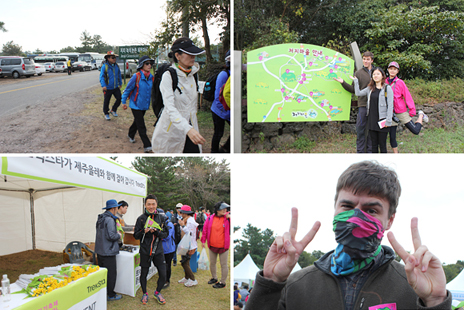 The opening ceremony was held on October 31 in Jeoji Village. The weather was perfect as participants hurried their way to the venue for the opening ceremony. The opening ceremony began at 9 a.m. with a performance from a children's choir and a group performance of the Olle song and Olle dance. Free coffee is served throughout the venue, and free gifts like bandanas, pins, and flags are handed out to participants. Participants who pre-registered were given special Olle Trail souvenirs.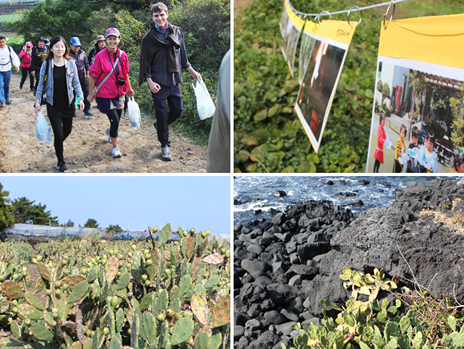 After walking through the forest path, you will step onto a flat path flanked by cactus fields. Cacti are found in rather large fields and some grow in between rocks by the sea. The cacti found in Wollyeong-ri were carried by ocean currents from tropical regions to Jeju. Yellow cactus flowers are in full bloom from June to July, and in the fall, visitors will find cactus fruits forming.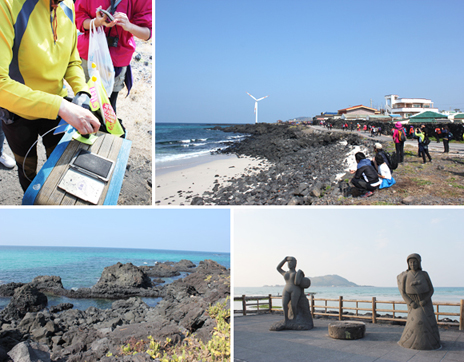 As you finish up the peaceful forest and field trail, the lively blue sea begins to unfold before you. The walking seems to get easier as you relax your mind amidst the beauty of nature. Route 14 is a beautiful coastline path extending to Geumneung Beach and Hyeopjae Beach, so it is highly recommended to Olle visitors. Continue walking alongside the view of Biyangdo Island until you reach Hyeopjae Beach, where you can plant your feet on the impressive sandy beach and in the emerald blue sea.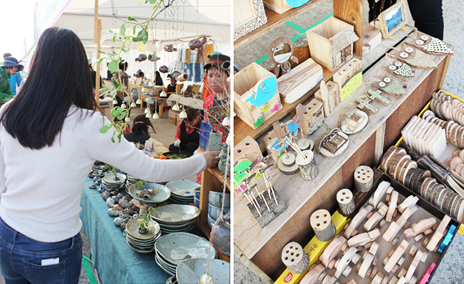 The flea market at Ongpo Port is a great place to purchase works handmade by artists residing in Jeju. You will come across a variety of artwork, including paintings, photos, ceramics, naturally-dyed scarves, leather goods, as well as food prepared by village locals.
☞ Getting There

At the Jeju Intercity Bus Terminal, take bus 900 (Nohyeong-Jungsangan) and get off at Jeoji-ri Office Bus Stop. Walk about 30 meters until you reach Jeoji-ri Community Center, where Route 14 begins. The bus fare is 3,000 won and it takes approximately 1.5 hours. Buses depart at 06:40, 07:40, 09:30, 15:30, 17:30, and 18:50. From Hallimhang Port, walk about 100 meters on the major road and take Bus 700 in front of Hallim Cathedral. (Bus fare 2,500 won / one hour / buses every 20 minutes)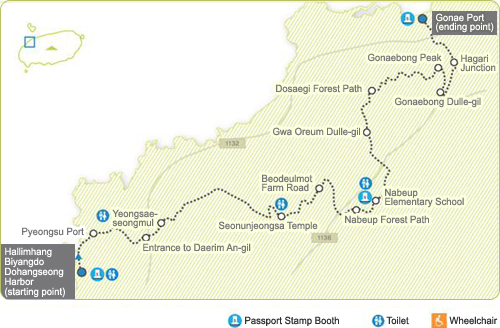 Route 15 of the Jeju Olle Trail begins at the sea in Hallim, and passes through villages, farmland, oreums (small inactive volcanoes), and back to the sea in Gonae. Splendid scenery unfolds at the Hallimhang Harbor, which is home to wooden statues carved into the shape of seagulls while real flocks of seagulls linger around the posts, creating an oddly pleasant scene. The trail fades away from the waters as soon as you pass Hansu-ri, where the Maeul Olle (village path) begins. A quiet village appears, followed by evergreen fields with small ponds, two oreums and a hidden temperate forest.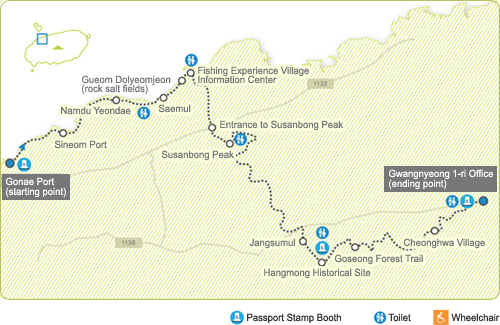 Starting from a small port in Gonae, the trail follows the coastline down to Gueom. Parts of the coastal trail are narrow footpaths and some are trails leading directly to the sea while others follow the coast line. In Gueom-ri you will see salt pans where sun-dried salt is produced from seawater drying on flat stones. The salt is flat and coarse and it is quite popular for its taste and color. As soon as you step into the village, a view of Hallasan National Park opens before you.
☞ Related Site
Jeju Olle
More Info

☞ Jeju Olle Walking Festival Homepage (Korean, English, Japanese, Chinese)
☞ Jeju Olle Homepage (Korean, English, Japanese, Chinese)
☞ 1330 Korea Travel Hotline: +82-2-1330 (Korean, English, Japanese, Chinese)
☞ Jeju Special Self-Governing Province Tourism Information Homepage (Korean, English, Japanese, Chinese)
☞ Goodstay Homepage (Korean, English, Japanese, simplified Chinese, traditional Chinese)