BB Cream: a Balanced Essential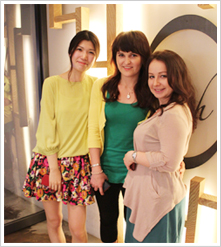 BB cream (비비크림) is currently an essential cosmetics item among Hollywood stars and Korean celebrities, and is fast becoming a must-have for women everywhere. Once available only at dermatologists or skin care centers, BB creams are now widely available in cosmetics stores. They include sunblock and function like foundation, and are upgraded every year. "BB" means blemish balm. Originally, BB creams were used to soothe and protect the skin after skin scaling or peeling treatments. The cream is currently used as an alternative to a makeup base or foundation, as it helps create tones without irritating the skin. It is a popular cosmetics item for female office workers.

BB cream is lighter and more moisturizing than liquid or cream foundation. It helps relieve skin irritation, so it is good for people with acne or sensitive skin. Its appearance is darker than most foundations, but it is quickly absorbed in the skin to create a natural-looking skin tone. BB cream also effectively helps to repair damaged skin. The plant-based ingredients contained in BB creams do not irritate the skin, help to both exfoliate and rejuvenate skin cells.

The BB cream craze that has taken the cosmetics industry by storm for its effective skin-smoothing abilities is expected to be followed by a CC cream craze in 2013. CC cream — an abbreviation for color correction — helps create an even skin tone. It applies lightly and smoothly with a silky texture and offers a natural glow to the skin. It is the perfect for creating a clear skin tone.
Tips for Properly Applying BB Cream
BB cream, an essential beauty product for many women, was initially used for skin regeneration and protection. More recently, it has become a must-have cosmetic item, for its superior ability to conceal skin blemishes and correct skin tone, much like a makeup base.
Even BB creams with enhanced concealer, sunscreen, and makeup features can't have it all. The downside to BB cream is that it doesn't come in many shades, although in most cases, the cream will adjust naturally to one's skin tone. BB cream may not function as effectively on particularly bright or darker skin tones because of the color contrast it may create between the face and neck line. Another disadvantage of BB cream is that it wears off after a few hours, and smudges easily with oil and sweat. Moreover, BB creams tend to provide less coverage than other makeup products and can give a ghostly appearance when it is not precisely applied.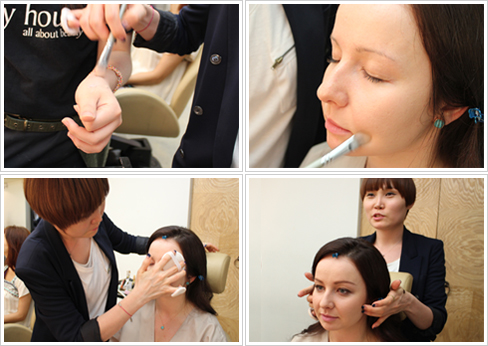 Tip #1: Mix moisturizer with BB cream in a 2:1 ratio and apply the mixture evenly across the face. White-colored base or cream is recommended for lighter skin tones.
Tip #2: Use a foundation brush instead or your fingers to apply the BB cream seamlessly without streaks.
Tip #3: Wet a sponge and squeeze out excess water. Use the half-damp sponge to apply the BB cream with an added moisturizing effect. For greater coverage, continue to apply the cream with gentle taps using your sponge.
Tip #4: After applying the BB cream, use the heat of your palms to enhance skin absorption. Pressing warm palms evenly across the face will increase adherence to skin and make the BB cream last longer.
Tips for choosing the best BB cream for your skin type

If you are unsure of which BB cream is the best fit for you out of the wide selection currently on the market, try choosing one based on your skin type.

★For Oily Skin
It is best to use BB cream containing natural plant extracts for oily skin because this skin type is sensitive and prone to reactions depending on the cosmetic product. A specialized BB cream is also recommended for masking reddish skin tones. A cream that is resistant to sweat and oil comes highly recommended to prevent the face from looking shiny during the day.

★For Normal Skin
Those with a normal skin type tend to have an even complexion, so it is a good idea to naturally balance skin tones. Those wishing to brighten their complexion may try BB cream with a skin whitener. BB cream that is moisturizing, rather than matte, will make normal skin appear silky smooth.

★For Dry Skin
A watery, moisturizing BB cream is recommended for dry skin since thicker, non-moisturizing creams may further dry out the skin. Dry skin is prone to lines and wrinkles, making moisturizing BB cream a suitable choice. Those with dry skin are urged to first apply moisturizer during the day and at night for skin elasticity before applying makeup.