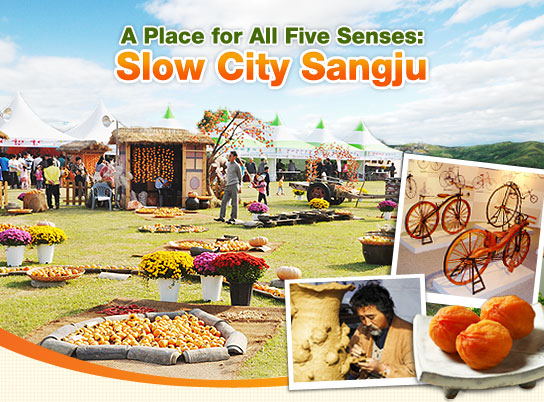 *Photo courtesy of Sangju City, Gyeongsangbuk-do Province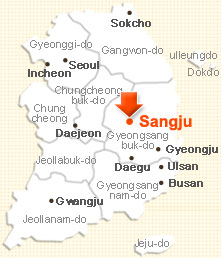 The city of Sangju is an urban and rural composite town located in the northwest inland of Gyeongsangbuk-do Province. Not only is the city clean and eco-friendly, it also has fertile fields with abundant water supply from the Nakdonggang River that flows east of the city. Agriculture remains an important sector with its agricultural specialties being rice, dried persimmon, silkworm cocoons, hanu beef, pears, and grapes. Because its economy is hugely agricultural, Sangju is also referred to as the 'Agricultural Capital of Korea'.

Sangju today is an important regional center of industry and commerce as well as having a significant economic effect on neighboring areas. This is facilitated by its strong transit connections that make transportation easier. It is also first place in Korea where the use of bicycles became prevalent. Also, Sangju tries to keep up its strength in the agricultural section with some specialized products such as dried persimmon and traditional silk. Traditional culture and natural environment is well-preserved, with the residents pursuing sustainable development in harmony with nature. Hence, Sangju has been designated as a Slow City.

Sangju Slow City includes the towns of Hamchang-eup, Ian-myeon, and Gonggeom-myeon in Sangju. This area was designated as a Slow City (*see below) in June 2011 due to its well-preserved tourist legacy from the past and rich resources. Get away from the complex and fast-changing pace of the metropolitan city and visit Slow City Sangju.

Tip. What is a Slow City?
Slow City is an English translation of the Italian word "Cittaslow". It is a concept that has been further developed from the spirit of the slow food movement. The movement started in October 1999 by Paolo Saturnini, the mayor of a small city called Greve in Chianttia in Italy. It has grown into an international movement for getting out of today's fast-paced urban life and to pursue the slow life aiming for harmony between nature and daily life.

There are presently 10 Slow Cities in Korea:
Jeollanam-do Province:
 Ssamjinae Village, Changpyeong-myeon, Damyang-gun
 Yuchi-myeon, Jangheung-gun
 Cheongsando Island, Wando-gun (first Korean Slow City)
 Jeungdo Island, Sinan-gun
Gyeongsangbuk-do Province:
 Pacheon-myeon& Budong-myeon, Cheongsong-gun
 Ian-myeon, Sangju-si
Gyeongsangnam-do Province:
 Agyang-myeon, Hadong-gun
Chungcheongnam-do Province:
 Daeheung-myeon, Yesan-gun
Jeollabuk-do Province:
 Jeonju Hanok Village, Jeonju-si
Gyeonggi-do Province:
Joan-myeon, Namyangju-si


Major Tourist Sites


Gyeongcheondae offers a spectacular view of the winding Nakdonggang River and the beautiful rock formations peeking through the pine tree branches. The attractions around the area include the observatory where one can view the area surrounding the Nakdonggang River, walking trails suitable for light hiking excursions, and bike courses.


Songnisan Mountain National Park lies in the Sobaeksan Mountain Range along the border between Gyeongsangbuk-do Province and Chungcheongbuk-do Province. The mountain is famous for its especially picturesque peak and is home to Beopjusa Temple. In the spring, cherry blossoms and royal azaleas are in full bloom. In summer, the Hwayang and Seonyu Valleys offer a nice retreat away from the heat. In autumn, the beautiful crimson leaves attract throngs of visitors who come to enjoy the fall foliage.


The Sangju Bicycle Museum is the first bicycle museum in Korea that opened in October 2002. The museum was established to promote the public's interest in and understanding of bicycles as a clean means of transportation and achieving low-carbon green growth. Visitors will find a variety of bicycles made in Korea and learn about the history and types of bicycles around the world. Bicycles for rent are also available.


Famous for its thick forest, clean air, clear waters, and beautiful landscape, Seongjubong Recreational Forest is a good place for recreation and relaxation coupled with the beauty and nature of Sangju's outdoors. Inside the resort, there are accommodation facilities like pensions, cabins, and camping sites. Leisure facilities are available and there are programs and activities for visitors to take part in. Communal kitchen areas and parking lots are also available. Near the resort, there are five hiking trails where visitors can enjoy a walk for two to six hours depending on the length of the trail. The construction of an Oriental Medicine Ecological Village and Oriental Medicine Resources Development Center is currently underway, occupying an area 800,000 square meters wide.


The Jeong Jae-su Memorial is Korea's first facility with the theme of filial piety. The place not only recognizes the idea of "filial piety" in the contemporary society where this idea is fading, but it is also used as a real educational site where children can learn the importance of filial piety. Jeong Jae-su was born on January 22, 1974. On New Year's Day, he was traveling with his father to visit his uncle in Chungcheongbuk-do Province. On the way, they encountered a heavy snowfall and his father broke down from exhaustion. He gave his coat to his father and hugged him tightly, though his father eventually passed away. In the end, Jeong also breathed his last breath next to his father. This memorial hall has been established to praise his filial devotion and features an exhibition hall, theater, outdoor performance stage, and facility for traditional folk games.
Sangju Art Village


The Sangju Art Village is a space for creative arts which was built in 2002 at the site of an abandoned school. The facility is designed to promote the creative works of local artists and offer a place for citizens and students to experience and enjoy art. There are workshops, exhibition rooms, and a performance stage. The village offers music, watercolor painting, and guitar classes.
Myeongju Goeul in Hamchang


Myeongju Goeul (Silk Town) in Hamchang is the only remaining silk-producing place in Korea. There are still a hundred households engaged in silk production here. Made with cocoons, silk thread had long been a local specialty of Sangju. Its quality was so good that it was presented to kings in the past. Located in Myeongju Goeul, the Hamchang Myeongju (Silk) Museum offers hands-on programs for visitors to extract silk from cocoons and wind it onto a silk reel.

Major Hands-on Programs
Onggi-making at Sangju's Onggi Village


The Onggi Village in Sangju continues the tradition of making onggi (Korean earthenware) using the time-honored method. At the village, visitors can observe the onggi production by onggi master Jeong Dae-hee (intangible cultural asset of Gyeongsangbuk-do) who possesses the skill to produce large onggi wares. The onggi wares of Sangju are made in the traditional way using jaetmul water (water infused with burned wood and then filtered). The village also offers onggi-making classes for tourists. (*Advanced reservation is required.)
Place: Sangju Onggi Village (963-14, Gonggeomian-gil, Ian-myeon, Sangju-si)
Schedule and cost: On demand / 10,000 won - 20,000 won
Program length: 1 - 2 hours
Tel: Sangju Onggijang +82-54-541-7174 (Korean) / Slow City Visitor Center: +82-54-541-9763 (Korean)
Horseback-riding at Sangju International Equestrian Center


The Sangju International Equestrian Center is officially recognized by the Korea Equestrian Federation as an equestrian center that meets international specifications. The center features a main arena, an auxiliary arena, and horseback-riding grounds. It also offers horse-riding lessons and horse-riding experience programs.
*(Prior reservation is required for groups; individuals can participate in the programs without reservation.)
Place: Sangju International Equestrian Center (683-47, Gyeongcheon-ro, Sabeol-myeon, Sangju-si)
Schedule and cost: On demand (closed on Mondays) / 5,000 won - 20,000 won
Program length: 20 minutes - 1 hours
Tel: +82-54-535-5634 (Korean)
Website: http://horse-riding.sangju.go.kr (Korean)
Rural life experience program in Hwanggeumso Village

The rural life experience program offered by the Hwanggeumso (Golden Cow) Village uses the advanced agricultural infrastructure of Sangju. The programs include harvesting of potatoes, sweet potatoes, and spring leafy greens, rice-mowing, vegetable-planting, sledding on an iced rice paddy, and various other seasonal programs. Major facilities in the village include the Regional Exchange Center (with a restaurant, seminar room, and accommodation for 40 people), traditional thatched-roof houses (accommodation, pavilion for 15 people), and traditional crafts workshop (up to 20 people). *(Prior reservation is required.)
* Hwanggeumso Village: Hwanggeumso spans three villages in Sangju, which are Munchang-ri, Anyong-ri, and Yangbeom-ri in Ian-myeon, Sangju.
Place: Hwanggeumso Village (89, Yangbeom-ri, Ian-myeon, Sangju-si)
Schedule and cost: On demand (four-season experience program) / 10,000 won - 60,000 won
Program length: 2 - 4 hours
Tel: Hwanggeumso Village +82-54-541-9927 (Korean) / Slow City Visitor Center +82-54-541-9763 (Korean)
Natural dyeing experience at the mountain workshop


Sangju has long been famous for its production of silk and silk products like clothing and accessories. At the mountain workshop, visitors can use persimmons, grapes, onions and other ingredients to make natural dye for dyeing cloth. Also available are programs to make small items using naturally dyed materials.
(*Prior reservation is required.)
Place: Jeonggyeoun Sangol Workshop (89, Acheon 2-gil, Ian-myeon, Sangju-si)
Schedule and cost: On demand / 10,000 won - 30,000 won
Program length: 1 - 2 hours
Tel: Jeonggyeoun Sangol Workshop +82-54-541-1139 (Korean) / Slow City Visitor Center +82-54-541-9763 (Korean)

Major Food & Festivals
Gotgam


Gotgam, or dried persimmon, is a traditional slow food that made by exposing the persimmon to the wind and sun to help with drying. Sangju accounts for 60% of the nation's total production of gotgam. The area offers an optimal condition for persimmon, which is grown on a fertile land by the Nakdonggang River. Hence, the persimmon produced in this region has higher sugar content. The persimmon is dried naturally just to the right tenderness and texture. Compared to other fruits, persimmon has more potassium, protein, and carbohydrates. It contains large amounts of tannin which is particularly effective for treating diarrhea, hemostatis, and hypertension. Other specialty products of Sangju made with persimmon include persimmon vinegar, gotgam wine, and gotgam makgeolli (rice wine), all of which are traditional fermented foods.
Sanggam hanu


An abbreviation of Sangju and gam (persimmon), Sanggam hanu is the prime grade beef of Sangju. The beef has outstanding marbling as the cattle are fed with persimmon peel, which is high in minerals and vitamins. Sanggam hanu has been honored with the highest title at the Livestock Products Brand Competition. The brand was chosen for the official dinner of the 2010 G20 Seoul Summit and was recognized for its high quality. There are many Sanggam hanu restaurants that can be found near the Sangju Interchange.
Gotgam hangwa


Gotgam hangwa is a local specialty of Sangju. It is a snack that combines Sangju's gotgam (dried persimmon) and hangwa (Korean traditional confectionery). The main ingredients are rice and gotgam, while other ingredients such as walnuts and sesame seeds can also be added. It is a well-being health snack.
Eunjagol Takbaegi (makgeolli)


Eunjagol Takbaegi is Sangju's local version of makgeolli (rice wine) that is made with rice and clean underground mineral water. The special yeast in the Eunjagol Takbaegi gives the liquor a clean after-taste. The liquor is fully fermented so it doesn't cause headaches or hangovers. The reason why Eunjagol Takbaegi tastes so good is not only because of its use of good ingredients but also because of the good fermentation know-how and yeast used in making it. At the brewery, there is a fermentation room that has been used for three generations where the liquor is fermented in a big liquor jug more than a hundred years old.
Sangju Gamgoeul Story Festival


The Sangju Gamgoeul Story Festival tells the stories of Gamgoeul in Sangju, which is the nation's top and largest production center for gotgam, or dried persimmon. Major programs include the quick peeling of persimmon, dyeing using persimmon juice, and making gotgam. Also held during the festival are contests and exhibitions with a persimmon theme.

Travel Information
Transportation
1) By bus
* Seoul Express Bus Terminal (Gyeongbuseon Line), take bus for Sangju -> Get off at Sangju Bus Terminal (First bus 07:00, last bus 19:40 / Fare 11,600 won-14,800 won / Travel time: 2.5 hours)
* Dong Seoul Bus Terminal, take bus for Sangju -> Get off at Sangju Bus Terminal (First bus 06:00, last bus 23:00 (late night bus) / Fare: 7,100 won-14,200 won / Travel time: 2.5 hours)
2) By train
There are no KTX trains for Sangju. Instead, take the regular Saemaeul-ho or Mugunghwa-ho train.
From Seoul Station -> Take the train bound for Gimcheon, get off at Gimcheon station, and transfer to train bound for Sangju -> Get off at Sangju station
* First train 06:05 (Saemaeulho train / Fare 25,600 won / Travel time: 3 hours 10 minutes), last train 17:40 (Mugunghwaho train / Fare 17,900 won / Travel time: 3 hours 40 minutes)
Accommodation
There are many accommodation facilities near downtown Sangju where there is a lot of traffic. Most of them are small-scale accommodation facilities run by local residents, so foreign language services may not be available. No advanced reservation is required.
○ Sangju Tourist Hotel: http://www.sangjuhotel.co.kr (Korean) / +82-54-530-5000 (Korean)
○ List of accommodation in Sangju (Korean)
Sangju Travel Information
* Sangju Tourist Information Center: +82-54-531-9645 (Korean, English, Chinese)
* Sangju City Hall: +82-54-533-2001 (Korean)
* Sangju Saemaeul Tourist Department: +82-54-537-6092 (Korean)
* Sangju Hamchang-eup Office: +82-54-537-8901 (Korean)
* Sangju Gonggeom-myeon Office: +82-54-537-8916 (Korean)
* Sangju Ian-myeon Office: +82-54-537-8917 (Korean)
* Sangju Slow City Visitor Center: +82-054-541-9763 (Korean)
* Korea Travel Hotline: +82-2-1330 (Korean, English, Japanese, Chinese)
Sangju Culture & Tourism Website
http://www.sangju.go.kr/tour (Korean)