Tour of Jeollabuk-do Province: Jeonju Hanok Village & the Byeonsanbando Peninsula
Go back to the main page of this article
Half-day Tour of Jeonju Hanok Village
Jeonju Hanok Village is a traditional village of about 700 hanok homes that hides within its borders important cultural assets like Gyeonggijeon Shrine, Pungnammun Gate, and Omokdae Pavilion as well as numerous museums, galleries, restaurants, cafes, and experience centers.

Although it takes only an hour or two to walk around the Hanok Village, it will take you significantly more time to visit all the major tourist sites, take pictures, sample the food, and enjoy the many traditional hands-on experience programs. Following its designation as a "Slow City," Jeonju has become an even more popular tourist destination. To help you both save time and experience the best mix of what the village has to offer, we recommend the following half-day tour of the Jeonju Hanok Village.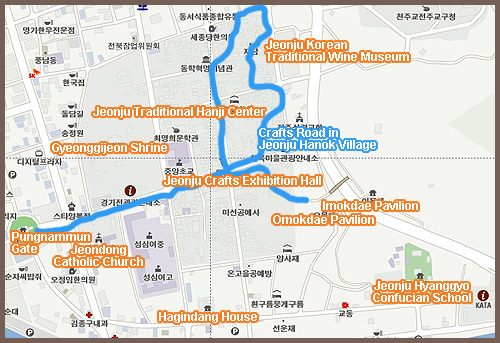 Recommended half-day tour of Jeonju Hanok VillagePungnammun Gate → Jeondong Catholic Church → Gyeonggijeon Shrine → Jeonju Crafts Exhibition Hall → Crafts Road in Jeonju Hanok Village [Jeonju Traditional Hanji Center : hanji craft experience program] → Omokdae Pavilion

☞ Other points of interest at the Hanok Village:
Jeonju Korean Traditional Wine Museum, Jeonju Hyanggyo Confucian School, Jeonju Hanok Living Experience Center
attractions
Pungnammun Gate

Pungnammun Gate (Treasure No. 308) is one of the main cultural assets of Jeonju and is the only remaining gate (the south gate) of the fortress that once surrounded the city. During the Joseon Dynasty (1392-1910), Jeonju was the location of the government office that oversaw the entire Jeolla-do Province and each of the four gates (north, south, east, and west) served an important function.
☞ Click here for more on Pungnammun Gate

Jeondong Catholic Church

Jeondong Catholic Church stands on the site on which the first martyrs of the Catholic Church of Korea were slain. Built by French priest Poisnel in 1914, a hundred years after the passing of the martyrs, the Romanesque-style red brick church is adorned with a beautiful dome ceiling and stained glass windows.
☞ Click here for more on Jeondong Catholic Church

Gyeonggijeon Shrine

Gyeonggijeon Shrine ("gyeonggijeon" meaning "a royal palace built in a place of joy") was built in 1410 to house the portrait of King Taejo, who founded the Joseon Dynasty in 1392. Boasting treasures both inside and out, the shrine yard is full of old trees and a bamboo grove. Inside are the Royal Portrait Museum showing portraits of the kings of Joseon and the Jeonju Historical Archives with exhibits of historical manuscripts.
☞ Click here for more on Gyeonggijeon Shrine

Jeonju Crafts Exhibition Hall

Products on display for sale at the Jeonju Gallery of Traditional Crafts are lovingly fashioned by master craftsmen using only the highest quality of materials. For the perfect gift or souvenir, make sure to check out the fans made of the famous Jeonju hanji paper that come in various designs. The Gallery of Traditional Crafts is not just the ideal place to pick up traditional Korean items—it also gives visitors the chance to make crafts themselves through a variety of hands-on programs.
☞ Click here for more on the Jeonju Crafts Exhibition Hall

Jeonju Traditional Hanji Center

The Jeonju Traditional Hanji Center preserves the legacy of Jeonju hanji paper, a craft with more than a thousand years of history. Hanji is a valuable cultural heritage of Korea that is a true art form in and of itself. At the center, hanji paper is made using only traditional production methods, allowing visitors to see how the paper is separated and dried.
☞ Click here for more on the Jeonju Traditional Hanji Center

Hands-on Hanji Craft Programs

As you walk along Crafts Road (the alley across from the Jeonju Gallery of Traditional Crafts) in the Jeonju Hanok Village, you'll soon find yourself surrounded by small and large shops offering an assortment of hands-on hanji craft programs. These programs allow you to make everything from hanji hand mirrors and accessories to plates and more. Participation fees range between 5,000 and 10,000 won depending on the store and craft item.

Omokdae Pavilion

Standing high on a hill in the Jeonju Hanok Village, Omokdae Pavilion is where Yi Seong-gye (1335-1408, founder of the Joseon Dynasty) held an important banquet after defeating the Japanese army on Hwangsan Mountain (Namwon) in 1380. Past the Jeonju Gallery of Traditional Crafts and to the right, you'll find a wooden staircase leading up to the pavilion and its scenic view of the Hanok Village.
☞ Click here for more on Omokdae Pavilion
Recommended Local Foods of Jeonju

While in Jeonju, make sure to try the bibimbap and hanjeongsik (Korean table d'hôte featuring an assortment of traditional dishes). Each region of Korea has its own version of these two dishes, but Jeonju Bibimbap and Jeonju Hanjeongsik are by far the most popular variations in Korea.

Jeonju Bibimbap comes with a generous helping of fresh vegetables and plenty of nuts, which makes for a flavorful and well-balanced dish. Jeonju Hanjeongsik, on the other hand, comes with dozens of side dishes and will allow you to try a solid sampling of Korean cuisine. Another famous local dish is Jeonju Kongnamul Gukbap (bean sprout soup with rice) made with Jeonju bean sprouts, considered the best bean sprouts in the nation.
Hanok stay in Jeonju Hanok Village

If you plan to stay the night in Jeonju, we highly recommend doing a Hanok Stay. A "Hanok Stay" is a unique Korean-style lodging option in which guests stay in an old Korean hanok (traditional Korean house) that has been remodeled to include modern conveniences.

The Jeonju Hanok Village has about 30 authentic hanok accommodation facilities including the hundred-year-old Hagindang House, the Jeonju Hanok Living Experience Center, Samdoheon, Deokmanjae, and Yangsajae House.
☞ Jeonju Hanok Village Accommodation Facilities

☞ More info on the Jeonju Hanok Village
Slow City: Jeonju Hanok Village
Explore Jeonju Hanok Village on Foot
Korea's Best 3-star Tourist Sites in Jeolla-do as Recommended by the Michelin Green Guide