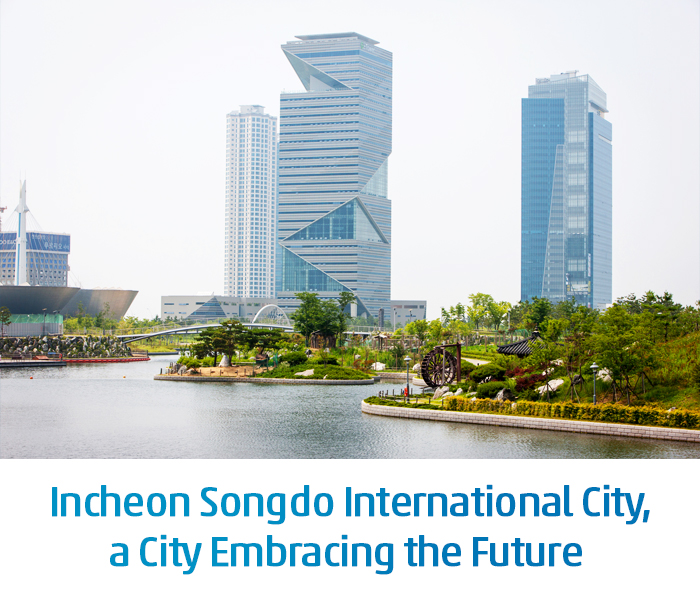 Songdo embodies the future of Incheon. Built on reclaimed land, Songdo offers a number of attractions.
A trip to Songdo can start at Central Park, a natural oasis in the city. Because of its proximity to the sea, the manmade waterway is filled with sea water, and water taxis travel through the park. Close by are a lawn and a promenade along a field of reeds. Nearby, there are many futuristic-looking buildings, creating a harmonious combination of technology and the natural environment.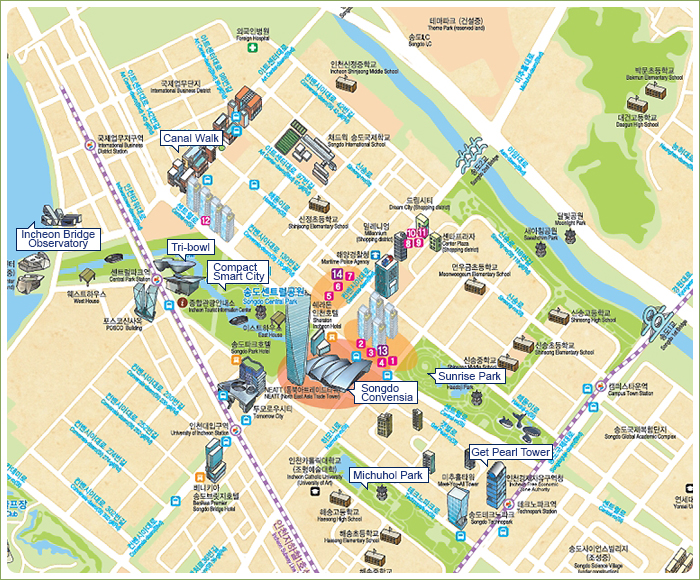 Photo : Songdo International City seen from Get Pearl Tower(left) / Photo: Central Park(right)
Compact Smart City
Compact Smart City is an exhibition center that explores the past, present, and future of Incheon.
In the Ancient and Modern History exhibition hall, visitors can learn about Incheon's ancient beginnings as the town of Michuhol, the Jemulpo Port, the Suinseon railway, and narrow gauge railway in modern history. At the 5D theater, visitors can travel through time from ancient Incheon to the future with a movie containing state-of-the-art effects like wind and water jets. The second floor features a large hall with a miniature model of Incheon. Next to the Compact Smart City is the Incheon Tourist Information Center, where visitors can get useful information on travel in Songdo and Incheon.

Tri-bowl
Tri-bowl was built to commemorate the Global Fair & Festival Incheon, Korea. The bowl symbolizes Incheon and its sky (airport), sea (port), and land (wide-area transportation network), as well as the districts of Songdo, Chengna, and Yeongjong, which together form the Incheon Free Economic Zone. The building features a multi-cultural space with an event hall, multi-purpose hall, and a digital library. Standing on a pond, the building resembles a big bowl resting on water.

Techno Park Get Pearl Tower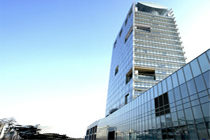 Located near Techno Park, Get Pearl Tower can be reached in just five minutes by car from Central Park. From Central Park Station on Incheon Subway Line 1, it is just three bus stops away. Get Pearl Tower is a landmark building overlooking Songdo. The terrace on the top floor gives a splendid view of Songdo International City and the Incheon Bridge. On the first floor, there is a promotional hall for the Korea Polar Research Institute.
Michuhol Park
Named after the ancient name of Incheon, Michuhol Park creates an ambiance where the futuristic Songdo International City meets with old traditions. Inside the park, the traditionally-constructed Daryewon building serves as a place for learning traditional ceremonial rituals and how to cook dishes used for ancestral rites. Various hands-on programs are offered year round. In front of the Get Pearl Culture Center inside the park, there are traditional seesaws and swings for visitors to enjoy.

Songdo Convensia
Opened in 2008, Songdo Convensia is 15 minutes away by car from the Incheon International Airport. It is the closest convention center to an international airport in Korea. Domestic and international meetings, exhibitions, events, and performances are held year round. The hall can accommodate up to 450 booths and 2,000 people. Songdo Convensia is the first environment-friendly convention center in Asia. It is LEED-certified (Leadership in Energy & Environmental Design), an environment-friendly architecture certification system.

NC Cube Canal Walk
The NC Cube Canal Walk is a European-style shopping arcade with a length of 740 meters. The space features outstanding architectural aesthetics as well as dynamic cultural elements. The architecture invokes the four seasons, and the canal running through the building is quite impressive.


Photo Credit: courtesy of © JaeSungE (left) /Kohn Pedersen Fox (center) / NSIC (right)
Incheon Bridge Observatory
Incheon Bridge Observatory offers excellent views of Incheon. The view of the sunset from the West Coast is out of this world. At 21.38 kilometers long, the Incheon Bridge is the longest bridge in Korea. It serves as a gateway between Songdo International City and the Incheon International Airport.

Sunrise Park
The Sunrise Park was built to highlight the opening of the port of Incheon and the beginning of the city's modernization. From Songdo Hill, one can get a bird's-eye-view of the park. The park is part of a pleasant and systematic green network connected with other existing green areas of the city. The park has wind power generators as well as an ecological pond using recycled wastewater and habitat for various flora and fauna.

Bicycle Road
In Songdo, roads and parks are connected to promote bicycle riding. The Bicycle Road, which is more than 50 kilometers long, has bicycle parking in different locations including at Incheon Subway Line 1 Stations, parks in Songdo, the Songdo Convensia, and transfer centers. The most popular course is connects Central Park, Songdo Convensia, Sunrise Park, Michuhol Park, and Tomorrow City.


Photo courtesy of Incheon Development & Tourism Corporation
Songdo Miraegil
The Songdo Miraegil (Future Road) is 7 kilometers long. The road connects the major tourist attractions of Songdo, allowing visitors to explore the city on foot. The course takes 3 hours and traverses the lakeside of Central Park. The walk passes by the Tomorrow City, Compact Smart City, Tri-bowl, Incheon Bridge Observatory, NC Cube Canal Walk, Central Park, and Songdo Convensia.

Photo courtesy of Incheon Development & Tourism Corporation
Songdo, a candidate city for the Secretariat of Green Climate Fund
The Secretariat of the Green Climate Fund (GCF) is in the international community, which was established in December 2013. The secretariat is located in G-Tower, an exclusive building for the United Nations. Also, in August 2003, Songdo was designated a Free Economic Zone and has been boosting new growth for the Korean economy. Songdo International City is a leading role model for low-carbon, environmentally-friendly (or eco-friendly) cities with projects under way to achieve the goals of reducing its greenhouse gas emissions by 38% by 2020, reusing 40% of its sewage water, and reusing 76.3% of its waste.
Songdo is one of the most optimal locations with its close proximity (20 min) to the Incheon International Airport, well-developed green infrastructure, educational & medical facilities, accommodations, exhibitions and parks.
More Info
<Incheon Travel Information>
☞ Incheon tourism websites
☞ Incheon Tourist Sites:
Wolmido Island, Yeonan Pier, Nokcheongja Museum, Sorae Fish Market, Incheon Bridge
☞ Incheon Tourist Information Center:
english.visitincheon.org/new/guidance/ (Korean, English, Chinese, Japanese)
☞ Korea Travel Phone: +82-2-1330 (Korean, English, Chinese, Japanese)
☞ Incheon Tour Website: english.visitincheon.org (Korean, English, Chinese, Japanese)
☞ Related page : Incheon City Tour
☞ Related column : Muuido & Wolmido: Beautiful islands near Incheon International Airport
* This column was last updated on April 23, 2015 and therefore information may differ from what is presented here. We advise you to check details from the official website before visiting.