When Hwacheoncheon Stream freezes in winter, locals and visitors alike flock to the stream, carve out a hole in the ice, and begin ice fishing for sancheoneo (mountain trout). The trout are known to live in cold, fresh waters of the stream, located in Hwacheon-gun, Gangwon-do Province. Visitors fishing in the stream can be seen patiently waiting, and then jumping with excitement as they pull their catches from the water. Some even jump into the icy waters of the pool built beside the stream for those interested in hand-fishing for sancheoneo.

The festival was recently selected as one of the Seven Wonders of Winter by travel site CNNGo (operated by U.S. news site CNN International). The festival's theme is "Unfrozen Hearts, Unforgettable Memories." In addition to ice fishing, the festival offers a plethora of fun activities on the frozen Hwacheoncheon Stream including ice skating, ice/snow sledding, snowmobile riding, and many more. The Hwacheon Sancheoneo Festival is the ultimate winter activity for the whole family.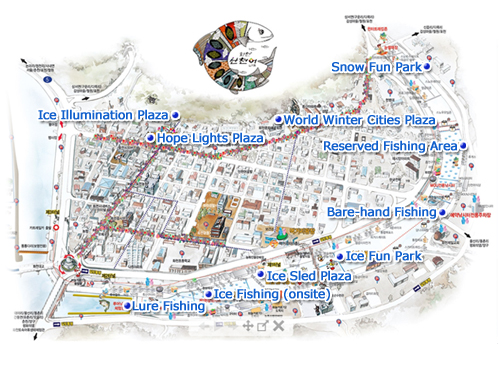 ※The map above is subject to change (original map creatd on December 18, 2013).
Sancheoneo Fishing
Sancheoneo fishing is the central activity at the Hwacheon Sancheoneo Festival. There are three ways for visitors to fish at the festival: ice fishing using fishing rods on the frozen stream, lure fishing in the flowing waters using bait, and hand-fishing in a pool wearing a t-shirt and shorts.
Ice Fishing

Ice fishing is the most popular fishing method at the festival. Around 7,000 people participate in ice fishing during the weekdays, and more than 10,000 on weekends. Upon purchasing an admission ticket, visitors will also receive a fishing zone pass, a plastic bag for carrying sancheoneo, and a 5,000-won Agricultural Specialties coupon for shopping onsite.
* A How-To for Ice Fishing
1. Cut a hole in the ice using a drill or a metal bar, or simply find an open hole.
2. Drop the bait down into the hole, and adjust the fishing line so that the bait is submerged approximately 30-40cm below.
3. Attach the line to the fishing reel, and move the reel up and down to lure the fish.
4. When you feel a tug, gently pull the fishing line up.
5. Unhook the bait, and place the fish in the plastic bag. You have your first catch!
Each person is limited to three sancheoneo.
Once you have finished fishing, you may take your catch to a nearby kitchen to have it served raw or grilled over a wood fire.
Info
☞ Admission: 12,000 won (Fishing zone pass, plastic bag, and 5,000-won coupon included)
* Children & international visitors: 8,000 won
☞ Opening hours: 08:30 – 18:00
* On weekends, on-site fishing tickets get sold out early in the morning. Online reservations are highly recommended on weekends.
☞ Fishing Ticket Reservation (English): http://ticket.interpark.com/Global/Play/Goods/GoodsInfo.asp?GoodsCode=13013479
☞ What to bring: Fishing pole/reel, bait, small chair, blanket, etc. (Also available for purchase at the site.)
☞ Price of fishing reels with bait: 3,000 - 5,000 won
☞ Kitchen fees: Sliced raw sancheoneo: TBA / Grilled sancheoneo: 2,000 won per fish
Ice fishing tips!
1. Come early to get good seats, a great view, and better chances of catching sancheoneo!
2. Stay closer to the edges of the stream, as the sancheoneo tend to like those places.
3. Make a large hole in the ice in order to get a wider view of the sancheoneo in the water.
4. Remain calm and keep trying!
Hand Fishing

Hand fishing takes place at the festival's round fishing pool. Participants change into special outfits (festival t-shirt and shorts), and perform a simple warm up exercise. Following the "go" signal, they jump into the pool, and try to catch sancheoneo using their bare hands within three minutes. Each participant is allowed to catch up to three sancheoneo. When the time is up, they walk out of the pool, and warm themselves up with a warm foot bath.
Info
☞ Admission: 12,000 won (Fishing zone pass, t-shirt & shorts rental, plastic bag and 5,000-won coupon included)
* Children & international visitors: 8,000 won
☞ Hand-Fishing Sessions: Weekdays 12:00, 14:00, 16:00 / Weekends 12:00, 13:00, 14:00, 15:00, 16:00
* Onsite registration available an hour before each session.
** The number of sessions is subject to change without prior notice.
Lure Fishing


•Photo Credit: Nara Organizing Committee
Lure fishing takes place away from the ice, near unfrozen flowing waters. Just as with ice fishing, the use of live bait is prohibited in lure fishing, and each person is limited to three sancheoneo. Participation requires onsite registration, which operates under a first-come, first-served basis (first 250 people).
Info
☞ Admission: 12,000 won (Fishing zone pass, plastic bag, and 5,000 won coupon included)
* Children & international visitors: 8,000 won
☞ Opening hours: 08:30–18:00
* Onsite registration available on a first-come, first-served basis for the first 250 people
Snow & Ice Rides
Snow and ice activities are other popular attractions at Hwacheon Sancheoneo Festival. The Ice Fun Park's Ice Sled Square has a large ice rink for sled rides. There are 1-person sleds, in addition to 3-person family sleds. The Eolgomi (mascot of the festival) Castle, situated in the center of the venue, showcases big snow sculptures, ice slides, and an ice tunnel that leads to a community culture hall. Bobsleighs are also available at the Bobsleigh Tower next to Eolgomi Castle.

Snow Fun Park is also equipped with a snow sledding field featuring a 40m slope and a variety of rides including snow racing. Participation in snow and ice activities usually requires an admission ticket, which can be purchased at ticket offices stationed throughout the festival venue, and activity gear rental fees when necessary. Upon purchasing the ticket, you will receive a 3,000 or 5,000 won "Love Hwacheon" gift certificate which you can use as cash in the Hwacheon area.
Info

[Ice Fun Park]
○ Ice Sledding
☞ Sled rental fees
- Single sled: 5,000 won (3,000-won coupon included)
- Family sled: 10,000 won (5,000-won coupon included)
☞ Location: Ice Snow Sled Square
☞ Opening hours: 09:00 – 18:00

○Snow Sculptures & Ice Tunnel
☞ Admission: Free ※Ice sledding 3,000 won
☞ Location: Eolgomi Castle
☞ Opening hours: 09:00 – 18:00

○Bobsleigh
☞ Admission: 5,000 won (Tube sleigh rental and 5,000-won coupon included)
☞ Location: Bobsleigh Tower next to Eolgomi Castle
☞ Opening hours: 09:00 – 18:00


[Snow Fun Park]
○Snow Sledding and 4 more rides
☞ Snow Fun Park Admission: Free
☞ Rental fees: 5,000 won (3,000 or 5,000 won coupon included)
* One ride for each person, but each person may use the sled up to 3 - 5 times
☞ Location: Snow Fun Park
☞ Opening hours: 09:00 – 18:00
Food & Other Attractions
Other Attractions

The excitement of Hwacheon Sancheoneo Festival can also be felt throughout the town of Hwacheon. The Ice Illumination Park behind the Hope Lights Plaza is divided into few several sections including a Korea, World, and China section, with each showcasing large-scale ice sculptures in various colors. The China section notably features 27 ice sculptures by 35 sculptors from the 'Harbin Ice & Snow Festival', one of the 4 major global winter festivals.

The park is already drawing attention for its special Michelangelo exhibition. This exhibition is organized by Italy's Vatican Museum and the Firenze Uffizi Museum as part of a world tour, which is making its third stop in Korea, following stops in Sydney, Australia and Taipei, Taiwan. Other festivities to enjoy include Korean traditional folk games and mountain trout lantern-making, sancheoneo wooden goods, ice climbing, etc.

☞ Hwacheon's Seondeung Festival to run until Feb 14, 2014
Food


▲ There are many food such as grilled sancheoneo and sancheoneo sashimi.
Hwacheon Sancheoneo Festival provides a unique opportunity to try and purchase Hwacheon's local specialties. In addition to the fish kitchen that serves sancheoneo, food stands along the Hwacheoncheon Stream sell tteokbokki, fish cakes, dumplings, and savory and sweet fritters. Moreover, most packaged foods can be purchased with the Love Hwacheon gift certificates or the Agricultural Specialties coupon that you receive upon the purchase of admission tickets at the venue.
Tip. Love Hwacheon coupon & Agricultural Specialties coupon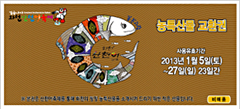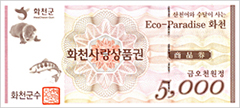 [Photo credit: Nara Organizing Committee]
Love Hwacheon coupons can be used in every restaurant, gas station, and accommodation as cash. Agricultural Specialties coupon can be used only at the agricultural specialties sales booth at the festival venue.
Info
○ Ice Illumination Park
☞ Venue: behind Hope Lights Plaza, Hwacheon-eup, Hwacheon-gun
☞ Admission: 5,000 won (3,000-won Hwacheon Love coupon included)
* Children & international visitors: 3,000 won
☞ Opening hours: 09:00 – 21:00

○ Michelangelo Exhibition
☞ Venue: Special exhibition dome (Hwacheon kindergarten), 31, Ha-ri, Hwacheon-eup, HwaHwacheon-gun
☞ Admission: 8,000 won 35,000-won Love Hwacheon coupon included)
☞ Opening hours: 09:00 – 22:00
2014 Hwacheon Sancheoneo (Mountain Trout) Ice Festival

☞ Period: January 4 – January 26, 2014
☞ Location: Hwacheoncheon Stream area, Hwacheon-gun, Gangwon-do
☞ Transportation: Dong Seoul Bus Terminal --> Hwacheon Bus Terminal
* Schedule: 07:00 – 19:35 / 24 buses a day / Travel time: 2hr 40min
* Fare: Adults 13,900 won, Youth 9,700 won, Children 7,000 won
* Hwacheoncheon Stream is located within a 15-min walking distance of Hwacheon Bus Terminal.
☞ Accommodations in the festival area:
http://www.ihc.go.kr/foreign/eng/page/sub06/sub06_01.html (Korean, English, Japanese, Chinese)
☞Festival homepage: http://www.narafestival.com/07_global/?lang=eng (Korean, English, Japanese, Chinese)
☞Hwacheon Tourism Homepage: http://www.ihc.go.kr/foreign/eng/index.html (Korean, English, Japanese, Chinese)
☞ Inquiries: +82-1688-3005 (Korean, English, Japanese, Chinese)
*Operated during the festival period
Last updated, December 19, 2013