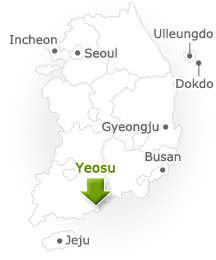 A Major Maritime Tourism City on the Southern Coast

Located midway along the southern coast of Korea, Yeosu (여수) is a maritime city surrounded by 317 islands and a winding coastline over 900 kilometers long.
The city is blessed with natural splendors including Odongdo Island, which marks the entry to Hallyeohaesang National Park, 'Hyangiram Hermitage', a small temple perched high on a cliff overlooking the picturesque islands that dot the sea, and black sand beaches. With the newly launched KTX (high-speed) railway line, the travel time between Seoul (Yongsan Station) and Yeosu (Yeosu Expo Station) has been considerably shortened to 3 hours and 40 minutes.


Expo 2012 Yeosu Korea

The Expo 2012 Yeosu Korea will take place in the Yeosuhang Port area from May 12 through August 12, 2012 under the theme "The Living Ocean and Coast." This global event will provide an opportunity for nations to come together and discuss a new way for the human race and the ocean to coexist in harmony. During the expo, the area around Yeosuhang Port will transform into a virtual marine lab that brings together scenic ocean views, the nation's cutting-edge technology, and the Dadohae Park, a replica of the southern coast in the scale of 1:1,000.

The expo will present a range of high-tech facilities that expand upon the theme of the ocean and its value as a natural resource. The most anticipated exhibition facilities include the Big-O stage, Sky Tower, and Expo Digital Gallery. The 'Big-O' is an ocean stage where large-scale performances, spectacular multi-media shows, and other cultural events will take place during the expo. The pipe organ shaped 'Sky Tower,' which was created using abandoned cement silos, and the 'Expo Digital Gallery,' which integrates art and media, are also expected to capture visitors' attention. Another must-visit facility is the aquarium, the biggest in Korea, with a 6,959-ton tank.
☞ Go to Expo 2012 Yeosu Korea
- Period: May 12, 2012 – August 12, 2012
- Venue: Yeosu New Port area, Yeosu-si, Jeollanam-do
- Expo 2012 Yeosu Korea Homepage: www.expo2012.kr
(Korean, English, Japanese, Chinese, French)