Every Christmas season, big cities start putting up incredible lighting displays to celebrate the most festive time of the year. Major department stores and shopping malls brighten up their exteriors with unique and beautiful lights, beckoning people to come in and buy gifts for loved ones. Christmas trees in hotel lobbies make foreign travelers feel at home even while they are away during the holiday season. Where are the best places to find extraordinary Christmas tree decorations? And which are the best places to buy Christmas trees and decorations from? Read on to find out!
Best Places with Christmas Displays
Hotels


[Photo credit: Millennium Seoul Hilton Hotel] The Millennium Seoul Hilton boasts a 10-meter-high Christmas tree and an annual charity Christmas train. Located at the fountain area of the hotel's lower lobby (B1F), the Christmas train features a stunning display of trains set amid a winter landscape of mountains and villages in the Alps. Companies participate in sponsoring by placing their logos on the miniature model trains. The Christmas train displays are designed by an American designer and a professional engineer. The money collected through this event goes to charity. The event runs until February 2, 2014.


[Photo credit: Hyatt Regency Incheon] Located in the lobby of Hyatt Regency Incheon, the gigantic Christmas tree with colorful LED lights brightens up the surrounding area and other parts of the hotel with a festive Christmas holiday ambiance. The hotel holds the AWOO Doll (UNICEF doll) Campaign jointly with UNICEF from November 29, 2013 to January 5, 2014. The campaign, which the hotel has already held with UNICEF for the past four years, lets people pick a doll from the exhibit on the first floor. The price to 'adopt' a doll is 30,000 won. In December, the hotel organizes an AWOO Doll selling event and donates all the money collected to UNICEF.
☞ Other hotels filled with Christmas holiday cheer
Sheraton Seoul D-Cube City Hotel, Hotel Shilla Seoul, Grand Hyatt Seoul, etc
Department Stores & Shopping Malls


[Photo credit: Lotte Department Store] This year's Christmas theme at Lotte Department Store is 'Christmas Party,' where the traditional Christmas characters of Santa Claus and Rudolph are given a modern twist. The Christmas displays sparkle with fresh, new ideas. The female mannequins wear reindeer antlers while pulling a sleigh. Reindeer antlers are also used to accessorize the snowflake decorations. The building's exterior is decorated with sparkling LED lights. Inside, various ornaments are used to add a more festive Christmas ambiance. The main Lotte Department Store in Sogong-dong features splendid lights, snowflakes in various shapes and sizes, and large-sized heart decorations all the way to Avenue L, Loveridge, and Young Plaza. This place is surely set to become a favorite photo-taking spot with the public. At the square, there is a huge Christmas tree with videos displaying kaleidoscope-like images and a passageway in the center for people to pass through.


[Photo credit: Lotte Department Store] Lotte Premium Outlet Paju offers an even more wonderful winter landscape and more enjoyable outdoor events this year. Each building is adorned with a large-sized Christmas tree and a set of decorations that blend well with the surrounding landscape. The stream flowing between the buildings and the nearby trees are decorated with Christmas ornaments. Various events will also be taking place throughout the Christmas season.


Shinsegae Department Store will light its Christmas display everyday from sunset to 11 p.m. until the end of January, 2014. The façade of the department store's main building will be adorned with softly-lit golden lights while the store window will showcase a Christmas story using creative silhouettes. A giant, jewelry-themed Christmas tree has also been set up at the mall's Galleria Luxury Hall.


[Photo credit: Kyungbang Times Square] Huge Christmas trees stand at the outdoor plaza of Kyungbang Times Square. The three Christmas trees (measuring 18 meters, 5 meters and 3 meters) are accompanied by reindeers pulling Santa's sleigh. The Christmas trees will be on display until the end of January 2014.
Outdoors


This year, the lighting of the Christmas tree at Seoul Plaza started on November 30, 2013. Standing about 20 meters high, the towering tree, together with a reindeer and Santa's sleigh, illuminate the surroundings. The displays will be there until January, 2014. Seoul Plaza also operates an outdoor ice skating rink in winter for visitors to fully enjoy the winter ambiance in downtown Seoul.


Myeongdong Cathedral is the largest Gothic-style building in Korea's modern architecture history. The cathedral is located in Myeong-dong, Seoul's trendiest shopping district. During the Christmas season, the area surrounding the cathedral is brightly illuminated with lighting decorations that convey a message of gratitude and blessing. One can truly feel the festive atmosphere amid the crowd of shoppers and couples in the streets of Myeong-dong.
Where to buy Christmas tree decorations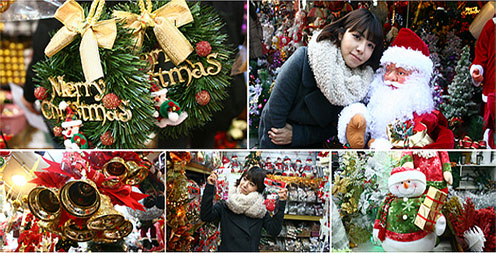 During the Christmas season, many stores start selling various Christmas trees and Christmas decorations. One can also find Christmas lights, decorative balls, and snowflake-shaped ornaments, as well as Santa Claus dolls, Christmas stockings, candy canes, Santa hats, and various gifts and party items. Trees that come with sparkling ornaments vary in price depending on the size. Small ones cost between 20,000 won and 50,000 won, while bigger ones cost between 100,000 won and 150,000 won. Small Christmas tree ornaments cost between 3,000 won and 10,000 won.

☞ Getting there: Hoehyeon Station (Subway Line 4), Exit 5. Walk towards the tourist information center and into the market. There will be big stores on both sides.
Hypermarts

E-mart, Home Plus, Lotte Mart, and other large-scale hypermarkets a
nd superstores sell Christmas trees, decorations, ornaments and other holiday items. They also have undecorated Christmas trees for people to decorate by themselves. A Santa Claus costume set costs approximately between 39,000won and 45,000 won, while Santa's gift bag costs approximately 5,500 won. Other items include Santa hats, mufflers and headbands. Undecorated Christmas trees cost between 9,900 won and 89,900 won depending on size. There are also many household items like towels, slippers, aprons and oven mitts decorated with a Christmas theme.

☞ E-mart Yongsan, Lotte Mart Seoul Station, Home Plus Jamsil, etc
<Last updated on November 27, 2013>