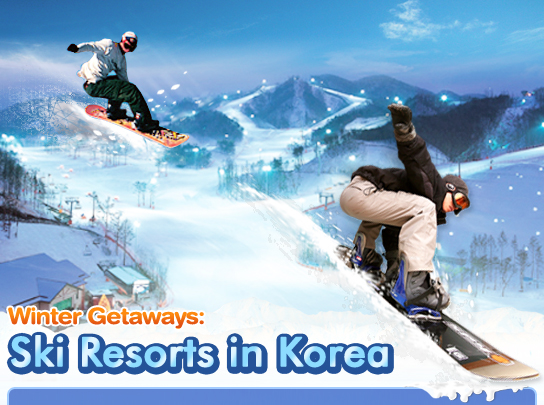 Many of the ski resorts of Korea are scattered throughout Gangwon-do Province, the region that gets the most annual snowfall. However, skiers based in Seoul will be happy to know that there are a number of great ski facilities just past the city limits, allowing for quick, convenient ski trips during the weekend.

Most ski resorts are large leisure centers that offer pleasant accommodations and convenient facilites to visitors throughout the entire year. Of course, the most popular time to visit the resorts is during the peak ski season from mid-December to the end of February. During this time, prices for accommodations go up and rooms fill up fast, so visitors who are unable to get lodging within the resort complexes are advised to check out hotels, motels, or pensions (inns) in the surrounding area.

All of the resorts on our list offer both skiing and snowboarding, with new snowboarding facilities constantly being added to keep up with the increasing demand for this popular new sport. Skiing & boarding facilities at the resorts are usually open from mid-November/early December until March or April. During these times, Korea's ski resorts become the nation's vacation hotspots, attracting visitors from home and abroad to the pristine mountainsides for unforgettable wintertime fun, whether that be adrenaline-packed runs down the mountain, sledding with the kids, or long, luxurious soaks in slopeside hot tubs.