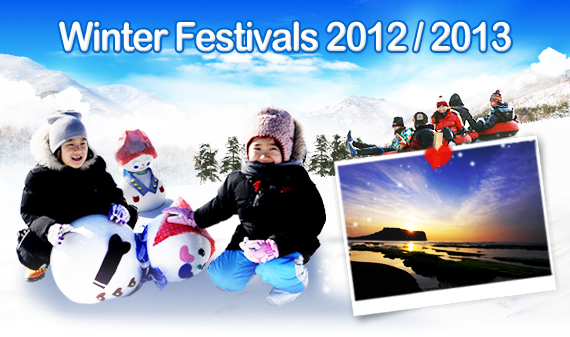 December in Korea means holiday lights, snow (think cute hats and scarves), Christmas, and last but not least, plenty of winter festivals. Why fight the cold and stay bundled at home? Embrace it! Put on a coat and go outside. There are winter events celebrating everything from arts to fruits and winter activities for everyone to enjoy, young and old alike.

As the twelfth month comes to an end and the year draws to a close, people gather at sunrise festival locations across the nation to welcome in the first sunrise of the 2013. When the brand new year comes in, January and February will be the perfect time to revel in the chilly weather and visit any of the snow and ice festivals across the nation. Popular festivals include the Hwacheon Sancheoneo Ice Festival, Pyeongchang Trout Festival, Taebaeksan Mountain Snow Festival, Inje Icefish Festival, Jaraseom Singsing Winter Festival and many more. When you've had enough of the snow and ice, head over to Jeju-do for the hot and smoky Jeongwol Daeboreum Fire Festival that's not to be missed.

Festivals from January to February (2013)
* Festival schedules are subject to change.
* Last updated in November, 2012.