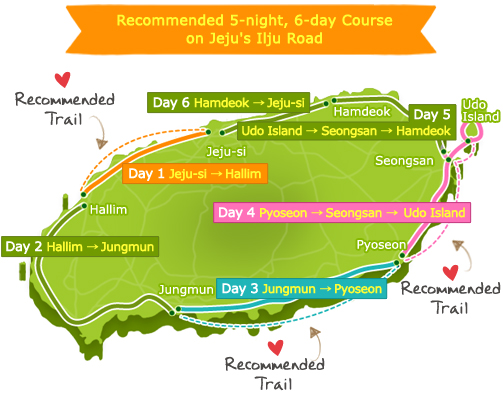 * Jeju Olle, a series of walking paths, goes clockwise from Jeju International Airport, while Ilju Road (for biking) goes counter-clockwise. Bikers starting their trip in downtown Jeju-si are advised to use West Ilju Road.

Jeju's Top Three Bicycle Trails

Recommended Trail #1. The Emerald Sea (Jeju-si -> Hallim)

The first recommended bicycle trail begins in downtown Jeju-si. Bike northwest to

Yongduam Rock

, a dragon head-shaped rock located on the northern coast near Jeju Harbor. This area also offers haenyeo (female sea diver) sightings, as well as local coffee shops with great atmosphere. Continue biking along the coast, and pass the unique black basalt rock landscape, lighthouses, and Aewolhang Port to arrive at

Hyeopjae Beach

, where the water is emerald in color. Finally, bike to the last stop,

Hallim Park

, to witness the island's remarkable lava tube caves,

Hyeopjaegul Cave

and

Ssangyonggul Cave

Recommended Trail #2. The Three Waterfalls (Jungmun -> Pyoseon)

The second recommended bicycle trail runs from Jungmun to Pyoseon on the middle part of Jeju's southern coast. In Jungmun, bikers may visit Jungmun Resort Complex, Jusangjeolli Cliff, and three-tiered Cheonjeyeon Falls that flows out to the sea. Continue biking on Ilju Road for some time, past the Jeju World Cup Stadium and the offshore Oedolgae Rock, into the woods to relax by Cheonjiyeon Falls. Then, bike to the last destination, Jeongbang Falls, which falls directly into the sea. Finally, the adventure may end with a stroll on small alleyways or Jeju Olle walking paths.

Recommended Trail #3. The Great Sunrise Peak & Udo Island (Pyoseon -> Seongsan -> Udo)

The third recommended bicycle trail boasts some of the greatest scenery on Jeju Island. Bike along Pyoseon Haebichi Beach and

Sinyang Beach

before reaching Seopjikoji, a wide open field dotted with horses, rapeseed blossoms, Seonnyeo Rock, and a white lighthouse sitting on top of the hill. Continue biking east towards Seongsan Ilchulbong Peak, a tuff cone that rose from the under the sea in a volcanic eruption 100,000 years ago. Finally, board a ferry from Seongsan Pohang Passenger Terminal to Udo Island, which features the crystal clear water, white sand, haenyeos, stonewalls and stone tombs.

Jeju Coastal Biking Enjoyed by International Travelers

There is a group of bicycle tour product developers from Germany that is traveling across the world in search of the best places to bike. Korea Tourism Organization (KTO) was fortunate to come across the group while diligently pedaling on one of Jeju's coastal bicycle trails, and to ask them a few questions about coastal biking on Jeju Island.

Korea Tourism Organization: What is your first impression of Jeju Island?

German Bikers: [Jeju Island's] natural landscape is very green and beautiful, and the environment is cleaner than in any other Asian countries we have visited.

KTO: What are strengths/advantages of coastal bicycle trails on Jeju Island?

GB: Jeju Island is equipped with modern facilities for biking. It is very similar to the Mediterranean Sea, but the bicycle trails are better. The course along the small alleys or the Olle [walking] paths was very impressive. We found most coastal trails convenient and charming.

KTO: What needs to be improved?

GB: I think more diverse bicycle [tour] courses must be developed to include other beautiful landscapes and tourist sites of Jeju. Also, more road signs and information about bicycle trails in English should be available.

KTO: Would you recommend biking in Jeju to your customers?

GB: Absolutely. Jeju Island has a beautiful natural landscape and unique culture. There are good bicycle trails and many other merits for biking.