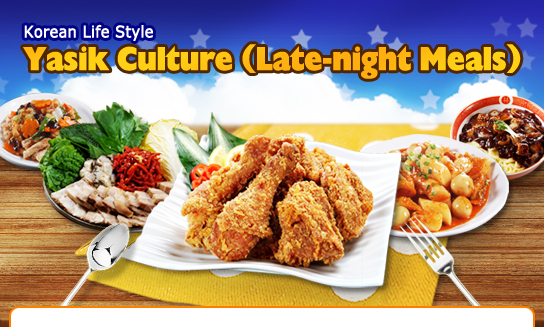 Koreans' Love of Yasik—where delivery is just a phone call away

"Chapssaltteok! Memilmuk!"

Upon hearing these words, Koreans can't help but think of yasik (야식, late-night meal). Twenty years ago, vendors roamed the residential alleys on winter nights selling fresh chapssaltteok (rice cakes filled with sweet beans) and memilmuk (buckwheat jelly). Whenever vendors passed through each neighborhood, people would trickle out of their houses to chat and enjoy a tasty nighttime snack.

With fast-paced urbanization and the predominance of apartment buildings, this scene is long gone. However, with many office workers staying late at the office and many students studying at private institutes until after dusk, the Korean yasik culture has remained as strong as ever.

The modernization of the yasik culture has resulted in the tendency of many restaurants to offer delivery services—bringing food from kitchen to doorstep with just one simple phone call. There are dozens of yasik menus to choose from, ranging from light meals like porridge or salad to more filling items like fritters, tteokbokki, jokbal, and bossam.

Yasik is particularly popular during major sporting events. When the World Cup or Olympic Games come around, fried chicken franchises sell so much chicken that they often sell out and even have to turn away customers!
Favorite Yasik Menus

Koreans' favorite night-time meals have continuously evolved over time. In the past, favorites were memilmuk (buckwheat jelly), chapssaltteok (rice cakes filled with sweet beans), and gungoguma (roasted sweet potatoes). Nowadays, gimbap, sundae, and jokbal have taken their place. Fried chicken, first introduced in Korea in the 1980s, and pizza also top the list of night-time favorites. Fried chicken, in particular, has become a wide market, with chicken restaurant chains continually developing new sauces and wooing various Hallyu stars to promote their respective brands. Of course, no late-night chicken order would be complete with a cool pitcher of draft beer.

One of the best and simplest meals to cook at home is ramyeon. Boiled with an egg and spring onions, ramyeon noodles are typically eaten with kimchi. Ramyeon is often called "the food of the people," since it is liked by almost every Korean. Juk porridges can also be prepared in no time using a microwave and instant cup ramyeon only takes a few minutes to cook in hot boiling water. As simple and tasty as they are inexpensive, these instant meals are readily available in convenience stores or supermarkets.
Korea's Top Five Yasik Favorites

Ramyeon


Ramyeon is one of the most widely enjoyed snack foods in Korea and is hailed as the food of the people. It can be made in a variety of ways: with lots of veggies like bean sprouts, mushroom, or spring onions, or with an egg or shrimp for added nutrition. Ramyeon is almost always accompanied with kimchi and some people even say that "if you don't have kimchi, you can't eat ramyeon."

Preparing ramyeon is simple. To make ramyeon, bring 500ml of water to a boil and put in the ramyeon noodles and seasoning. Stir with chopsticks and let it boil for three to five minutes. Let it cool off for a bit and enjoy! Ramyeon, thanks to its hot and spicy broth, is said to perfectly suit the taste buds of Koreans. Korea is number one worldwide in ramyeon consumption; it is estimated that, on average, each person in Korea consumes about 80 packs of ramyeon noodles each year.

Chicken and Draft Beer


Crispy fried chicken is said to have been first introduced to Korea in 1984 with the opening of the first KFC store in Jongno, Seoul. Over the years, various types of fried chicken have evolved using gochujang red pepper paste, red pepper flakes, soy sauce, garlic, and other ingredients that delight the Korean palate. Riding the wave of this new trend, fried chicken franchises continue to pop up, offering an even greater choice of fried chicken varieties. These days, chicken lovers can choose from among fried chicken covered with sweet and spicy sauces, sauces with a soy sauce base, and much much more.

In every small town in Korea, there are at least two or three fried chicken franchises that offer delivery services. Fried chicken and beer are especially in high demand when there is an international sporting event. On sultry summer nights, many people lounge along the Hangang riverbanks and order chicken for outdoor riverside delivery, using the phone numbers from the chicken ads scattered along the nearby sidewalks.

Jokbal and Bossam


Jokbal and bossam are favorite night-time meals for those who love meat. Jokbal is pigs' feet cooked with soy sauce and spices, making for a nutritious and chewy dish. Bossam is pork meat steamed with doenjang sauce, spring onions, and garlic. When the meat is fully cooked, it is sliced and eaten with lettuce wraps or steamed cabbage. Both jokbal and bossam are high-protein foods that are low in fat, so they are slightly healthier than other nighttime favorites.

In every small town in Korea, there is a restaurant or a 24-hour delivery service restaurant selling jokbal or bossam. One of the most famous streets in Seoul for jokbal is in the Jangchung-dong district in Jung-gu, Seoul (subway line 3, Dongguk University Station). There are several restaurants in the area claiming to be the original jokbal restaurant. Though it's difficult to know which one is the original (if any), the area is definitely worth a visit.


Tteokbokki and Sundae

Street foods tteokbokki and sundae are also high on the list of late-night meals. Tteokbokki is made by boiling cylindrical rice cakes (called garaetteok) with fish cakes in a gochujang sauce. It is a favorite snack for Koreans of all ages. Sundae (pronounced "soon dae") is made by stuffing pig's intestine with a mixture of seasoned glutinous rice, cellophane noodles, and vegetables and steaming or boiling the sausage. Typically, sundae is eaten with coarse salt or tteokbokki broth. Not only favorite night-time meals, tteokbokki and sundae are great snacks eaten anytime of the day. Since they are affordable and usually come in generous portions, they are enjoyed by junior and high school students as well as adults.

Gungoguma and Hoppang
When the weather gets cold and the nights get longer, there is nothing more comforting than the warmth of gungoguma (roasted sweet potatoes) or Hoppang (steamed white bread with bean or veggie filling). In the past, gungoguma was sold by streets vendors who baked the sweet potatoes on wood in a big iron barrel. The sweet and nutty sweet potatoes and the steamed white buns filled with red azuki bean paste or vegetables are great winter favorites that help warm up the chilly nights.

Of course, one can't forget favorite yasik meals jajangmyeon (wheat noodles topped with chunjang sauce made of salty black soybean paste) and tangsuyuk (sweet and sour pork). These two dishes were among the first to appear on Korea's meal delivery scene.

Recently, 24-hour meal delivery services have sprung up in office towns in downtown areas, offering a wider range of meals like jjimdak, galbijjim, and lunch boxes consisting of rice and side dishes. Like many aspects of Korean culture, the yasik culture may be changing, but if anything it has gotten stronger with time, further establishing itself as a permanent fixture in Korean life.


☞ Related Columns
Satisfy the Munchies with Traditional Street Snacks
Korean Treats to Warm the Winter Season