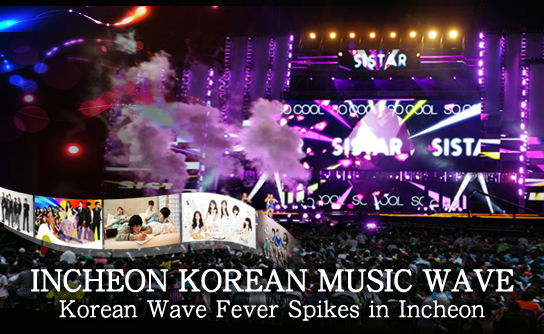 August 13, 2011, Incheon Munhak Sports Complex. Group

MBLAQ

opens the Incheon Korean Music Wave with a sexy dance as 40,000 fans pierce the air with shrieks of excitement. It's official—the Korean Wave has hit Incheon big time.
The K-pop frenzy continues as boy band

FT ISLAND

and ballad group

2AM

take the stage, followed by SHINee, BEAST, and 2PM. As each new group steps out into the spotlight, the crowd erupts into a fresh wave of cheers, "I love yous," and camera flashes. Anticipation builds as Girls' Generation takes the stage, followed by

Super Junior

, who are perhaps some of the most loved Korean celebrities worldwide, drawing fans from as far as the USA, Spain, and France.

The last group leaves the stage, but the performance is far from over. The 19 groups return to the stage for a finale so epic that the emotion in the stadium is almost tangible. It is moments like this that the true passion of the Korean Wave can be felt at full force, breaking down barriers and unifying people from across the globe.

Incheon Korean Music Wave


Held for the first time in 2009, the Incheon Korean Music Wave is a special K-Pop concert bringing together Korea's top idol artists. Fans come from all over the world to experience powerful performances, passionate fandom, and the unique concert culture of K-pop.
The concert is held in August every year. The concert lasts about two hours with each artist or group performing two or three songs.

☞ Homepage of 2011 Incheon Korean Music Wave: www.koreanwavefestival.com (Korean, English, Japanese, Chinese)

KTO meets the fans!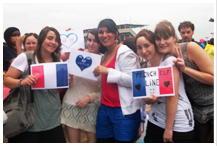 While at the Incheon Korean Music Wave (2011) the KTO met thirty young ladies from France who visited Korea to attend the concert. The group had also attended the SM concert held in Paris in June 2011. Let's see what they had to say.

When did you start to like K-pop?
We've been interested in K-pop for about two to three years. In the beginning, we watched Korean dramas. Then we moved to K-pop.

Why do you like K-pop?
K-pop has a unique style that we don't find in French or American music. We find Korean artists very attractive and talented not only on stage but also on various TV programs.

How do you plan to spend the rest of your time in Korea?
Most of us will be traveling in Seoul, but some of us plan to visit Jeju Island. We plan to visit open TV music programs, the royal palaces, the Kimchi Museum, Myeongdong, and some other tourist attractions in Seoul. Of course, we also want to try Korean food. We plan to enjoy the Korean wave and Korean culture as much as we can while we're here.

Will you come to Korea again?
Of course! We want to come back next year!

Incheon, a rising center of culture
Located along the western coast of Korea, Incheon is the nation's second largest port city. The city served as a major gateway of trade in the late 19th century. Today, it is home to the Incheon International Airport (named the world's best airport for six consecutive years) and popular cultural events like the Pentaport Rock Festival and the Incheon Korean Music Wave. Top tourist attractions include Wolmido Island and Eurwangni Beach, a famous, crescent-shaped, white sand beach.

☞ Related column: Incheon City Tour