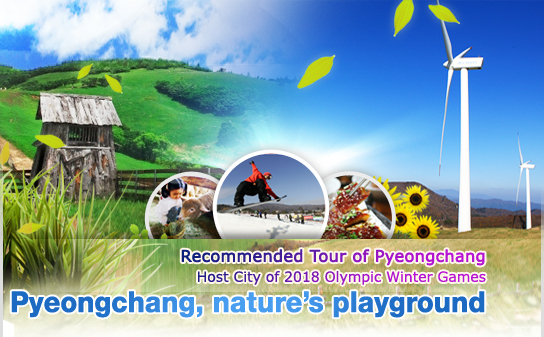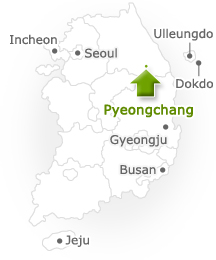 Happy 700 Meters Above Sea Level

The county of Pyeongchang-gun is located in the central region of south Gangwon-do, east of Seoul. Of its total land, approximately 65% lies on highlands 700 meters above sea level, an altitude that is said to be ideal for the biorhythm of humans, animals, and plants. It's no wonder then that Pyeongchang is a place where life flourishes—home to both sheep and cattle (Daegwallyeong area) and a top producer of buckwheat, potatoes, mountain herbs.

Pyeongchang offers unspoiled natural beauty year round, making it a much beloved spot among nature lovers. In the spring, visitors are greeted with an abundance of flowers; in fall, the mountains are ablaze with autumn reds and oranges; in the summer, the valleys offer a cool retreat where visitors can enjoy rafting, fishing, and trekking; and in winter, the snow-covered mountains offer the perfect place for skiing. No matter when you visit this natural wonderland, you're sure to be delighted by the raw richness of Mother Nature.


Host City of the 2018 Olympic Winter Games

Known as the 'Alps of Korea,' Pyeongchang is at the center of Korea's ski industry and a compelling factor in the popularization of the sport nationwide. Pyeongchang is also home to Yongpyong Resort, Korea's first ski resort, which introduced the international sport of skiing to the Korean public.

Located about 2.5 hours from Seoul by bus, Pyeongchang becomes a hub of activity from November to April as winter sports lovers flock to the snow-covered mountains and area's ski resorts. Among the major resorts in Pyeongchang is the Alpensia Resort Complex, which will serve as the main venue for the 2018 Pyeongchang Olympic Winter Games. Though the resort is already well-known for its slopes and facilities, preparations are already underway to bring the world-class resort to an even higher level of excellence in preparation for the 2018 Winter Olympics.