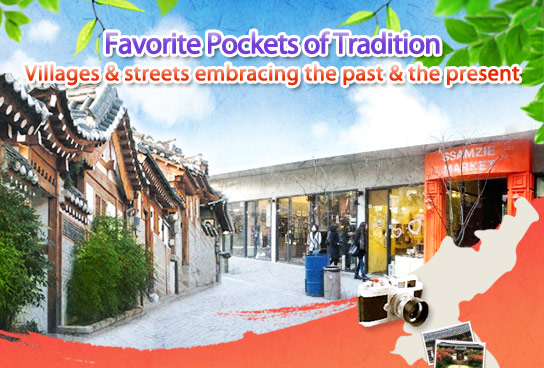 There are still many areas in Korea that have stood the test of time and serve as living, breathing reminders of Korea's past. Some of the most representative traditional areas in Korea are Bukchon Hanok Village and the streets of Insa-dong (Seoul) and the Andong Hahoe Village and Gyeongju Yangdong Village (Gyeongsangbuk-do Province). The Hahoe Village and Yangdong Village have even been designated UNESCO World Cultural Heritage sites in recognition of their deep cultural and historical roots.
In these inhabitated, traditional villlages traces of the past linger in every corner and visitors cannot help but feel the unspoken reverence that seems to be adrift in the air. So, take some time to step back in time with a visit to one of these traditional neighborhoods.

Bukchon Hanok Village
Where 600 Years of History is Alive
From exit 3 of Anguk Station (Subway line 3), go past Jaedong Elementary School and up Gahoedaero Road and you'll soon find yourself strolling along an alley lined with finely-crafted hanok homes. Houses in the Bukchon Hanok Village in Seoul have been preserved in their original state for 600 years (and counting!). As you walk along the streets of carved hanoks with gently touching eaves, you'll soon find yourself transported back in time to an enchanting and somewhat simpler time.

Recently, Bukchon has become home to many hanok galleries and traditional workshops. Some hanok homes have even been renovated into restaurants, offering a unique cultural experience. The Bukchon Culture Center, opened in 2002, offers quality cultural lectures and programs where visitors can learn calligraphy, practical traditional painting, tea ceremony, Korean knot art, traditional embroidery, bojagi art, and hanji art. The center also organizes various cultural events like movie screenings, concerts, and exhibitions.

Workshops and museums in the village also offer a wide range of hands-on programs. The Dong-Lim Knot Museum offers programs for beginner, intermediate and advanced knot-makers and even offers customized lessons for those wishing to become professional artisans. The Bukchon Museum Old Fragrance has on exhibit household goods from the modern era that were collected in the Bukchon area. There are also several hanok guesthouses for international guests.


Streets of Insa-dong
Deeply rooted in tradition
Insa-dong is, without question, the most visited street by international tourists in Seoul. The Starbucks, which many people had opposed on this particular street in order to protect tradition, was only allowed once the store agreed to write its main sign in Korean. This is just one small example of how deeply tradition runs in Insa-dong. The streets are lined with antique shops and galleries and there are many restaurants and teahouses throughout the small alleys branching off from the main street. Popular places in Insadong include Ssamziegil (with its workshops and galleries) as well as Gana Art Space, Kyungin Museum of Fine Art, Mokin Museum, and the Tea Museum.

Opened in 2004, Ssamziegil houses about 70 shops, including galleries, souvenir shops, cafes, and restaurants. It is one of the top recommended places to visit in the neighborhood because of the open view of Insa-dong that can be seen from the top. Next is Mokin Museum, which is the only private museum in the world dedicated to wooden sculpture. Also worth a visit are Gallery Lux (opened in 1999 as the first photo gallery in Insa-dong) and Toto's Nostalgia Museum and Giftshop, a special museum for nostalgic items like school items, toys, and household goods from the 1970s and 1980s. Those looking for a more traditional experience should head over to the Kyung-In Museum of Fine Art, which features a Hanok Art Gallery, traditional tea room, and atelier. No matter which direction you stroll in Insa-dong, you're sure to find a treasure trove of Korean culture and tradition.


Andong Hahoe Village in Gyeongsangbuk-do
Village embraced by Nakdonggang River
Andong Hahoe Village in Gyeongsangbuk-do Province is nestled in one of the curves of Nakdonggang River, the largest river in the nation. Home to the Ryu clan of Pungsan for more than 600 years, Andong Hahoe Village is the most representative clan village in Korea. With tile-roofed and thatched-roof homes that have managed to escape the perils of the passing years, the village has significant cultural value. Put simply, this astounding village is an open museum of ancient architecture, with buildings from the beginning and later parts of the Joseon Dynasty preserved in their original states. Intangible cultural heritages like the Hahoe Byeolsin Gut Mask Dance and Seonyujul Bulnori fireworks are also proud traditions that have been passed down from generation to generation by village residents. The Hahoe Byeolsin Gut is an 8-scene mask dance performed by the class of the commoners and is a satire about depraved monks (monks violating Buddhist precepts) and noblemen. This unique dance is performed at the village on Wednesdays and weekends from March to December. On weekends and holidays (from April to October) participants can also take part in a program to experience Korean tea ceremony and write family mottos. Other programs (such as making ceramics and hanji crafts) are available throughout the year.


Gyeongju Yangdong Village in Gyeongsangbuk-do
A community of two clan families living together as neighbors
Yangdong Village in Gyeongju, Gyeongsangbuk-do Province was designated a UNESCO World Cultural Heritage site in 2010. It is the largest and most representative village of the yangban upper class (the 'yangban' noble class was the ruling class from the 10th to the 19th century in Korea). Interestingly enough, throughout its long history, the village has been home to two clans—the Gyeongju Son clan and the Yeogang Lee clan—who cooperated and competed with each other for over 500 years. There are so many valuable cultural assets in this area that the entire village is designated an Important Folk Material. Of the 160 total houses, many are topped with tile roofs (as opposed to thatched roofs), reflecting the power and affluence enjoyed by the upper-class families of the Joseon Era (1392-1910).

In addition to the beauty and history of these ancient buildings, you'll also be able to learn about and experience Confucian culture, traditions, and life in a traditional hanok home. The Confucian Culture Class is a chance to learn about everyday manners, wedding rituals, ancestral service rituals, and cultural heritage. You'll have a chance to try on hanok and spend a night at a traditional hanok home in the village while listening to the sweet cadences of nature outside your door.