Gyeongchunseon Subway Stations


Sangbong (Seoul Subway Line 7) – Mangu – Galmae – Toegyewon – Sareung – Geumgok – Pyeongnae-Hopyeong – Maseok – Daeseong-ri – Cheongpyeong – Sangcheon – Gapyeong – Gulbongsan – Baegyang-ri – Gangchon – Gimyujeong – Namchuncheon - Chuncheon

Travel time: Sangbong to Chuncheon  Express train (63 minutes) / Non-express train (79 minutes) / 137 daily departures; train every 12 minutes during morning and evening rush hour.

* Express train stations: Toegyewon, Pyeongnae-Hopyeong, Maseok, Gapyeong, Namchuncheon (Additional stops at Cheongpyeong and Gangchon on weekends).
Attractions near Gapyeong Station
Located 40 to 50 minutes away from Sangbong Station on the Gyeongchunseon Line, Gapyeong is a popular destination for young couples. It is also the location of the famous drama filming location, Nami Island. Visitors can take a ferry, or try out the new zip line for a 1-minute scenic thrill ride to this famous island.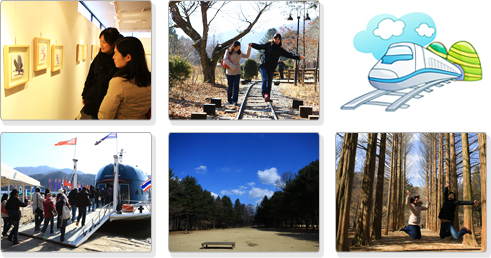 - Namiseom Island
Namiseom (Nami Island) is a small island that was formed between Gyeonggi-do and Gangwon-do following the construction of Cheongpyeong Dam. The island features expansive fields of green, groves of trees, leisure facilities, accommodations, and special galleries. Widely known as the filming location of the Korean drama 'Winter Sonata' (2002), it continues to draw large groups of tourists from Japan, China, and Taiwan.
☞ Go to Namiseom Island

- Zip-wire experience (Nami Skyline)
There are two ways to get to Namiseom Island: the ferry from the Namiseom Wharf or the new zip-wire, which has been in operation since October 2010. The zip-line is the largest of its kind in Asia and takes riders from a platform 80 meters above ground down across the water at speeds up to 80 kilometers per hour! The ride is 38,000 won and is available daily on a first-come, first-served basis starting from10am.
☞ Go to Zip-wire (Nami Skyline)

Attractions near Gangchon Station

- Samaksan Mountain
Samaksan Mountain is just 10 minutes away from Gangchon Station by bus or taxi and is a convenient place to immerse yourself in nature without having to travel too far from the big city. The mountain has a series of uniquely-shaped rocks, large and small waterfalls, and gently sloping hiking trails. On weekends, the mountain it is always teeming with hikers. Visitors will find beautiful valleys and rock ridges along the trail and can catch a splendid view of Uiamho Lake and Bukhangang River from the summit.
☞ Go to Samaksan Mountain (Deungseon Falls)


- Gugok Falls
Located five minutes away by bus from Gangchon Station, Gugok Falls literally means 'water falling after nine twists and turns.' Only 20 minutes away from the falls ticket center is an area where water runs down a huge rock face, which turns into a popular ice wall climbing spot in the winter. The admission fee for the falls and the surrounding area is only 1,600 won.
☞ Go to Gugok Falls


- Elysian Gangchon Resort
Elysian Gangchon is a popular resort in Gangchon where visitors can enjoy top-quality leisure facilities all year round. The resort features a 27-hole golf course built across valleys, lakes, and hills as well as various ski slopes with panoramic views. The resort offers 200 rooms, numerous restaurants, a cafeteria, and a swimming pool.
☞ Go to Elysian Gangchon Resort
☞ Go to Elysian Gangchon Ski Resort

Attractions near Gimyujeong Station
Kim Yu-jeong is a leading novelist representative of modern Korean literature. Just five minutes walking distance away from Gimyujeong Station is this famed author's birthplace, which has been renovated into the 'House of Literature.'

- Kim Yu-jeong House of Literature
Kim Yu-jeong (1908~1937) was born in Sille Village in Chuncheon. The Kim Yu-jeong House of Literature was built by restoring the author's birth home and renovating it into a cultural area complete with multiple traditional-style buildings, a walking trail, and more. The Memorial Gallery exhibits publications and other materials related to the author's career. Outside the house, visitors can enjoy the provincial landscape.
☞ Go to Kim Yu-jeong House of Literature

Attractions near Chuncheon Station
Often known as the 'City of Lakes,' Chuncheon is approximately 60 to 80 minutes from Sangbong Station in Seoul (on the Gyeongchunseon Subway Line). From Chuncheon Station, it's only a 10-minute walk to the streets of Myeong-dong (downtown Chuncheon) and a plethora of local delicacies such as Chuncheon's famous dakgalbi and makguksu dishes. The city's main tourist attractions are scattered all over the area, so take the Chuncheon City Tour Bus or inquire about transportation options at the Tourist Information Center in Chuncheon Station.


- Jungdo Island
Jungdo Island was created as a result of the construction of Uiam Dam and is located in the middle of Uiamho Lake about 1.5 kilometers away from downtown Chuncheon. A major tourist site of Chuncheon, Jungdo Island is a large leisure plaza surrounded by water. It features a sprawling field with lush green grass, groves of trees, a walking trail, play facilities, and a camping site. Visitors who are looking for more action-packed activities are encouraged to rent a bike or check out the waterskiing and windsurfing. The Jungdo Wharf is only 10 minutes away by taxi from Chuncheon Station and the island is six minutes away by ferry. The admission is 5,300 won per person and includes the ferry ride to and from the island.
☞ Go to Jungdo Island


- Cheongpyeongsa Temple
Created as a result of the construction of Soyang Dam, the largest multipurpose dam in Asia, Soyangho Lake is often referred to as a 'landlocked sea' with a magnificent natural landscape. Though a rather long walk, Cheongpyeongsa Temple is only a 10-minute ferry ride from the Soyang Dam Wharf. Built at the end of the 10th century, the temple is nestled at the foot of a beautiful mountain and is within a short walking distance of Guseong Falls, whose clear, clean waters are said to make nine different sounds as they bound down the mountainside. The round-trip ferry service between Soyang Dam and Cheongpyeongsa Temple is 6,000 won and admission to the temple is 1,300 won.
☞ Go to Cheongpyeongsa Temple


- Makguksu Museum
The Makguksu Museum celebrates one of the most well-known local specialties of Chuncheon: 'makguksu,' a buckwheat noodle served in a cold and refreshing kimchi broth. Another variation of makguksu is buckwheat noodle mixed with a red pepper paste dressing. This traditional food of Gangwon Province can be made at the workshop on the second floor of the museum for a fee of 3,000 won. The admission fee to the gallery portion of the museum is a mere 1,000 won.
☞ Go to Chuncheon Makguksu Museum


- Animation Museum
The Animation Museum has on display various materials on the origin, development, concept and types of animations and cartoons from all over the world. Visitors are sure to recognize an array of their favorite characters and can even participate in a few hands-on experiences. The museum also includes an animation theater, 3D theater, sori (sound) studio, and more. The admission fee is 4,000 won.
☞ Go to Animation Museum


- Dakgalbi Street in Myeong-dong in Chuncheon
Myeong-dong is the central commercial district in downtown Chuncheon and is chockfull of restaurants specializing in dakgalbi and makguksu, the two top local foods of Chuncheon. Dakgalbi is made by stir frying chicken that has been marinated in a red pepper paste sauce overnight with sliced cabbage, onions, sweet potatoes, and rice cakes together on a hot, cast iron plate. It is a must-eat food for anyone visiting Chuncheon.
☞ Go to Chuncheon Myeong-dong Dakgalbi Street
☞ Go to Chuncheon's Myeong-dong Street


- Statue of the Maiden of Soyanggang River
This statue is a product of the famous Korean song 'Soyanggang Cheonyeo' (Maiden of Soyangang River). The 7-meter-tall, bronze statue was commissioned by the Municipal Government of Chuncheon to be installed next to the Soyang Bridge along with the song's lyrics. Press the button on the monument to hear the song play.
☞ Go to Statue of Soyanggang Maiden

Info

☞ 1330 tt call center: +82-33-1330 (Korean, English, Japanese, Chinese)
☞ Chuncheon Station Tourist Information Center: +82-33-250-4312
(Korean, Basic English services available for those visiting in person)
☞ Related Columns:
- Chuncheon & Namiseom Tour - A Place of Romance
- Chuncheon
☞ Namiseom Island Website www.namisum.com (Korean, English, Japanese, Chinese)
☞ Chuncheon Tourism Website tour.chuncheon.go.kr (Korean, English, Japanese, Chinese)
☞ Chuncheon City Tour
- Departs from Chuncheon Station at 10:00 a.m. daily (courses vary by day)
- Fare: Adults 5,000 KRW (entrance fees and lunch not included)
- Reservations & Inquiries: +82-33-257-5533 (Hanil Tour / English, Japanese)
- Onsite registration available at the Chuncheon Station Tourist Information Center: +82-33-250-4312