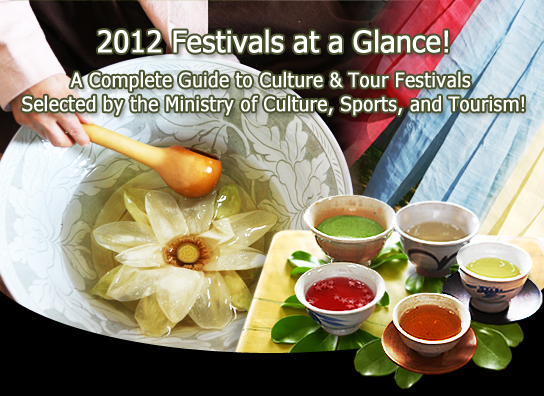 Out of more than a thousand festivals held every year in Korea, 45 'Culture & Tour Festivals' have been selected for 2012 by the Ministry of Culture, Sports, and Tourism, based on the festivals' popularity, management, uniqueness, and development potential.

At the top of this year's list of the 45 selected festivals are Gangjin Celadon Festival, highlighting the excellence and uniqueness of Goryeo celadon, and the Jinju Namgang Yudeung Festival, featuring an extravagant parade of lanterns from nations around the world. Also on the list are eight best-ranked festivals, including the Hwacheon Sancheoneo Ice Festival, Gimje Horizon Festival, Hadong Wild Tea Cultural Festival, and Geumsan Insam Festival; twelve second-best festivals including the Jaraseom International Jazz Festival, Busan Jagalchi Festival, and Muju Firefly Festival; and 23 up-and-coming festivals including the Suwon Hwaseong Cultural Festival, Incheon Pentaport Music Festival, and Boseong Green Tea Festival.

Let's take a closer look at each of Korea's 45 featured festivals taking place this year.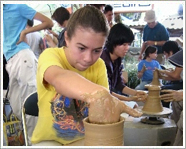 The Gangjin area has long been known for its blue celadon production, made possible by advanced sea transportation as well as the right ingredients and conditions for celadon production such as local clay, fuel, water, and a favorable climate. The Gangjin Celadon Festival has gained acclaim among visitors for showcasing the excellence and uniqueness of Goryeo celadon.

Dates: July 28, 2012 - August 5, 2012
Venue: Jeollanam-do Gangjin-gun Daegu-myeon Goryeo Celadon Doyoji area
* Jinju Namgang Yudeung Festival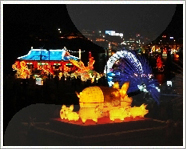 At the spectacular Jinju Namgang Yudeung (Lantern) Festival, colorful lanterns parade along the Namgang waterfront across from Jinjuseong Fortress and Chokseongnu Pavilion. Visitors will be able to enjoy a parade of traditional lanterns from around the world, floating lanterns downriver, and hanging lanterns to make wishes.

Dates: October 1, 2012 - October 14, 2012
Venue: Gyeongsangnam-do Jinju-si Chiram-dong Namgang Riverside area

Related Article:
Jinju Namgang Yudeung Festival Roots of sorrow turn to joy


♠ July
Buyeo Seodong Lotus Festival is held around Gungnamji Pond, an artificial pond constructed in the reign of King Muwang of the Baekje kingdom (BC18~AD660). A performance based on the love between Prince Seodong (King Muwang's name in his youth) and Princess Seonhwa is the highlight of the festival. Events during the festival include face painting, lotus leaf tea sampling, lotus flower soap making, lotus flower photo and painting exhibitions, and a variety of performances.

Date:July 26, 2012 – July 29, 2012
Venue: Chungcheongnam-do Buyeo-gun Buyeo-eup Dongnam-ri Seodong Park (Gungnamji) area
Up-and-coming Festivals
Hamyang Wild Ginseng Festival

The Hamyang region in Gyeongsangnam-do Province, home to Jirisan and Deogyusan Mountains, is well known for high-quality wild ginseng and medicinal herbs. The Hamyang Wild Ginseng Festival is a health-themed event held to promote and supply locally cultivated wild ginseng and medicinal herbs. The festival features diverse hands-on experience programs such as digging for wild ginseng and making ginseng liquor. Also scheduled for the festival are a marathon, B-boy performances, and firework shows.

Date:July 26, 2012 – July 30, 2012 (subject to change)
Venue: Gyeongsangnam-do Hamyang-gun Hamyang-eup Sangnim Park area
Up-and-coming Festivals
Participants from many different countries visit Pohang to compete in the fireworks contest during the Pohang International Fireworks Festival. The fireworks create a brilliant spectacle against the backdrop of the summer night sea. The festival also features a fireworks parade, a fireworks fashion show, light musical shows, live concerts on the beach, and a fireworks art exhibition.

Date:July 27, 2012 – August 5, 2012
Venue: Gyeongsangbuk-do Pohang-si Hyeongsangang River Sports Park, Bukbu Beach and surrounding areas
Up-and-coming Festivals
Bonghwa Eun-Uh (Sweet Fish) Festival

Bonghwa Eun-Uh (Sweet Fish) Festival takes place in Bonghwa, a well-preserved natural habitat surrounded with mountains, trees, clean water, and fresh air. Eun-uh, sweet fish, only live in the cleanest upper streams. Visitors can cool down while catching the fish in Naeseongcheon Stream with their bare hands. In addition, visitors can engage in night fishing and Eun-uh barbeque.

Date:July 28, 2012 – August 5, 2012
Venue: Gyeongsangbuk-do Bonghwa-gun Bonghwa-eup Sports Park, Naeseongcheon Stream area
Up-and-coming Festivals

♠ August
The Great Battle of Hansan Festival takes place in Tongyeong to commemorate the patriotic spirit of Admiral Yi Sun-shin, a Korean navy commander noted for leading victories against the invading Japanese during the Imjinwaeran War (1592-1598). The festival presents a variety of hands-on programs such as marine sports, geobukseon (turtle ship) making, bow making, and many more.

Date:August 14, 2012 – August 18, 2012
Venue: Gyeongsangnam-do Tongyeong-si area
Up-and-coming Festivals

♠ September
Pyeongchang Hyoseok Cultural Festival

Hyoseok Cultural Festival takes place in Pyeongchang, the setting for Lee Hyo-seok's famous novel, "When Buckwheat Flowers Come into Full Bloom." The festival highlights different locations depicted in the novel, as well as the area's folklore. The festival is held at the most splendid time of the year, when the buckwheat flowers blanket the entire Bongpyeong area. Don't miss the wide range of foods made from buckwheat, exciting programs, and the vast plain of buckwheat flowers.

Date:September 7, 2012 – September 16, 2012 (expected)
Venue: Gangwon-do Pyeongchang-gun Bongpyeong-myeon Munhwa (Culture) Village area
Up-and-coming Festivals

Related Column:
Pyeongchang, nature's playground
Endless Charms of Gangwon-do Province, Site of the 2018 Pyeongchang Olympic Winter Games!
Yangyang Songyi Festival

Songyi (wild pine mushroom), a rare edible mushroom with a unique aroma and taste, grows on swampy grounds covered with pine tree needles. Entry into the Yangyang-gun area where the wild pine mushrooms grow is usually strictly prohibited. However, during the Yangyang Songyi Festival, visitors can observe the wild pine mushroom ecology and even harvest the mushrooms while enjoying a walk through the woods of Seoraksan Mountain.

Date:September 2012 (exact dates to be announced)
Venue: Gangwon-do Yangyang-gun Namdaecheon Stream and Songyi Mushroom fields
Best Festivals
Goesan Red Pepper Festival

Goesan in Chungcheongbuk-do Province is famous for red pepper cultivation. The Goesan Red Pepper Festival features various red pepper related events such as an exhibition of red peppers from around the world, a red pepper show, red pepper cutting and eating contests, traditional dish sampling, and a cooking competition. A range of celebratory performances and folk games are also scheduled for the festival.

Date: : Early September 2012 (exact dates to be announced)
Venue: Chungcheonbuk-do Goesan-gun Goesan-eup Sports Fields, Culture and Sports Center, Dongjincheon Stream area
Up-and-coming Festivals
Seogwipo Chilsimni Festival

'Seogwipo Chilsimni' originally referred to the distance between Seongeup Village and Seogwipo City in Jeju ('chilship' meaning 70 and 'ri' a unit of length equal to approx. 0.4km). Nowadays, the phrase implies the beauty of Seogwipo. The Seogwipo Chilsimni Festival kicks off with a street parade by the locals and tourists to Si (Poem) Park, where the festival takes place. Festival features including a trekking course, healing zone, and forest café offer visitors a chance to discover the beautiful environment of Seogwipo.

Date: September 14, 2012 – September 19, 2012 (subject to change)
Venue: Jeju-do Seogwipo-si Chilsimni Si (Poem) Park and Saeyeongyo area
Up-and-coming Festivals

Related Article:
Volcanic Island full of Allure
Coastal Biking on Jeju Island, a New7Wonders of Nature Candidate
Insam, Korean ginseng, is known around the world for its remarkable medicinal powers, and Geumsan is one of the most famous ginseng cultivation sites in Korea. In downtown Geumsan, a traditional ginseng market, a medicinal ginseng market, and an international ginseng trade market are all located close to each other. Visitors of the Geumsan Insam Festival can experience ginseng in various forms, including harvesting the roots.

Date: September 14, 2012 – September 23, 2012
Venue: Chungcheongnam-do Geumsan-gun Geumsan-eup Ginseng Expo Square and Ginseng and Herb Street area
Best Festival

Related Article:
Incredibly Healthy Herb: Ginseng
Goryeo Ginseng

♠ October
The Cheonan World Dance Festival is a representative event of the city of Cheonan. It is also the only large-scale dance contest in Korea with dance and vocal performances. Festival features include modern and folk dance contests, dance classes, a dance party, world traditional dance performances, and many more exciting programs.

Date: October 2, 2012 – October 7, 2012
Venue: Chungcheongnam-do Cheonan-si Cheonan Samgeori Park, Cheonan Museum and Arario Plaza
Best Festival
Suwon Hwaseong Cultural Festival, which is held every October, is a landmark celebration of the city of Suwon. The festival presents a range of programs and performances, including reenactments of the royal life at Hwaseong Fortress as well as the everyday life of ordinary people under the reign of King Jeongjo the Great (reigned 1776-1800). Visitors may also enjoy many other exciting festivities such as family events and a program titled "Welcoming King Jeongjo the Great."

Date: : October 5, 2012 – October 7, 2012
Venue: Gyeonggi-do Suwon-si Hwaseong Haenggung Palace, Yeonmudae, Jangan Park, Paldalmun Market and downtown area
Up-and-coming Festival

Related Article:
Suwon City Tour
Hwaseong Fortress, the world's first planned city
Yeongdong Nan-Gye Korean Traditional Music Festival is a celebration of Gugak, Korean traditional music. The national Gugak contest, Gugak scholarship contest, and performances by the Nagye Gugak Orchestra as well as by famous Korean Gugak musicians will be held at the festival, in addition to exhibitions and hands-on activities.

Date: October, 2012 (exact dates to be announced)
Venue: Chungcheongbuk-do Yeongdong-gun Yeongdong-eup areal
Second-Best Festival

Related Article:
Hanguk Eumak Music _ traditional Korean music
During the 1970s and 80s, young people in the city of Gwangju reveled in their youth and created their own culture on Chungjang-ro Street. The 7080 Chungjang Recollection Festival is a cultural celebration that epitomizes the spirit of the youth and the good old days of the 70s and 80s when everything prospered. A wide range of events take place during the festival period including a street parade by the locals, exhibition reenacting the life of the 1970s and 80s, traditional games, local dish sampling, a folk song festival, intangible cultural asset performances, and street performances.

Date: October 9, 2012 – October 14, 2012
Venue: Gwangju-si Dong-gu Chungjang-ro, Geumnam-ro, Hwanggeum-ro, Underpass, Art St. and nearby regions
Second-Best Festival
Gimje Horizon Festival began with the purpose of promoting the beautiful natural environment as well as rice grown in Gimje. Gimje Plain, with its fertile soil ideal for rice harvest, is the largest grain-producing area in Korea. The festival features a range of hands-on activities such as grasshopper catching, rice harvesting, and scarecrow making. Visitors can experience the Korean traditional farming culture, while sightseeing the horizon rendered golden by the rice fields in the autumn sunset.

Date: October 10, 2012 – October 14, 2012
Venue: Jeollabuk-do Gimje-si Buryang-myeon Byeokgolje area
Best Festivals
Busan Jagalchi Festival

Jagalchi is a well-known fish market and popular tourist attraction in Busan. Every fall, Busan Jagalchi Festival draws a large number of visitors to the city's shores for sightseeing, food tasting and fish sales. Fish vendors who prepare and sell grilled sea eel and buyers bargaining over the price of fish add to the fame and recognition of the festival as the appropriate time and place for experiencing the unique culture of Busan.

Date: October 10, 2012 – October 14, 2012
Venue: Busan-si Jung-gu Nampo-dong Jagalchi Market, Namhang Port and Yongdusan Park
Second-Best Festivals

Related Article:
Busan City Tour
Traditional Markets in Korea
Jaraseom Island got its name from the fact that it faces a hill resembling a Jara (Korean word for soft-shelled turtle) and also because the island is flooded out in heavy rainfall and reappears after the rain. The island became popular through the annual Jarasum International Jazz Festival, which started in 2004 and immediately gained tremendous acclaim. During the jazz festival period, various performance venues are created throughout the island, and visitors may enjoy quality music by world-renowned jazz artists.

Date: October 12, 2012 – October 14, 2012
Venue: Gyeonggi-do Gapyeong-gun Jaraseom and the nearby area and Jarasum Jazz Center
Second-Best Festivals
Punggi Insam is a type of ginseng grown at the foot of Sobaeksan Mountain. Its special flavor is attributed to the particularly clean air and energy in the mountain. Punggi Ginseng Festival seeks to promote the Punggi ginseng, especially its special medicinal properties, while showcasing key tourist attractions in the region. Main events include ginseng delicacy tasting and ginseng cultivating.

Date: Early October, 2012 (exact dates to be announced)
Venue: Gyeongsangbuk-do Yeongju-si Pungi-eup Namwoncheon Stream area
Second-Best Festivals

Related Article:
Incredibly Healthy Herb: Ginseng
Goryeo Ginseng
Rich in food sources, including crops grown on the vast plains and seafood harvested from the southwestern sea, Gwangju has long been called the town of delicacies and has developed as a center of culinary culture. Gwangju World Kimchi Culture Festival is a venue for promoting the Korean Southeast's culinary history and for tasting traditionally-made kimchi. Enjoy the experience as this distinguished festival introduces you to the world of kimchi.

Date: October 13, 2012 – October 17, 2012 (expected)
Venue: Gwangju-si Jungoe Park area
Up-and-Coming Festival

Related Article:
History of Kimchi
Kimchi Recipes
Korea's Favorite Fermented Superfood: Kimchi
The city of Ganggyeong produces half of all fermented seafood produced in the country. It is here that the Fermented Seafood Festival is held to offer visitors fresh and tasty fermented seafood at prices 30~40% cheaper than most other parts of the country. In fact, prices remain relatively low enough to attract visitors all year around.

Date: October 17, 2012 – October 21, 2012 (expected)
Venue: Chungcheongnam-do Nonsan-si Ganggyeong-eup Ganggyeongpogu Port, Fermented Seafood Market and Fermented Seafood Exhibition Hall
Second-Best Festival
Since the ancient times, Icheon's expansive open fields have offered perfect conditions for growing rice. As such, it has long been one of the major rice producers in Korea, and continues to produce top-quality rice. The Icheon Rice Cultural Festival, combining two of Icheon's symbols, rice and agriculture, is held in late October to celebrate the year of good harvest.

Date: October 25, 2012 – October 28, 2012
Venue: Gyeonggi-do Icheon-si Seolbong Park
Second-Best Festival
Masan was the first district in Korea to cultivate chrysanthemums locally and also the first to export them to Japan. Gagopa Chrysanthemum Festival, held annually since 2000, presents spectacles such as a grand flower gate at the festival entrance, a flower hill made of 5,000 chrysanthemums, and a flower tower decorated with the festival's mascots.

Date: October 2012 (exact dates to be announced)
Venue: Gyeongsangnam-do Changwon-si Masanhang Harbor area
Up-and-coming Festival

♠ November
Sunchang, a village famous for its citizens' longevity and for the production of red-pepper paste, holds the Sunchang Fermented Soybean Festival every year. The fermented Sunchang red-pepper paste has recently been recognized for its excellent health benefits. Traditional outdoor performances, percussion performances, and Sunchang red-pepper paste making will take place, as well as a local specialty fair and a Sunchang red-pepper cooking competition.

Date: November 2, 2012 – November 4, 2012
Venue: Jeollabuk-do Sunchang-gun Sunchang Gochujang Village and Gangcheonsan Mountain
Up-and-coming Festival

Related Article:
Sunchang Gochujang Village - Home of Gochujang Red Chili Paste

※ Please be aware that festival schedules are subject to change.
※ Last Updated February 7, 2012