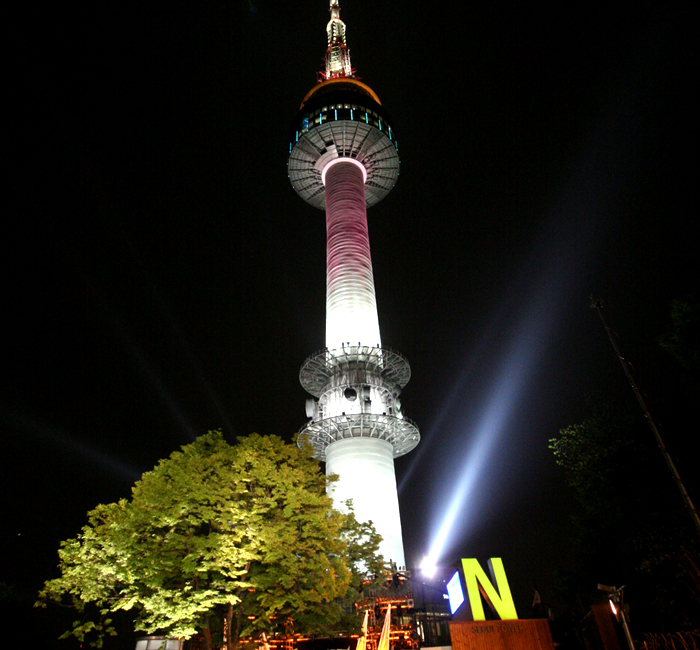 Rising up from the summit of Namsan Mountain (262m) is a beloved city landmark that has come to represent the city itself: the N Seoul Tower (236m). Upon completion of construction in 1975 and since then, the tower has steadily gained in popularity. In addition, thanks to the worldwide fans of TV drama 'My Love from the Star (2014)', which was filmed here for some of the romantic scenes, the N tower's fame grew even more, becoming a favorite attraction for both locals and international visitors.

The tower's multifunctional space has an observatory, restaurants, a museum, a coffee shop, and souvenir shops and is frequented by families, friends, and couples who come to soak in the romantic ambience and gaze upon the stunning city view.

For visitors hoping to get a panoramic view of Seoul, N Seoul Tower is not to be missed, no matter how busy your travel schedule. To make the most of the trip, stroll around Namsan Park and observatory post to close to sunset hours to check out the city's beautiful night landscape.
Unique tidbits about N Tower
Washroom with amazing views, Sky Restroom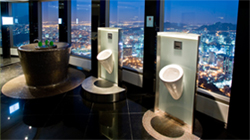 Located on the second floor of the N tower, there is a unique restroom called 'Sky Restroom' as it is situated at the highest ground level in Seoul's downtown. For men's room, the special feature lies in the glass wall that is built all directions. Don't worry about privacy as the glass walls have a special coating and that the inside will not be seen from outside, while it still offers clear views from inside. It might sound a little strange to be enjoying views while taking care of one's business, but it surely will be one memorable experience for some!
Roof Terrace, testaments for forever love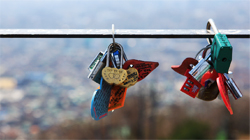 Roof Terrace is an expansive outdoor observatory on the annex building of N Seoul Tower. But it is more known for lovebird to promise their unfailing loves. Several years ago, a TV program's main characters visited the terrace and attached 2 padlocks to the fence as a symbol of their undying love. Until today, tens of thousands of love locks can be found hanging around the terrace each day.
Digital Observatory, the best view of Seoul
The observatory of N Seoul Tower offers a 360-degree panoramic view of Seoul as well as information on Seoul and Namsan Mountain. On the second floor (T2) there are also a souvenir shop and a snack shop serving coffee, other beverages, cakes, and cookies. To get to the observatory, buy a ticket from the ticket desk at the Plaza Square or on the basement level.

☞ Location: Digital Observatory – 3F (T3), Analog Observatory – 2F (T2)
Alive Museum, cool and fun tricks for all visitors
This is a museum is highly educational for children as well as for adults to experience the arts, digital objects, and media installation with added touch of illumination. Their displays are meant to be enjoyed not only with eyes but with close interaction with visitors, where one can act like a famous actor of a movie or heroic character that came out of a fantasy script. The exhibition halls take up 4 major different zones showcasing Classical Arts, Living Arts, Fantasy and Sports, housing a total of 34 artistic objects.

☞ Location: B1F
Eye pleasing Restaurants
n-Grill, an upscale French restaurant
The revolving restaurant n•GRILL atop N Seoul Tower is the ultimate dating spot and is frequently used as the scene of marriage proposals. Though the full-course meals and elegant interior are excellent in their own rite, it is the restaurant's panoramic views of the city that are sure to impress. As diners enjoy their meal, the restaurant slowly rotates counterclockwise, making a full revolution every 1 hour and 40 minutes. All tables are set facing the windows, assuring you with the "best seat in the house" no matter where you sit.

☞ Location: F5, Observatory (T5)
HANCooK, All-you-can-eat Korean buffet
HanCook is a Korean-style buffet restaurant popular among family visitors. It offers a classic ambience and about 30 different dishes. Most tables accommodate up to four guests.

☞ Location: F1, Observatory (T1)
Gift shops
N Gift at Plaza (1F)
This souvenir shop has a cozy and welcoming ambience. Among the usual souvenirs, padlocks, diaries, albums, dolls, and idol memorabilia are available for purchase. Locks can be attached to the nearby fence as part of the well-known tradition of "love locks" started by a popular Korean drama.
THE BA:NG at Tower (3F)
Located on the third floor of the observatory tower, this branch of THE BA:NG offers a stellar view and a range of whimsical products that serves as creative souvenir ideas.
How to get to
N Seoul Tower is accessible by circular bus, cable car, and the Seoul City Tour bus. The yellow Namsan circulation bus makes stops at N Seoul Tower and other major tourist sites in the neighborhood. The Namsan Cable Car near Myeongdong Station (Seoul Subway Line 4) is faster and more convenient if you are planning on visiting N Seoul Tower and bypassing other attractions in the area. You can also reach N Seoul Tower by taking a ride on the Seoul City Tour bus, which has a longer route than the yellow Namsan bus. Access to N Seoul Tower by passenger vehicle (cars and/or taxis) is restricted to reduce the environmental impact on Namsan Park. Visitors coming by car should consider parking at a lot near one of the Namsan shuttle bus stops.
(1) Namsan Shuttle Bus (Circulation Bus)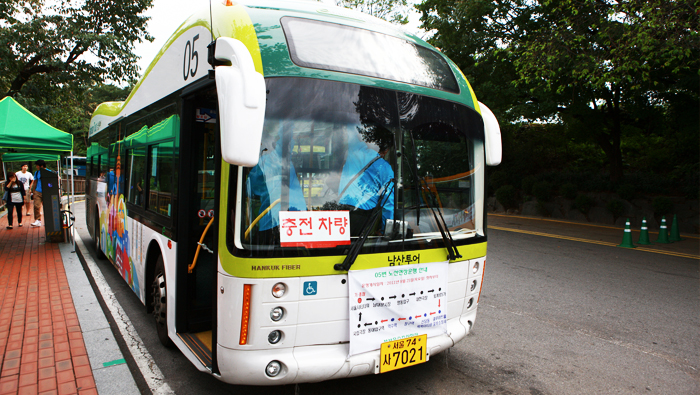 * Bus 02: Chungmuro Station (Seoul Subway Lines 3 & 4), Exit 2 (in front of the Daehan Cinema) or Dongguk University Station (Seoul Subway Line 3), Exit 6.
(Operating hours: 07:00-24:00)
* Bus 03: Seoul Station (Seoul Subway Line 1 & 4), Exit 9 or Itaewon Station (Seoul Subway Line 6), Exit 4 or Hangangjin Station (Seoul Subway Line 6), Exit 2.
(Operating hours: 07:30-23:30)
* Bus 05: Myeongdong Station (Seoul Subway Line 4), Exit 3 or Chungmuro Station (Seoul Subway Lines 3 & 4), Exit 2 (in front of the Daehan Cinema).
(Operating hours: 07:30-23:30)

☞ Related news
(2) Cable Car
* Directions to the Namsan Cable Car Station
1) Myeongdong Station (Seoul Subway Line 4), Exit 3. Take road to the right of Pacific Hotel and walk for 10min.
2) From Hoehyeon Intersection (Myeongdong & Hoehyeon stations, Seoul Subway Line 4) walk towards Namsan Tunnel #3 and take the free Namsan Oreumi elevator to the cable car station.
Namsan Cable Car

The Namsan Cable Car is a 3-minute cable car ride that runs from the base of Namsan Mountain to N Seoul Tower, offering a splendid view of Seoul the entire way up. The cable car can accommodate up to 48 people and is much less congested in the morning when there are fewer visitors. Riders can typically board the cable car within 10 minutes of purchasing their ticket.

Namsan Oreumi

Namsan Oreumi is a free outdoor elevator that runs between the Commemorative plaza in front of the Namsan Tunnel #3 and the Namsan Cable Car. The elevator covers a distance of 140m and can accommodate up to 20 passengers. With glass on all sides, the Namsan Oreumi offers a unique and convenient way to get to the cable car station.
* Hours: 09:00-23:00 (Closed on Mondays from 9 a.m. to 2 p.m. for regular maintenance)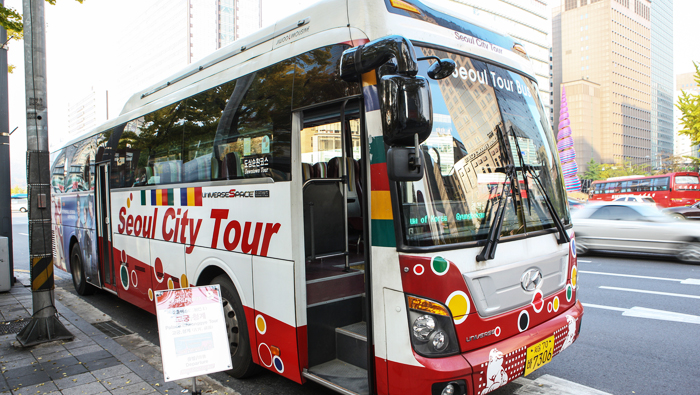 Type
Single-decker bus for
City Circular Tour Bus
Single-decker bus for
Seoul City Night Tour
Hours
09:00-21:00
(last bus departs at 19:00)
Departs at 19:30
(leaves at 20:00 during
summer season of July-Sep)
Intervals
Departs every 30 minutes
Once a day
Route time
Approx. 2 hours
Approx. 1.5 hours
* Departing point: Koreana Hotel near Gwanghwamun Station (Seoul Subway Line 5), Exit 6.
* The bus does not operate on Mondays (exception: when Monday falls on public holidays, and Mondays during summer peak season (from 4th week of July to August 15, 2015))
☞ Related article : Seoul City Tour
More Info

☞ Address: 105, Namsangongwon-gil, Yongsan-gu, Seoul (Yongsan-dong 2-ga)
☞ Hours: Observatory 10:00-23:00 (Mondays-Fridays, Sundays) / 10:00-24:00 (Saturdays)
☞ Admission
- Observatory
Adults (13 and up): 9,000 won / Seniors (65 and up): 7,000 won / Children (age 3-12): 7,000 won /
Infants (Under 3): Free
- Alive Museum
Adults (18 and up): 12,000 won / Children (3-12): 9,000 won
- Observatory + Alive Museum Package
Adults (18 and up): 15,000 won / Children (age 3-12): 11,000 won
☞ Inquiries: +82-2-3455-9277 (Korean, English, Japanese, Chinese)
☞ 1330 Travel Hotline: +82-2-1330 (Korean, English, Chinese, Japanese)
☞ Website: www.nseoultower.co.kr (Korean, English)
☞ Related article
* This column was last updated on April 22, 2015, and therefore information may differ from what is presented here. We advise you to check details from the official website before visiting.