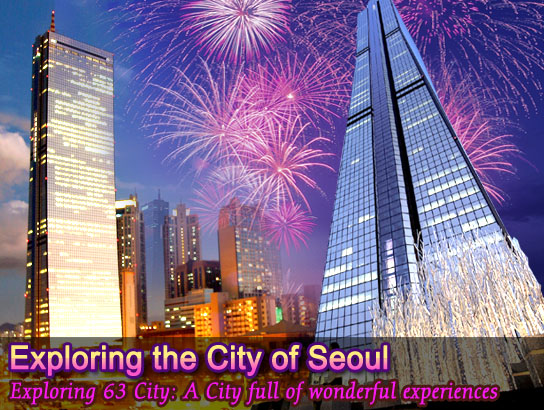 Standing tall, 63 City, one of the major landmarks in Seoul, is located in Yeouido, overlooking the gently flowing Hangang River. On the outside, it's a simple skyscraper. On the inside, however, it's full of wonderful things for visitors to see. Attractions include Sea World, which is known as the perfect place for a family outing and the observatory located on the 60th floor, which is well known as a great place for a romantic date. Plus, the observatory has recently been transformed into a gallery, the wax museum has opened, and <Fanta-Stick>, a string and percussion performance, is held regularly. As such, 63 City is constantly evolving as a "Fantastic City". Marking its 25th birthday, 63 City has reemerged as a major tourist attraction site. Following is a detailed description of the 63 City.


★ 63 City
Location: 63 building, 60 Yeouido-dong, Yeongdeungpo-gu, Seoul
How to get there: Take Subway line 5 to Yeouinaru Stn. Exit #4. It takes about 15 min. on foot from the subway exit. You can also take a free shuttle bus at the subway stations near
63 City: Yeouido Stn.(Subway line 5) Satgang Stn.(Line 9), and Daebang Stn.(Line 1).
Suttle bus schedule http://www.63.co.kr/home/63CITY/etc/map01.jsp# (Korean)
Admission Tip> Get a discount by taking a tour of more than 3 spots.
BIG 3(pick 3 out of Sky Art, Sea World, IMax, and the Wax Museum)
Adults: KRW 30,000; 13 - 18 yrs: KRW 27,000; 4 – 12 yrs: 24,000
BIG 4 (includes Sky Art, Sea World, IMAX, Wax Museum)
Adults: KRW 38,000; 13 -18 yrs KRW 35,000; 4 – 12 yrs KRW 32,000
Yearly Pass (356 day free pass): KRW 67,000
Contact: +82-2-789-5663
Tourist Information Call: +82-2-1330
(Korean, English, Japanese, Chinese)
Website: http://www.63.co.kr/63eng/63Main.jsp
(Korean, English, Japanese, Chinese)


☞ Detailed information of 63 City


Related Article:


☞ Admire Seoul's Night Scenery on a Romantic Date at 63 City
63 Sea World - Have Fun Watching Diverse shows at the Aquarium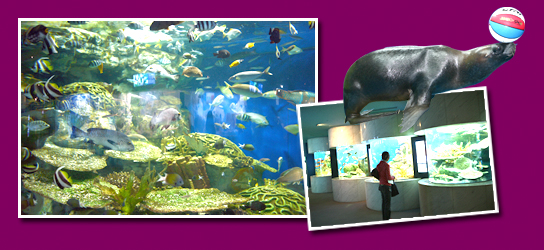 Sea World is the nation's first aquarium, which opened in 1985 in tandem with the opening of 63 CITY. Sea World, where a total of 400 species of 20,000 marine creatures are living, is well known for its exciting seal and sea lion shows. The little African Penguins are so cute that they are loved by visitors of all ages, regardless of gender. There is also an exciting show in which trainers actually feed the penguins. Another popular attraction is a place where visitors get to see electronic eels shooting out electricity and turning the lights on. Moreover, you can have a virtual under-water experience by walking on a glass-bottomed path where you can see animals swimming around right beneath your feet. Shows start on time, so better check the schedule to make sure you have time for your favorite marine life shows!

Location: B1 of 63 CITY building
Office Hours: 10:00~22:00 (year-around)
Admission Fee: Adults KRW14,000 Ages 13-18 KRW13,000 Ages 4-12 KRW12,000
Major Shows
Seal Show: 13:00 / 15:00 / 17:00
Sea Lion Show: 12:00 / 14:00 / 16:00 / 18:00 (Additional 19:00 show on Sat/Sun)
Penguin Feeding Show: 15:30
Under Water Show information
http://www.63.co.kr/63eng/IF/IF_main.jsp (English)