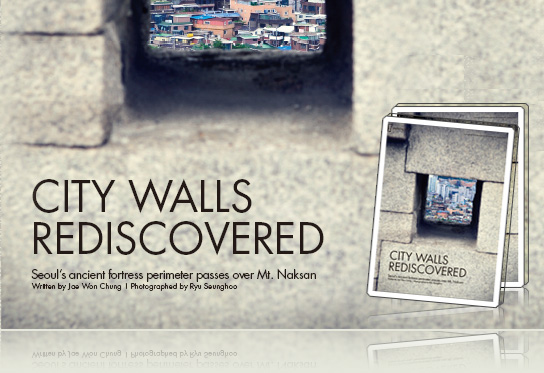 Began my kilometer-long hike northward toward Naksan Park on a muggy afternoon, in the hustle and bustle of the Dongdaemun area. As I passed a number of fellow hikers and, to my right, some senior citizens relaxing on pyeongsang (low wooden platforms) in Korean-style gazebos, I could already feel myself being lifted above the city's frenzy. To my left, clearly marking the trail, were stone walls with battlements standing over ten meters tall.

These walls are part of a much larger structure—18km in circumference—connecting a half-dozen major and minor gates that once served as a perimeter to Hanyang, the capital of Joseon. The fortress walls, or seonggwak in Korean, were built according to 9th century Oriental geomancy (also known as feng shui ),which stated that a kingdom's capital should be protected by mountains on its north, south, east, and west.

Soon a passageway appeared, providing access to the wall's inner side. I looked in to find a humble residential district, with snug alleyways and bored children. What deterred me was the laughably steep incline. I had a few more chances to work my way in as I traveled higher up the path. What lured me back, eventually, was a tiny convenience store with a red awning. There, I had my first—very pleasant—encounter with Pocari Sweat (a clear Gatorade-ish drink). When I came back out, a couple of teenage boys brushed past me. They were headed westward, and down, in the direction of Daehangno. I asked them where they were going."Ihwajang—where Syngman Rhee used to live," one of them said. (I wanted to follow, but he said you needed to make a reservation at least a day in advance.)

Hiking up the fortress walls, I could see over the western edge of the path, all the way to the ridges of Mt. Inwangsan and Mt. Bugaksan— and, further south, to Namsan Tower. Seoul's cluttered buildings actually looked cozy from this altitude, with patches of lush green softening the cityscape. On the outer side of the walls in Naksan Park, a beautiful trail made a winding descent toward the park's northern end. I passed a young couple—a woman trying to show her companion something far away ("not that blue, that blue") somewhere between the apartments and the humongous heap of dirt where construction was under way—and watched nervously as two giddy middle school girls sat perched on adjacent battlements, dangling their sneakered feet from the edge.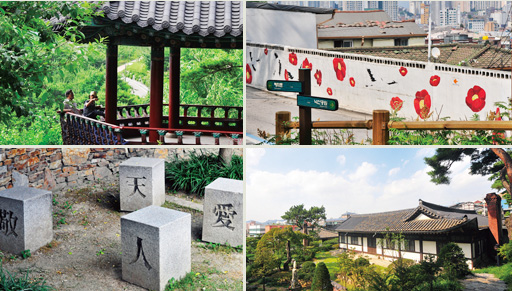 Those battlements had been added to the fortress walls in 1422 by King Sejong, the same king who invented the Korean alphabet, Hangeul. A series of restorations, which would continue with King Sukjong in 1704, is responsible for the mosaic-like quality of the walls. The eventual shift from clusters of large and small natural stones to two-foot by two-foot rectangular stones reveals the advancement of Korea's building technology over the centuries. At the rest area, hikers were refueling on cup noodles and Cass beer. Nearby was Naksan Gallery, which provides photos of the area from the 1960s, showing how the rush toward urban development almost destroyed the fortress walls. In 1999, thirty apartment buildings and 176 houses were torn down to make room for the park. Tens of thousands of trees, bushes, and flowers were planted, while over four hundred facilities,like badminton and basketball courts, were installed for park-goers'enjoyment.

In a city often criticized for its unchecked growth and disregard for its environment and history, I was happy, finally, to see such a thriving exception. From there, it would have been a brisk walk down to Hyehwa Station, near the bustling theater district of Daehangno. But after coming out of the gallery, I climbed up the trail again, wanting to enjoy the view atop Naksan's fortress walls once more.
- The article courtesy of Seoul magazine