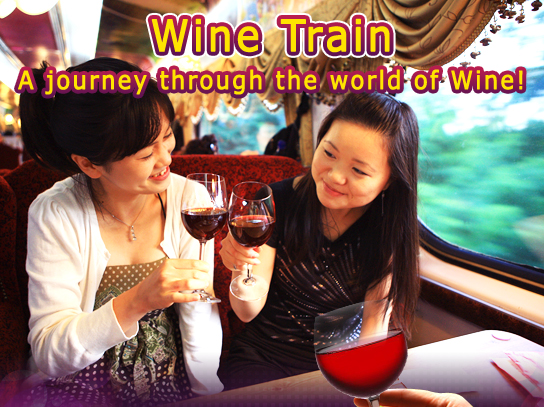 A train ride where you can sit back and
relax and drink as much delectable wine
as you could possibly want? It's hard to believe, but that's exactly what the Wine-Train offers its passengers as it runs from Seoul to Yeongdong, Chungcheongbuk-do and back. Hop aboard the Wine-Train, to enjoy all-you-can-drink Korean Wine made of grapes grown in the Yeongdong and explore the beauties of the region. After sampling wines throughout your journey, your arrival at Yeongdong will bring you one step further into the world of wine. Visit the Wine Korea facilities, and a wine foot spa. The train will also introduce you to ginseng (another product of the region) as well as take you around to some tourist attractions in the nearby area.


Before the Journey, Meet the Wine-Train

The exterior of the Wine-Train is festively decorated with artfully-done images of wine and ginseng. The Wine-Train consists of Wine/Ginseng cars (Cars No.1 - 4) and Cinema cars (Cars No.5 - 7). If you take a Wine/Ginseng car from Seoul to Yeongdong, you will be seated in a Cinema car on the way back, and vice versa. Though some cars are a little more luxuriously decorated then others (reflected in the price), each car has a small stage at its center, surrounded by couches and loveseats. In order to keep with the overall wine theme, the entire interior is decorated in soothing blues, deep reds, and rich purples. Large windows on either side of the passenger cars give visitors a wide open view of the scenery as they settle back and enjoy the experience.

Full of the sweet scent of wine, song, and joyful conversation
At 9:05 a.m., the train slowly pulls of the station, gearing up to take its passenger on an unforgettable journey. During the three hours it takes to get to Yeongdong, cheerful music fills the cars as entertainers croon along to the strumming of their acoustic guitars. Of course, the trip to Yeongdong is also the perfect time to begin your day of free sampling! Try the Sample Nouveau Wine (subject to change depending on the harvesting season), Dry Wine, Sweet Wine, and White Wine along with plenty of snacks such as pastries, fruits and nuts. There is also a brief lecture on how to taste wine, perfect for those who may be new to try this simple pleasure. The trip to Yenondong is the ideal time for you to lounge in your seat slowly sipping wine, gaze at the beauty of the passing scenery, and truly take a moment to savor the experience.

Arriving at Yeongdong Station, and Lunch Time

From Yeongdong Station, it's only a short bus to Wine Korea for lunch, where you'll be delightfully surprised by a gourmet lunch buffet featuring over 20 different side dishes including Korean, Chinese, Japanese, and Western-style food. Once everyone finds their place under the grapevine awning, guests will be served a variety of wines including Rose Wine. This will be a change of pace from the types of wines served aboard the train.

Wine Foot Spa

After about an hour or so of dining and relaxing, you'll be moving on to the Wine Korea Building. It's time to reward yourself for all your hard work, so take the towel and slippers provided and go to the next room for your footbath. The grape-colored water is a toasty 38℃. Soak your feet and let your cares ebb away to the quiet chatter of your new friends and neighbors who were strangers just hours ago.

Take a look around Wine Gallery and Oak Cellar

The Wine Gallery is the perfect opportunity to learn how our little friend the grape becomes the savory drink we know and love. On display are a variety of wines produced by Wine Korea (each with their specially-designed label), as well as a number of displays that make helps visitors better understand this fascinating industry. Wine Korea staff members provide detailed information on the wine-making process and explain the functions of the various visual displays. You can even visit the underground oak ripening cellar where wine stays briefly before it is bottled.

☞ Go to Wine Korea

Tour around Ginseng Exhibition Hall and Medicinal Herb Market

To take a little break from the wine portion of your tour, you'll then be bused to Geumsan (40 minutes away from Wine Korea) to Geumsan Ginseng Exhibition Hall. Learn to wrap four medicinal herbs packets to take home (such as Baekji (백지, Bai Zhi) / Gyepi (계피, Cinnamon) / Danggwi (당귀, Giant Angelica) / Bakha (박하, Peppermint)) and let the fresh smell of the herbs fill your senses. Even those who have never done this type of activity will be sure to be wrapping like a pro in no time! At Geumsan Ginseng & Medicinal Herb Market, the final tour stop of the day, you're sure to be enthralled by the myriad of medicinal herbs and products dangling in front of store windows and proudly displayed around each vendor. Don't forget to try the fried ginseng served with starch syrup; just one bite and you'll see why this sweet and crispy treat is one of the marketplace's mouthwatering specialties.

☞ Go to Geumsan Ginseng Museum
☞ Go to Geumsan Ginseng Town

Off to Seoul Station

At 5:00p.m. it's time to head back to Seoul Station. Snack on Gimbap (rice and veggies wrapped in seaweed), boiled eggs and other free snacks. Of course, the ride back to Seoul Station is also the perfect time to have your final glasses of wine and bid adieu to the new friends you've made during your journey. As the train rolls into the station at 7:45p.m. (at 8:20 – 8:50 p.m. during summer season), it's time to disembark and go home, full of wine and pleasant memories of your day touring the countryside.
>> The Wine-Train runs between Seoul and Yeongdong
every Tuesday and Saturday unless otherwise stated.
In August 2012, the train runs on August 18th, 21st, 25th and
28th. When there are fewer than 150 passengers, then the train does
not operate. During autumn season, the route could be slightly changed, replacing ginseng town with autumn foliage outing.
Seoul Station → En route to Yeongdong (Tasting wine & Recreation) →
Yeongdong Station → Wine Korea (Wine Foot Spa, Tour of Facilities) →
En route to Geumsan → Geumsan Ginseng Museum, Geumsan Ginseng
Town → Seoul Station
Wine & Ginseng car (Cars No.1–4 ), Cinema car(Cars No. 5–7):
93,000 won

* Grape-picking experience (available in August): Additional 6,000 won
(Ages 0-3: Free / Ages 4-12: 55,000won (Grape-picking experience: Additional 5,000 won))
<**The Wine-Train fare includes: Lunch, snack, transportation, recreational expenses, movie, and travel insurance. Breakfast and dinner will not be provided.>

☞ Information & Reservations: www.winekr.co.kr (Korean)

☞ Inquiries: +82-2-3273-3311 (Korean)
Seoul Station Information Center: +82-2-3149-3333 (Korean)

* Cancellation or change of reservations can only be completed over the phone.(09:00 – 18:00, Monday – Saturday)

☞1330 tt call center: +82-2-1330 (Korean, English, Japanese, Chinese)
- Last updated on July 23, 2012