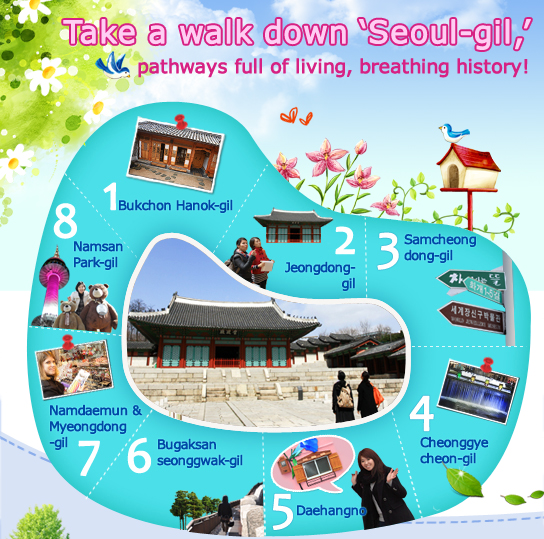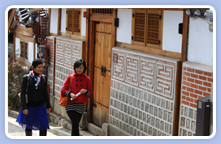 Known as 'Bukchon' (북촌) since the Joseon Dynasty (1392-1910), 600 years of history are proudly reflected in this quaint little area filled with hanok. One of the unique characteristics of this particular hanok area is that it is a 'living hanok neighborhood'—not just a tourist attraction, but a living, breathing community. Chockfull of museums, craft studios, and art galleries, this area is the perfect place to take a leisurely walk and savor the spirit of the past.

DIRECTIONS

Start your journey from exit 2 of Anguk Station (subway line 3) and walk one block straight ahead until you get to the Tourism Information Center. Pick up a map of Bukchon and get ready to go!
[Note: Travelers hoping to visit Unhyeongung Royal Residence and/or the Bukchon Cultural Center are advised to do so before beginning the walking course, as these stops are not included in the route.]

Begin by turning right at Persona Coffee House. Continue straight until you reach Seongsim Arts & Crafts (성심예공원). 'Seongsim Arts & Crafts' is a residence of a 'Master of Hanok' who has been designated as an official 'Intangible Cultural Asset.' This area is also the location of Rakkojae (락고재) Hanok Experience Center where you can learn more about life in Korea in the pre-industrialization era. After your visit, continue walking in the same direction as you were going before, until you come across 'Gyedong-gil' (계동길) boulevard. Turn left down this large walkway and explore the vintage shops and coffee shops from the 1980s. After you've shopped (and maybe had a cup of coffee) walk until you see Choongang Middle and High School (중앙중.고등학교). This is a must-see stop for K-pop lovers since there is a K-pop souvenir shop right near the school that sells Hallyu items featuring stars like Bae Yong-joon and Choi Ji-woo.

Turn left at the school and go straight until you hit the first main side street, whereat you need to make a left. As you continue walking, you'll find yourself in the heart of the Bukchon Hanok Village! There are a number of museums in this area including Donglim Knot Museum (동림매듭공방), and the Han Sang Soo Embroidery Museum (한상수자수공방), both of which offer hands-on craft experiences/mini craft lessons for a small fee. When the street comes to an end, turn to your left and continue on until you reach the crosswalk. Cross the street to your right, turn left down the first alleyway, and walk uphill until you see an old Korean spindle tree. Stay along the brick wall (following the main road) and take the first left across from the hanok garage (Gahoe-dong 31st). This area is full of beautiful traditional hanok houses and has a terrific view of downtown Seoul, including the N Seoul Tower. Be sure to have your camera ready.



<More Info. >



Bukchon Hanok Village



* Bike rental services are available throughout most of the year (April-Oct). Rental fees are ₩1,000 for every three hours and bikes may be rented anytime from 10:00 to 17:00
* Tourist Information for Bukchon: +82-2-731-0851 (Korean only)