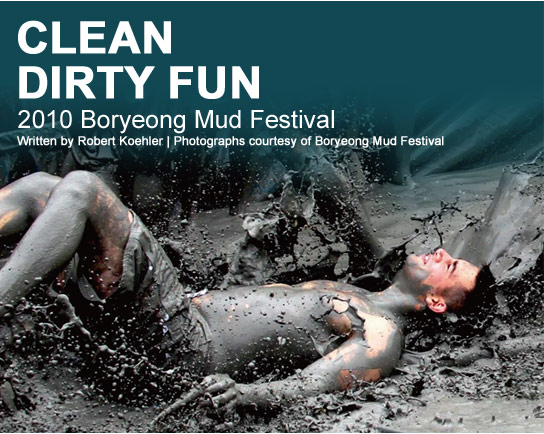 As anyone who has seen the festival's posters knows, the Boryeong Mud Festival is one of Korea's most popular events among the foreign community: nine days of good, dirty fun in the restorative black mud of Korea's beautiful West Sea coast. Boryeong's Daecheon Beach plays host every year to countless visitors who come to experience its famous muds, praised the world over for their cosmetic and health effects. Last year, 2.17 million visitors came to the festival, including 104,000 foreigners from 98 countries. So popular is the festival, in fact, that it became Korea's first festival "export" last year, with a sister mud festival opening at Jinshitan Beach in the northern Chinese city of Dalian. The festival is, quite possibly, the biggest summer party of the year.
More Information
T. (041) 930-3820
Website: www.mudfestival.or.kr

Getting There
Take the bus toward Daecheon from Seoul Nambu Terminal (travel time: 2 hours, 10 minutes). The bus stops in front of Daecheon Station. From there, take a local bus to Daecheon Beach.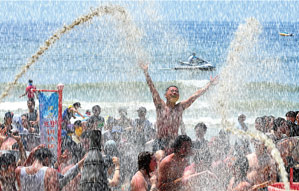 Understanding Boryeong Mud
Mud. Earth mixed with water. Usually liquid or semi-liquid. Sure, you see mud all the time, but not all muds are created equal. Muds have different minerals and organic matter, and over time, as salt and other elements are deposited, geological, chemical and biological processes take place. Globally speaking, some muds are rather well known, for example the black mud of the Dead Sea, Glacial Marine Clay from British Columbia, mud from Lake Baikal, California Clare Mud, and New Zealand volcanic mud. For ages, mud has been used as a cosmetic and to remedy skin ailments; Cleopatra used it, as have the Chinese for centuries.
In days gone by, Korea had to import all its medicinal and cosmetic muds from abroad. In 1996, however, mud extracted from the pristine flats of Boryeong was confirmed to possess antiaging and skin cleansing properties, and major domestic cosmetics firms were brought in to produce Boryeong mud-based soaps and cosmetics. Boryeong's wondrous mud is rich in minerals that are known to help prevent aging and give the skin bounce, as well as in colloids and crystals that provide the same sort of physical therapy effect as a sand sauna. With its antibiotic qualities and far-infrared factors beneficial to our bodies, Boryeong mud is now exported to the United States, China, Japan and elsewhere.

Fun and Games
When it was first launched in 1998, the Boryeong Mud Festival was a four-day affair with 16 programs. It is now a nine-day event with a total of 55 programs. Just two hours' drive from Seoul, the beach is easy to reach from anywhere in the country. It is also noted as having the highest rate of foreign participation of any of Korea's major festivals.
The star of the show, of course, is the mud, and there will be plenty of it. Visitors can enjoy mud massages, mud wrestling, a Marine-style training course on Boryeong's mud flats, and much, much more. Buy mud packs, mud cosmetics, and other mud products. At night, there will be concerts, rave parties, and other fun activities.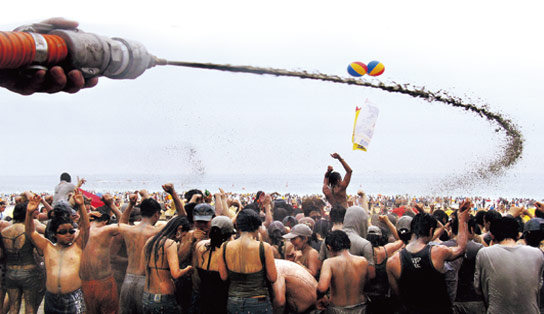 - The article courtesy of Seoul magazine