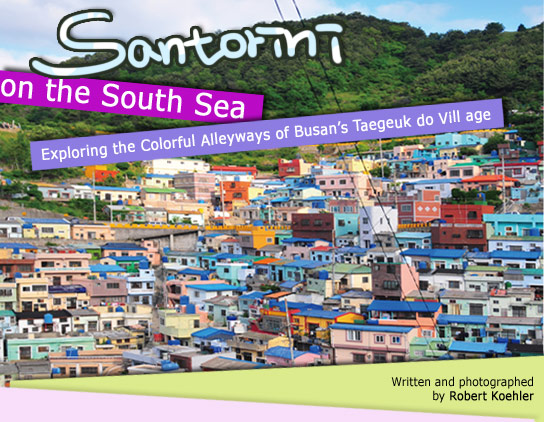 "Korea's Santorini." "Korea's Machu Picchu." "Lego Village." These are the many nicknames the Busan neighborhood of Gamcheon 2-dong - Taegeukdo Village - has earned over the years.
And as you stare out upon the community from the bus stop in front of Gamjeong Elementary School, you instantly understand why. Spread out below you is a panorama of endless rows of low-rise cubicle homes climbing up the steep hillsides from the sea below, their cheerful blue, yellow and pink hues a delight to the eye. Narrow stone and concrete alleyways wind their way through the homes, yielding something new at every turn. Beloved by photographers throughout Korea, it might not be Busan's most famous tourist destination, but it certainly is one of its most picturesque.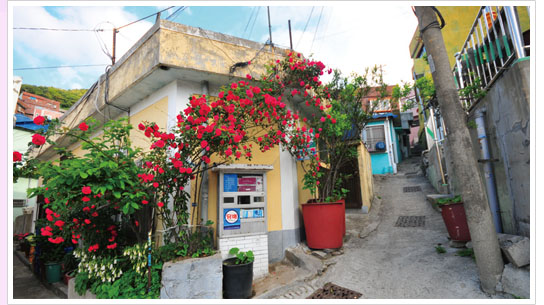 The Way of the Taegeuk
Taegeukdo Village's unusual name reveals the community's unique origins. During the Korean War, some 4,000 followers of the Taegeukdo religion, refugees from other parts of the wartorn land, settled in this neighborhood of Busan, erecting as their homes some 800 wooden shacks. Founded in 1918, Taegeukdo is an offshoot of Jeungsando, one of several new religious movements that arose in Korea in the social and political tumult that characterized Korea at the turn of the 20th century. The religion believes the taegeuk - the yin and yang symbol found, among other places, on the Korean flag - captures the true nature, principle and mystery of the universe. In 1958, the 4,000 believers in Busan were joined by more from elsewhere in Korea. In the following decades, the village has changed relatively little. In the 1980s, some 20,000 people called it home, but since then the population has dropped to about 10,000, leaving a good many of the homes empty. The head temple of Taegeukdo can still be found in the village, although most residents are, in fact, not believers in the religion.

Sun and Color
Due to the position of the village, it is virtually bathed in sunlight from sunrise to sunset, making the Santorini comparisons all the more apt. More importantly, the sunlight accentuates the light hues of the village. From above, it looks like a quilt of blue roofs and pink and yellow walls. The cubicle homes are stacked one upon another almost like matchboxes and Legos, a product of a time when space was at a premium.
Taegeukdo Village presents a beautiful panorama from above, but to really appreciate its beauty, you need to jump in and wander about the alleys. The narrow passageways are bounded on both sides by row upon row of matchbook houses, interspersed with gates and steps. Also hidden in the jungle are various shops and neighborhood parks wedged into the precious little open space available. Every turn, every angle presents a new view. Higher up in the village, you're afforded beautiful vistas of Busan Harbor and the sea. Unfortunately, there's no way to properly guide you around the maze - you're just going to have to explore. If it helps any, there are a couple of larger "roads" that might help you get your bearings. If worst comes to worst, up brings you to the top of the hill, and down brings you to the port of Gamcheon, so you needn't worry about becoming a cautionary tale on the Discovery Channel.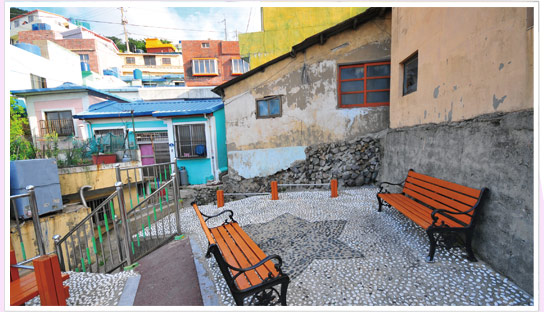 Sensitivity Goes a Long Way
In recent years, Taegeukdo Village has gotten quite a bit of attention from the local press, photographers and filmmakers, so on weekends, tourists flock in from all over Korea, camera in hand. This has not been entirely welcomed by village residents, however. The community is not Busan's most affluent, and while tourists find its ramshackle alleyways and old-style homes charmingly quaint, some locals are sensitive to outsiders photographing what they consider symbol s of poverty . Not everyone is so sensitive - as this writer was walking about, one local resident saw my camera and guided me to a nearby rooftop where the views were particularly nice - but be aware of your surroundings, and if you see people in your viewfinder, please ask their permission before snapping the shutter.

A Bright Future?
While "redevelopment" might be something of a catchphrase in other cities, Busan has been keen top reserve Taegeukdo Village's "traditional" identity while at the same time bettering its residents' quality of life. In February, the city announced plans to transform the community into an "arts and culture village" by October 2010. To do this, about 300 empty homes are being transformed into galleries, book cafés and other cultural facilities, while local colleges and village residents are working together to produce installation art to be placed at various alleyway corners. Maps marking the galleries and art will be produced as well.
What to Eat
Being a port, Busan is noted for its seafood. The famous Jagalchi Fish Market is Korea's largest seafood market and a must on any visitor's agenda. Another local specialty - and a particular favorite of this writer - is dwaeji gukbap, a rich pork soup served with a bowl of rice (which some diners dump into the soup itself ). If you've spent the evening sampling Busan's dynamic night life, it really hits the spot.

Places to Stay
Busan is Korea's second largest city, so where you stay is simply a function of how much you want to spend. Most of the multi-star budget busters are out toward the beach resort neighborhood of Haeundae, while cheaper places can be found around the major tourist spots (including Haeundae) and around Dongbu Intercity Bus Terminal (near Nopodong Station, Busan Line 1) or Seobu Intercity Bus Terminal (near Sasang Station, Busan Line 2).

Getting There
To Busan: The KTX from Seoul Station will get you to Busan in less than three hours.
To Taegeukdo Village: Catch the 17 or 17-1 bus across from Busan Station. Get off at the last stop. A short walk up from there you can catch the local bus(maeul bus). Take the bus and get off at Gamjeong Elementary School. From there you should see the village.
- The article courtesy of Seoul magazine