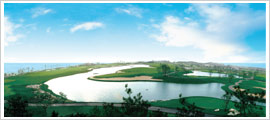 The Sky72 Golf Club offers the amenities of a superb private club including a 400-yard golf course with 300 driving range stations of complete practice range facilities, 72 hole courses (Rockhill 18H 7,111yd, Ocean 18H 7,229yd, Lake 18H 7,147yd, Stations 18H 6,879yd courses) and full service restaurants and bars.
◈ Green fee (Per Person)
Practice range (2 hours) : Weekday : $30 / Weekend & Holiday : $40
9 Holes (4 hours) : Weekday : $160 / Weekend & Holiday : $180
18 Holes (5 hours): Weekday : $230 / Weekend & Holiday : $270
※All rates include green fees, cart rentals, and caddy service.
◈ Min. 4 people
◈ Airport → SKY72 Golf Club → Airport
Rockhill 18H

It is a tournament course that features all kinds of natural elements including cliffs, mountains and valleys such as a Grand canyon or a Fairway. It is the seaside course that you can hit golf balls on while taking in the view of the sea. All courses have top grade golf courses covered with Bent Grass, the finest grass.
Stirling Bridge

The Stirling Bridge linking station 18th is reproduced from a representative bridge that symbolizes liberty and the most famous battle site in Scotland. It is decorated with surroundings which make you feel like Mel Gibson in the movie 'Brave Heart' when you go around the station golf course riding in a golf cart. It is located between the 7th and 8th hole of station 18H.