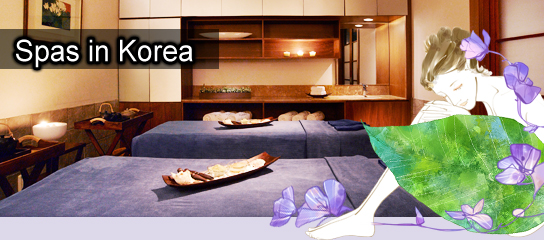 Everyone across the globe is united by one common dream: the dream of living a healthy and balanced life. As cities and countries worldwide continue to evolve and industrialize at a sometimes alarming rate, people are increasingly seeking a quiet retreat from their busy, hectic lives. This desire to find refuge in nature has resulted in the creation of various types of spas, which are now (somewhat ironically) among some of Korea's major travel destinations. So kick back and relax and continue reading for more on spas in Korea—hotel spas, resort spas, day spas, and medical spas. You're sure to find the perfect type of spa for you!
Medical Spa

Medical spas include a variety of spa treatments but usually examine your physical conditions a little more indepth, combing spa treatment with a doctor's diagnosis and possibly a prescription. The number of medical spa facilities in Korea are increasing, offering dermatology, plastic surgery, and Oriental medicine. Treatments are designed to bring your body in balance through a healthy diet, exercise, and natural remedies, which help fight obesity, stress, and the signs of aging.

Chaum, Theraspa



Chaum is an 'anti-aging life center' operated by the Cha Medical Center, a renowned worldclass hospital for women. Based on various examinations (physical, genetic, etc.) Chaum offers medically proven health care treatments such as spa, exercise, and nutrition programs. The facility is 20,000 square meters in size and includes the Premium Examination Center, Anti-aging Center, TheraSpa, and Clinic Center. Chaum is staffed by a group of Western and Asian specialists, including medical professors of the Zhejiang Chinese Medical University, Thai therapists, Indian Ayurveda, and chiropractors.
☞ Click here for Chaum

Pineridge Resort, Azalea Spa



Azalea Spa is a branch of CheongShim International Medical Center, which is known for its multinational medical staff and medical tourism services. It offers treatment in eight fields (including Oriental internal medicine, Oriental rehabilitation medicine, and Oriental gynecology) and runs an Obesity Clinic and Pain Clinic. The Oriental therapy program, which is offered at the Oriental Medicine Clinic in the Pineridege Resort, starts with a body analysis conducted by an Oriental doctor using state-of-the-art equipment. Treatment includes acunpuncture, herbal medications, or detox therapy (depending on the condition of the guest) and is finished off with a stint in the Oriental therapeutic sauna and a massage.

Q Spa & Clinic



Located inside The Riverside Hotel, Q Spa & Clinic has state-of-the-art medical equipment and spa therapy facilities and offers about 40 types of healing programs. The spa has an internationally-certified spa supervisor and a stem cell transplant specialist. Guests can opt for aesthetic anti-wrinkle care and skin whitening treatment in addition to spa therapy.

☞ Related columns
- Winter Getaways: Spa Trips in Korea
- Deluxe Spa Resorts near Seoul