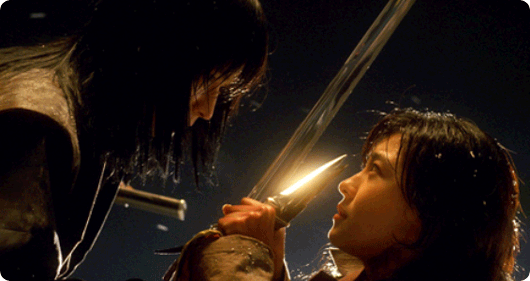 Duelist is based on a comic series that appeared in 1970 for the first time and was published in a daily newspaper in 1990. The original story was televised through a TV drama entitled "Damo," which became quite a hit when Ha Ji-Won, the heroine in the drama, was recast in the movie "Duelist." When the drama "Damo" was televised, a "Damo Syndrome" occurred where there were many drama fans who were nicknamed as "Damo Maniacs." The fans used the characters' unique manner of speaking and their lines and produced personal books of "Damo." In the movie "Duelist," the beautiful images are spectacular, which were created by the great master of 'the beauty of form' and director of the movie, Lee Myeong-Se.

This movie is connected to the director's previous work, "Nowhere to Hide." "Nowhere to Hide"'s theme is based on a 'chase'; whereas "Duelist" is based on a 'duel.' The highlight of "Duelist" is the action scene where Seulpeunnun and Namsun are at a stone walk, where light and darkness fades in and out, which is a unique dramatic interpretation of the director, Lee Myeong-Se. This movie is a superb film, which cost about 7.8 billion won to produce and the total number of movie-goers was 1.2 million.

In order to produce this super film "Duelist," Lee Myeong-Se, the director, cast Ha Ji-Won, who had already played the role of the female detective of Joseon Dynasty in the drama "Damo," as the heroine Namsun, and Gang Dong-Won was cast as the secret assassin 'Seulpeunnun'. An Seong-Gi and Song Yeong-Chang, who had been cast before in the director's previous movie, "Nowhere to Hide," played the parts of the Pogyo (policemen in Joseon Dynasty Period); An playing the 'Pogyo" and Song playing 'Byeongpandaegam (noble man)'. The high degree of cinematography which used the light to create darkness, were key to producing such special effects when it came to the "Duelist."

In addition, 99% of the movie was filmed at 20 different indoor and outdoor sets built at Namnyangju Studio Complex located in Gyeonggi-do. Dismantling the stereotypes of historical movies decisively, the modern-style costumes and special indoor and outdoor sets of "Duelist" increased the audience's pleasure and interest in historical movies. In addition, the actors, who had trained for the tango as well as martial arts before filming in order to perform the best action scenes for the movie, showed off their elegant and wonderful acting especially for this action film.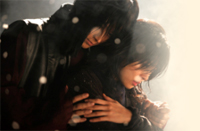 Detailed Informaiton of "Duelist"
Director: Lee Myeong-Se
Cast: Ha Jiwon, Gang Dongwon, An Seonggi
Premier Show: September 8, 2005
Running Time: 111 min.
Genre: Action and romance

Synopsis of "Duelist"
When the country is in confusion, counterfeit money is circulated. An experienced detective named An Pogyo (An Seonggi), in Jwapocheong (a Police Station in Joseon Dynasty) and a highly motivated rookie detective named Namsun (Ha, Jiwon), become partners and together chase the criminals who've used the counterfeit money and spread it around. Namsun and An Pogyo conduct a criminal investigation and identify Byeongpandaegam and his right-hand man, Seulpeunnun (Gang Dongwon), as the criminals and keep chasing them to find some evidence. However, Namsun and Seulpeunnun eventually fall in love with each other little by little, even though one is the pursuer and the other is the pursued.

Namsun, after becoming the best female detective in the Joseon Dynasty, is dismissed from her duties after she falls in love. Finally, the secret assassin, Seulpeunnun, who is hidden in a veil of mystery, meets Namsun and they unavoidably fight out their destined duel. "Duelist" is a chivalrous film whose images are absolutely magnificent and gorgeous related to a destined duel and fatal love.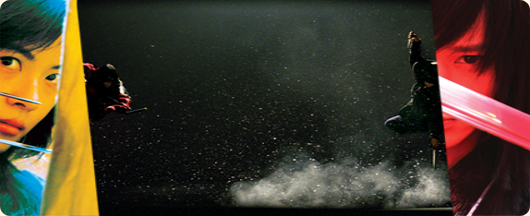 Characters of "Duelist"
Seulpeunnun (Sad Eyes) / Played by Gang, Dong Won

Byeongpandaegam, Song, who loved Seulpeunnun's mother, was the cause of Seulpeunnun's parents' death by unjustly accusing them of being traitors. After this, Seulpeunnun was raised by Byeongpandaegam without knowing about the hidden story of his parent's death. Seulpeunnun who grew up learning and training in martial arts is a lonely person with no friends and swears an oath of unconditional loyalty and love to Byeongpandaegam, Song, relying on him. But, when Seulpeunnun feels doubtful about his life as an assassin of Byeongpandaegam whose ambition is getting out of control, he develops a crush on a female detective, Namsun, who he meets by chance. After he falls in love with Namsun, he gives a present to someone for the first time and decides to get her back. However, her enemy, he has to confront her by dualing it out, in which he can be killed if he does not kill.
The figure of Seulpeunnun swearing his eternal love to Namsun who can never be together with him looks just like Romeo who truly loves Juliet, but during the period of Joseon Dynasty. He feels pain and loneliness because he cannot be with his true love and doesn't know how to express his love very well. Seulpeunnun's character touches a soft spot in the hearts of many female audiences.
Namsun / Played by Ha, Ji Won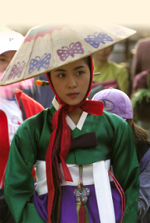 Namsun, a female detective who catches criminals and a partner of Pogyo An's, is a highly motivated rookie detective acting before she thinks all the time. She is a highly skilled person in martial arts as well as in disguise even though she is always careless and clumsy because of her quick-tempered personality. One day, while she is chasing the criminals who have circulated counterfeit money, she meets Seulpeunnun and is instantly attracted to him. But, for Namsun and Seulpeunnun, love is an unattainable desire. They can express their love through their eyes only by dueling because they are actually enemies of each other.
Namsun who speaks with a cute Jeolla-do accent and is excellent in martial arts, not feeling inferior to the other male detectives, shows her feminine side for the first time after she falls in love with Seulpeunnun.

Filming Location of "Duelist":
KOFIC Namnyangju Studio Complex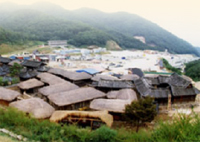 The Namnyangju Studio Complex, which is famous as a professional film location for movies, commercial films, and dramas is where a lot of Korean movies have been produced. In the complex, not only "Duelist" but also a great many hit movies including "Joint Security Area: JSA", "Chwihwaseon", " The King and the Clown", "Eumnanseosaeng(Forbidden Quest)" were filmed.

Lee Myeong-Se, the director, who attaches great importance to the beauty of images made the movie "Duelist" at its newly-built outdoor studio to create special images even though the movie is a historical film. The Namnyangju Studio Complex currently features the outdoor sets resembling Panmunjeom, a traditional Korean house of "Woondang", a folk village, the Seoul subway, etc., This complex also provides various entertainment such as a Film Museum, a Visual Hands-on Educational Center, a Props and Costumes Warehouse, a Miniature Hands-on Center as well as a Cinema Theater. It is hard to find traces of the movie "Duelist" in the complex currently, but as the representative film location of many Korean movies, Namnyangju Studio Complex is a wonderful place to visit.