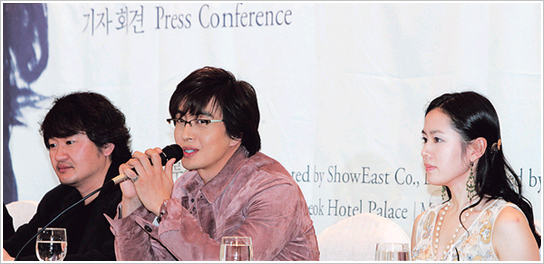 A Korean film that received special attention from both local and international media. 'Oechul' (April Snow), starring Bae Yong-joon, received heightened interest from the media and Asian fans in Japan, China, and Taiwan, as well as other nations. Producers were prepared for such public attention since Bae Yong-joon, who is enjoying tremendous popularity throughout Asia, and beautiful actress Son Ye-jin, whose acting potential was recognized in her movie 'The Classic,' both had starring roles. In addition, Director Heo Jin-ho's reputation for outstanding visuals and artistic representation continues to draw attention from the media. The following is a recap of the filming of April Snow in Samcheok.



Detailed Information

Directed by: Heo Jin-ho
Cast: Bae Yong-joon, Son Ye-jin, Ryu Seung-su, Lim Sang-hyo
Produced by: Blue Storm
Movie to be released in: September 2005
First scene shot on: February 4, 2005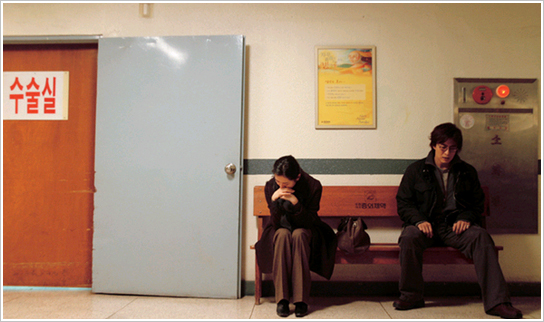 Synopsis:
In-soo (played by Bae Yong-joon) rushes to Samcheok upon learning that his wife Su-jin (played by Lim Sang-hyo), who was on a business trip, has been in a car accident. There he finds Su-jin who is still unconscious in a hospital in an unfamiliar provincial town. In the process of dealing with the aftermath of the accident, he finds out that Su-jin was in the car with a man named Gyeong-ho (played by Ryu Seung-su), who is also unconscious and lingering between life and death. The injured man's wife, Seo-young (played by Son Ye-jin), also rushed to Samcheok upon hearing the news. In-soo and Seo-young both feel angered and betrayed when they learn of the relationship between Su-jin and Gyeong-ho. As they nurse the spouses they had trusted, In-soo and Seo-young feel a chemistry developing between them. How will their tender, yet sad love unfold in the unfamiliar town of Samcheok?
≫≫≫≫≫ Filming Locations ≪≪≪≪≪
The main location of April Snow, Samcheok Hospital is the site of frequent meetings between the characters of Bae Yong-joon and Son Ye-jin. As the two nurse their respective spouses who are both in a coma after an accident, they feel attracted to each other.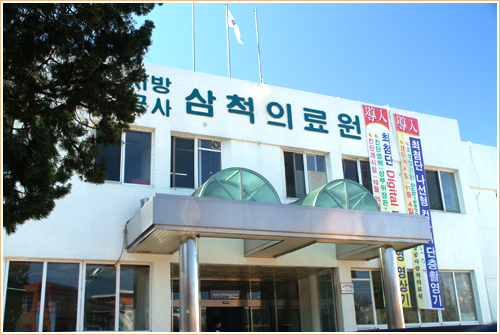 The 3rd floor corridor and the last room next to the emergency staircase in Samcheok Hospital
- Here the spouses of the leading characters of Bae Yong-joon and Son Ye-jin were hospitalized and attracted to one another.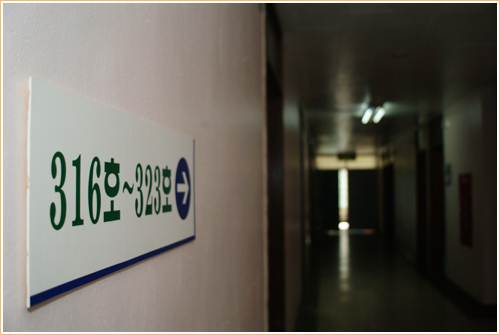 2nd floor Intensive Care Unit and wooden bench at Samcheok Hospital
- In the first scene, Bae Yong-joon and Son Ye-jin meet for the first time on this bench as they impatiently await news about their spouses, who are both undergoing surgery.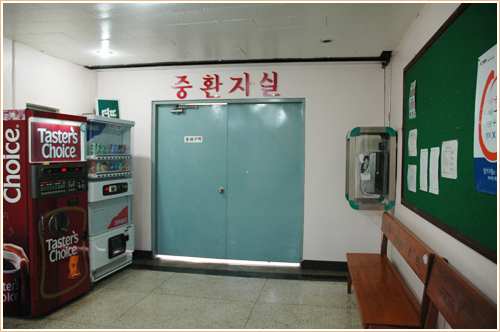 Samheung Motel room 210 and 205
- The Samheung Motel, (5 floors and 40 rooms) is where Son Ye-jin and Bae Yong-joon stay in the movie. In the film, Son Ye-jin stayed in room 210, and Bae Yong-joon in room 205. The two bedrooms, which were decorated in 1970s fashion for the film, remained this way even after filming was completed.
(Telephone: +82-2-33-574-2121~3, Korean)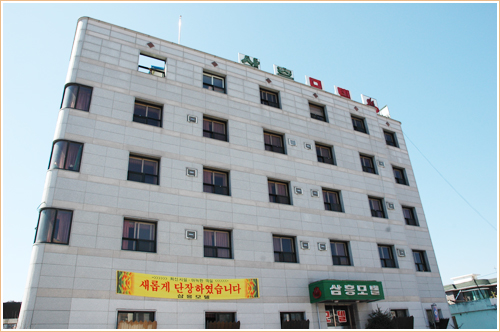 Jukseoru
- In the film, Son Ye-jin and Bae Yong-joon stroll around a pavilion, harmoniously set among bamboo trees.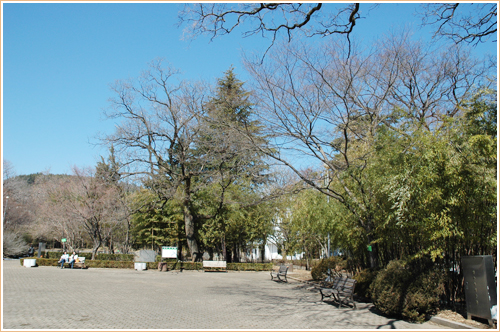 Set in the town of Samcheok (Pharmacy, real estate office) and Young Coffee Shop
At Young Coffee Shop, Bae Yong-joon and Son Ye-jin drank ginger tea while practicing their lines for scenes that were shot in the Somang Pharmacy set. The owner will show you where Bae Yong-joon sat while learning his lines.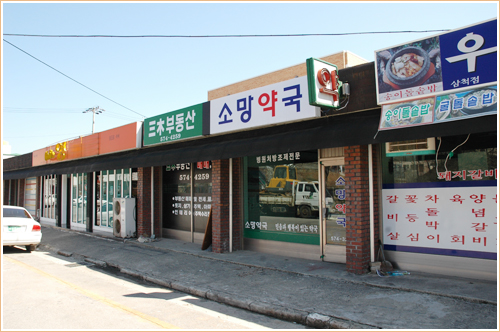 Samcheok Arirang Pass
This is where the car accident took place. The pass is connected to a side street crowded with old roofed buildings. Pay close attention since this filming location is easy to miss.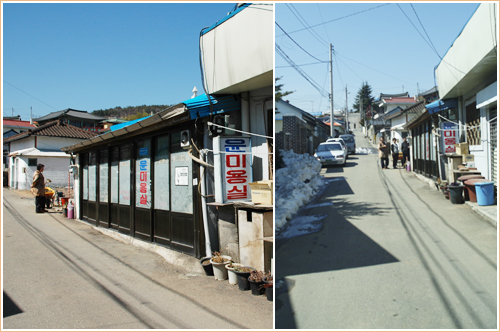 Samcheok Police
- Located outside the town of Samcheok, Samcheok Police Station is where Bae Yong-joon rushed after hearing about the accident.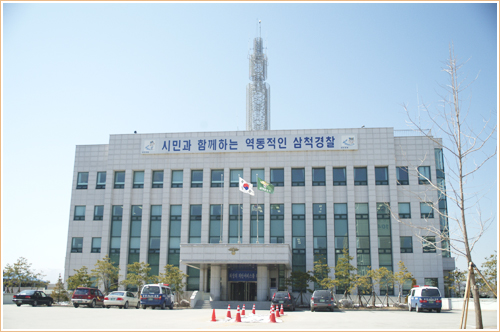 [Other Scheduled Filming Locations and Must-sees]
Café Jajeongeo Doduk (Bicycle Thief)
- A coffee shop reminiscent of the 1970s, Jajeongeo Doduk has a wooden interior that goes well with the ambience of the film April Snow.
Samcheok Palace Hotel
- While the hotel is not actually in the film, this is where Bae Yong-joon and Son Ye-jin stayed during filming. The hotel has a great view of the sea. (Telephone: +82-33-575-7000,-English, Korean, Japanese)
Daegwallyeong Boribap
Hanaro Mart

Laundromats
- Located down the Arirang Pass, one of the two Laundromats was used as a filming location.
April Snow Filming Locations Map
Most scenes in April Snow were filmed in downtown Samcheok near Samcheok Hospital, and the majority of locations are accessible on foot. Approximately three hours will be enough time to visit all the locations in the downtown area. Samcheok is a small town and there are few signs in English, Japanese, or Chinese for tourists. Nevertheless, it is quite easy to find the filming locations.
Inquiry: +82-33-570-3846 (Korean, English, Japanese)
Samcheok City Website: http://www.samcheok.gangwon.kr (English)