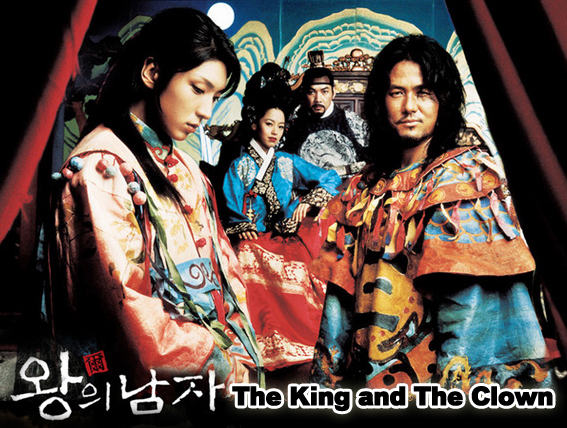 Blockbuster Korean movie "The King and The Clown" broke all previous movie records to become the all-time number-one hit following 112 days at the box office. By the final screening on April 18, 2006, The King and The Clown had drawn close to 4 million viewers in Seoul and over 12 million people nationwide. Compared to Silmido and Taegeukgi, the first to attract 10 million viewers, The King and The Clown is truly remarkable because it was only screened in 300-400 theaters nationwide.
Box-office records aside, the movie also gained rave reviews for its visual production. And although it featured no major stars, actor Lee Jun-ki emerged as a screen icon overnight for his role as Kong-gil. On April 14, 2006, the movie received the Daesang Award (Best Prize) at the 42nd Baeksang Arts Awards Ceremony held at the Haeoreum Theater in Seoul.
Based on an acclaimed play titled "Yi", The King and The Clown, is set in the Joseon Dynasty. What makes the film unconventional is the central focus on male court jesters as leading characters, since, until this film, the public knew little about their place in history.
Great attention went into costume production. Not only were the stars' costumes custom-made, even those of the extras were painstakingly sewn. In all, 600 costumes were completed over the course of a year. In the Korean classical opera scene, the jesters wore colorful paper costumes.
The paper costumes were constructed using fabric for lining and hanji paper for the outer layers, which were lavishly painted in bright colors. Three designers worked day and night for a full month to produce just one costume. The producers' efforts are seen in the props as well. They were assembled over the course of a year, and some pieces cost tens of millions of won. The masks and hand puppets, the royal palanquin, royal bedding and cushions, fans, and furniture were all made based on thorough historical research. Another realistic touch was the stunt work. In order to perform their own stunts, the leading actors learned tightrope dancing and other tricks before filming began.
The King and The Clown in Brief
Director: Lee Jun-ik
Cast: Gam Wu-seong, Lee Jun-ki, Jeong Jin-young , Kang Seong-yeon
Opened in theaters on December 29, 2005
Running time: 119 minutes
Genre: Drama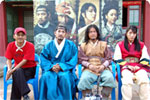 ※ Synopsis
The story is set in the Joseon Dynasty during the reign of King Yeonsan, an infamously tyrannical monarch. Jang-saeng, a member of the Namsadang Troupe, comes to Hanyang (currently Seoul) with Kong-gil to escape the abuse of powerful aristocrats. After arriving in the capital, Jang-saeng and Kong-gil perform a skit satirizing the king and his concubine Nok-su, quickly attracting attention. The palace learns of it, and they are arrested. While enduring excruciating torture, Jang-saeng raves that if given the chance, he could make the king laugh. Fortunately, he is given the chance to prove himself.
Performing before the ruler makes the jesters nervous, and despite Jang-saeng's best efforts, the king doesn't laugh. But when Kong-gil appears in drag, playing the role of a shrewd woman, the king cannot control his laughter. The two are appointed as royal jesters, and from then on, live a life of luxury.
Their parodies satirize the corruption of public officials, which keeps the king in a jovial mood. On the other hand, members of the court who are depicted in the jester's skits are severely punished. At a royal banquet, the jesters perform a Korean opera depicting feminine rivalry. This awakens in the king painful memories of his mother, and he puts all of his late father's royal concubines to the sword. Troubled that their comedic skits invariably lead to bloodshed, the jesters decide to leave. For some reason, however, Kong-gil wants to stay.

※ About the Characters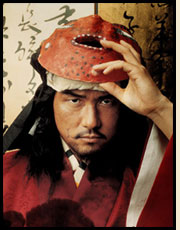 Jang-saeng (Played by Gam Wu-seong)
With his soft features and charismatic eyes, Gam Wu-seong's appearance is transformed by his long hair and tanned skin in this historical drama. His character is a passionate free spirit and a highly talented clown. One day, he saves Kong-gil from an abusive aristocrat only to be beaten up by his colleagues. Together, Jang-saeng and Kong-gil head for Hanyang to seek their fortune.

Jang-saeng comes up with a hilarious idea and, with his unusual charisma and wit, puts together a skit depicting the king and his concubine Nok-su. The performance instantly becomes a major attraction among the wretched underclass of Hanyang. His novel idea and great acting land him in prison facing a death sentence, but he gallantly challenges the king to watch the duo's comedic act. In what could have been their last performance, they manage to make him laugh, and the king, in turn, appoints them palace clowns. However, Jang-saeng learns that the courtiers featured in his skits are dying one after the other, and, feeling responsible for their fate, he decides to leave the palace.

However, Kong-gil cannot leave because the king has fallen in love with him. One can see Jang-saeng's love for Kong-gil as he looks at him with sad eyes. Particularly worth watching are the tightrope-dancing scenes of this free-spirited man who claims that in another life, he would rather live as a clown than a king.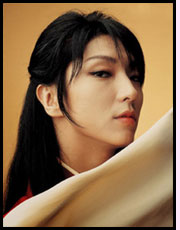 Kong-gil (Played by Lee Jun-ki)
Kong-gil is the effeminate male court jester who helped support his troupe financially by granting sexual favors to aristocrats. He becomes good friends with Jang-saeng, his complete opposite, and the two leave the troupe for Hanyang. Their street performance lands them in the palace, where they live a comfortable life.

With the palace the scene of continued bloodshed, Jang-saeng asks Kong-gil to leave with him, but Kong-gil cannot do so out of compassion for the king. In fact, Kong-gil is in love with Jang-saeng, but does not reveal his true feelings. He has a strong feminine side and buries his sadness and pain in his heart.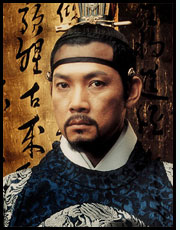 King Yeonsan (Played by Jeong Jin-young)
In contrast to the usually strong characters he plays in movies, Jeong Jin-young took on the role of King Yeonsan, a complex character with multiple personalities. The king harbors mixed feelings of love and hatred towards his late father King Seonjong for killing his mother as a result of rivalry among his concubines.

King Yeonsan has never experienced the feeling of true inner freedom, so he admires the free spirits of his new royal clowns. He is violent, yet weak; he laughs heartily, but is lonely. These feelings lead him to kill members of his court and to mercilessly slaughter his father's concubines who had led his mother to her death. While his acts may seem like pure confusion, insanity lies deep within him.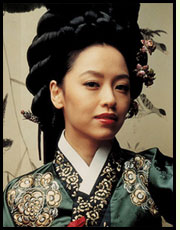 Nok-su (Played by Kang Seong-yeon)
Nok-su is a gisaeng-turned-royal concubine with an ambition for power. She always tries to please the king to keep his love, but cannot hide her thoughts. She is jealous of Kong-gil for having captured his affection, but always warmly welcomes the king whenever he visits her. Her love for the king is apparent, and like him, she has a multi-layered personality that yearns for affection.

She acts ferociously to keep the king's love for herself, and when rebel forces overthrow King Yeonsan, she chooses to die with him.

※ Filming Locations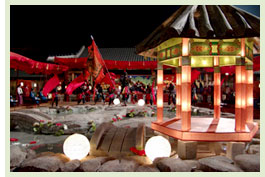 * Buan Movie Theme Park
The major palace scenes were not filmed at the actual Changdeokgung Palace but at the Movie Theme Park in Gyeokpo, Buan-gun, Jeollabuk-do. At this location are replicas of the actual palace's Injeongjeon (the royal audience chamber), Sajeongjeon (king's work quarters), and Gyotaejeon (queen's sleeping quarters) halls. Jang-saeng's last tightrope dancing scene, after he went blind, was shot at Injeongjeon hall. The sad expression on Kong-gil's face as Jang-saeng performs was particularly impressive.

As the Buan Movie Theme Park is dedicated to historical productions, the 37.5-acre site features exact reproductions of a Joseon palace, noblemen's village, and market streets with 24 palatial buildings, 11 tile-roofed commoner's houses, 15 herbal shops, 17 craft workshops, 200 meters of town walls, as well as pavilions, and ponds.

The palace, noblemen's village, market streets and palace are each in the center, left, and right of the theme park. The palace is the scene of the love triangle between King Yeonsan, Nok-su, and Kong-gil. The front courtyard of Injeongjeon features photos of the clowns' performance scenes. Here, visitors can try archery and horseback riding like King Yeonsan, or try on the costumes of the king and Nok-su for souvenir pictures.
→ Go to Buan Movie Theme Park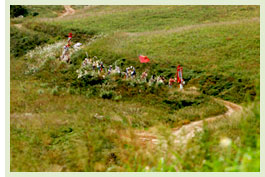 * Yangpyeong Seolmaeje Natural Recreation Forest
The final scene in which Jang-saeng, Kong-gil and fellow jesters walk away laughing is considered the best scene of the movie. It was filmed at Seolmaeje Forest in Yangpyeong, Gyeonggi-do. Located between Mt. Yumyeongsan and Mt. Daebusan, the ridge is in a wide expanse of grassland with no rocks or trees, and commands a view of the Namhangang River. The early scene in which Jang-saeng and Kong-gil play together imitating the blind was filmed near here, on a farm in the area.

Hours: 08:00-18:00
Admission fee: Over 15 15,000 won / Under 15 1,000 won
How to Get There: At Dong Seoul Bus Terminal, take a bus for Yangpyeong (06:15~21:10 / bus every 30 minutes / 50-minute ride / 3,300 won) → At Yangpyeong Bus Terminal, take a bus for Seolmaeje Woods (Yongcheon-ri) (3 daily departures at 06:50, 10:20, 18:20 / 50 minutes) Get off in front of Seolmaeje woods and walk
Travel Phone: +82-31-1330 (Korean, English, Japanese, Chinese)
Information: +82-2-478-7393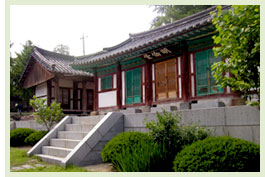 * Suwon Hwaseong Haenggung Palace
When his relationship with Kong-gil is strained, King Yeonsan visits Nok-su whom he had neglected for some time. He approaches her, and like a discouraged child, puts his head in the folds of her dress. This scene was filmed at Seonamammun and Jangnakdang in Hwaseong Haenggung Palace. The advantage here is that the whole palace can be filmed from one angle, making it a favorite filming location for historical dramas and movies.

→ Go to Suwon Hwaseong Haenggung Palace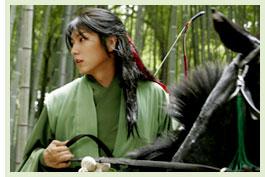 * Gochangeupseong Bamboo Grove
In the movie, the king, his subjects, and Kong-gil go on a hunting trip, which turns out to be a trap. The subjects try to kill Kong-gil, who escapes on horseback through a bamboo grove. His colleague jester gets killed and Jang-saeng saves the life of Kong-gil. The beautiful grove is located in Gochangeupseong, which was also one of the filming locations of Jewel in the Palace.

Hours: 05:30-20:00 (06:00-19:00 during the winter season from December to February)
Admission fee: 1,000 won over 18, 600 won under 18
How to Get There: At Seoul Central City Terminal, take a bus for Gochang (3 hrs 40 mns / 19 daily departures) → From Gochang Bus Terminal, walk to your right → Turn right at Gochang County Office and walk ahead → Walk ahead after crossing Gochang Bridge and turn right (10-15 minutes by walk)
Travel Phone: +82-63-1330 (Korean, English, Japanese, Chinese)