Fate, a traditional dark action movie, stars two leading
Korean actors, Song Seung-heon and Kwon Sang-woo.
Both actors appeared together in the movie 'Make It Big' in 2002 and
remain very good friends in real life. Fate is attracting a great deal of
attention both domestically and internationally, as audiences want to see
the progressive acting abilities of both actors. The director is Kim Hae-gon, who gained acclaim with such unique and touching movies as Failan and Between Love and Hate. It is expected that Kim will make the rough world of men look attractive. Song Seung-heon chose Fate as the project through which he would return to acting after finishing his military duty. He plays the character Woo-min, who is quiet but also explosive. Song Seung-heon successfully handled violent and intense action scenes. Kwon Sang-woo plays the role of a villain for the first time and demonstrates superior acting. Just looking into his eyes will make movie goers understand what a coldhearted and spiteful person Cheol-jung is. It is a film that sets up expectations for the confrontational relationship between the two actors, who are challenging themselves and showing a different side by playing the type of characters they have not played before.
Filming Locations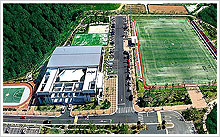 ●Community sports center in Topyeong-dong, Guri
The scene where Woo-min gets a goal during a football match and Cheol-jung shouts and hugs Woo-min was filmed at a community sports facility in Guri. In this particular scene, four friends—Woo-min, Cheol-jung, Yeong-hwan, and Do-wan—demonstrate strong friendship and happiness. This is a community sports facility located in Topyeong-dong, Guri City, near Guri Tower, which is a Guri City landmark. The facility has a soccer field, gate-ball field, and swimming pool, yet there is no football field, so the soccer field was used for the football scene, which was covered with artificial grass for the shoot. Guri Tower, which is located beside the sports facility, has a restaurant and observatory. It presents a lively sight every night with its colorful lighting.
Directions: Take the Jungang Line from Yongsan to Deokso, and get off at Guri Station -> Take a taxi
Take exit no. 4 from Gangbyeon Station on subway line no. 2 -> From the bus stop, take bus 9-1, 9-3, 15, 1115-2, or 2000-1, and get off at the GS Square stop -> Take a taxi
Address: 9-1 Topyeong-dong, Guri City, Gyeonggi Province
Tourist information: +82-31-1330 (Korean, English, Japanese, Chinese)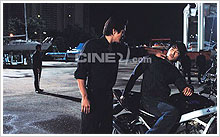 ●Suyeong Bay Yachting Center in Busan
Cheol-jung, who removes all barriers to his ambitions, arrives at a drug deal with his boss and gets into a thrilling fight. This fight to the death between Cheol-jung and his boss under the cover of night was filmed at the Suyeong Bay Yachting Center, where you can see the fabulous lights of Gwangan Bridge in the distance. The Suyeong Bay Yachting Center is also where the outdoor portion of the Pusan International Film Festival is held. It is large enough for about 450 yachts to dock there. Its large parking lot and square are good places to film action scenes, which is why many dramas and films have been filmed here.
Directions: Board a train to Busan at Seoul Station -> Get on subway line no. 1 at the subway station in front of Busan Station and transfer to subway line no. 2 at Seomyeon Station -> Take exit no. 3 at Dongbaek Station on subway line no. 2 -> Go straight toward Haegang Elementary School, crossing the crosswalk -> Continue straight after crossing the crosswalk in front of the elementary school
Address: 1393 Woo 1-dong, Haeundae-gu, Busan Metropolitan City
Tourist information: +82-51-1330 (Korean, English, Japanese, Chinese)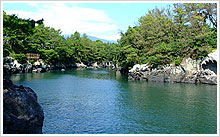 ●Soesokkak Valley, Jeju Island
Woo-min, Eun-yeong, Do-wan, and another girlfriend visit Jeju Island to spend their time. The scene where they get on a teu, a traditional Jeju log raft, where they drink beer, and enjoy themselves was filmed at Soesokkak Valley. When the movie was being filmed here, domestic and foreign media and fans crowded the site. Soesokkak Valley, where the river meets the ocean, is a famous Jeju tourism site that features the exquisite harmony of extremely clear blue water and black sand, which has traces of lava. It is possible to sail the valley on a log raft and take a walk along the beautiful promenade, just like in the movie. Every year, the Soesokkak Beach Festival is held here, which is an environmental festival that offers a broad array of programs.
Directions: Go to Jeju International Airport -> Board limousine bus no. 600 at the limousine bus stop located near gate no. 1 (Every 15 minutes from 06:20–22:00; Fare: Seogwipo: 5,000 won, Jungmun: 3,900 won) -> Get off at the Seogwipo Terminal (E-MART) bus stop and take a taxi
Address: Soesokkak Valley in Hydon-dong, Seogwipo City, Jeju Island
Tourist information: +82-64-1330 (Korean, English, Japanese, Chinese)
●Gimnyeong Beach, Jeju Island



Woo-min drives a motorcycle to Gimnyeong Beach with Eun-yeong on the back of the bike. Woo-min and Eun-yeong look good together with Woo-min looking cool in a white shirt and Eun-yeong in hot pants. This scene was filmed at the beautiful and pristine Gimnyeong Beach. Not only is it quiet because it is less frequented than other famous beaches on Jeju Island but it also offers a large and clean sandy plain. A beach ball tournament is held here every year.
Directions: Board a bus to the Jeju Cross-country Bus Terminal at an intracity bus stop in front of gate no. 2 at Jeju International Airport (Bus No. 100, 200, or 300; Every 5-20 minutes; Fare: 850 won) -> From the Jeju Cross-country Bus Terminal, board a cross-country bus toward Donghoeseon (Seongsanpo) -> Get off at Gimnyeong Beach (a 40-minute trip)
Address: Gimnyeong-ri, Gujwa-eup, Jeju City, Jeju Island
Tourist information: +82-64-1330 (Korean, English, Japanese, Chinese)
Photos courtesy of SBS and CINE21