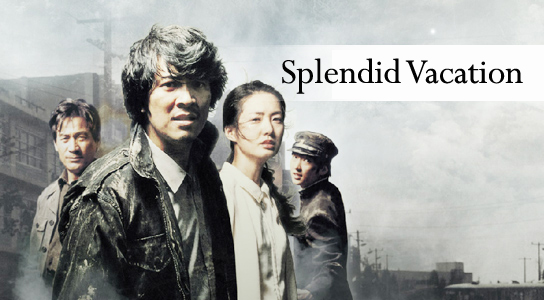 Splendid Vacation is a film based on a very dark historical incident in Korea: the Gwangju Democratization Movement that occurred 27 years ago. It looks at the incident mainly through the lives of ordinary citizens. No movie had dealt with the Gwangju Democratization Movement to this extent before, which made the film controversial. This grand-scale film that cost about ten billion won to produce has a powerful storyline based on historical events. It was a success in theaters, attracting over seven million viewers. Roughly three billion won was spent to construct a set recreating Gwangju of 1980, which lent the film its realism. Splendid Vacation, which is interesting, moving, and filled with spectacular scenes, was praised as the best Korean movie of the first half of 2007.
● Movie Information
Genre: Drama
Running time: 118 minutes
Director: Kim Ji-hoon
Cast: Kim Sang-gyeong, An Seong-gi, Lee Jun-gi, Lee Yo-won
Homepage: http://www.rememberu518.co.kr/index.asp (Korean)
Release date: July 25, 2007
● Synopsis
In May 1980, something unbelievable happened in Korea. Gwangju was under siege and innocent citizens were ruthlessly killed by guns and knives as citizens and soldiers clashed. Min-woo, a hard-working taxi driver, lives a normal life in Gwangju with his younger brother, Jin-woo. Their parents passed away when Min-woo was little, and so he supports his brother, who is a top student. For him, the only pleasure in life is his unrequited love for Sin-ae, who is the daughter of the owner of the taxi company he works for. Min-woo shows his feelings for Sin-ae through childish ways, like a teenage boy, but Sin-ae, a nurse, is reluctant to open her heart to him. Then one day something frightful happens to Jin-woo, a high school student who until then led a peaceful life. Armed soldiers with guns and other weapons assault and kill citizens who are demonstrating. Gwangju is blockaded, resulting in the citizens of Gwangju waging a lonely fight against the soldiers. Min-woo is at the front line when his best friend is killed by a soldier. Jin-woo, who also lived a normal life, becomes enraged that his brother was killed at the hands of a soldier and joins in the fight. Heung-soo is the owner of a taxi company and a former officer. He systematically forms a militia to fight against the soldiers. The citizens engage in a desperate ten-day fight in honor of the innocent friends, lovers, and family members who died.
● Character Background
Kang Min-woo, played by Kim Sang-gyeong
He is an ordinary and hard-working person who lives with his younger brother Jin-woo. He is a bright and resilient character who spends his days driving a taxi. He is an honest and passionate person with a warm heart who cannot stand injustice. When a historical event takes place in Gwangju and he bears witness to citizens being killed, he takes a rifle in hand to join the militia alongside other citizens of Gwangju. He meets Sin-ae, the daughter of the owner of the taxi company he works for, and falls deeply in love.
Park Heung-soo, played by An Seong-gi
He used to be a colonel in the reserves and is now the owner of the taxi company Min-woo works for. He has a warm heart, and dearly loves and cherishes his only daughter, Sin-ae. He gets into disputes with others because he is so principled, but is caring and considerate of others. When innocent citizens die due to the military's brutal suppression, he takes the lead in forming a militia.
Park Sin-ae, played by Lee Yo-won
She is the only daughter of a strict but kind ex-military father. She is a nurse who is warm-hearted and meticulous. She takes care of those who fall in the streets during the battle with a maternal tenderness. She shyly shows her affection towards Min-woo, who she meets in this tumultuous time. She is a courageous woman who puts herself at great risk to make a broadcast from a vehicle circulating in downtown Gwangju on May 27.
Kang Jin-woo, played by Lee Jun-gi
He is a high school senior who grew up as a conscientious person and who iss well loved by his older brother, Min-woo, who supports him financially by driving a taxi. He is an honor student with dreams of becoming a judge. When he witnesses the death of his best friend, Sang-pil, he explodes with rage.
● Filming Locations
* Gwangju film set
Most of the movie was filmed on a 56,198 m2 set built on a site owned by the Korea Land Corporation located behind the Gwangju Institute of Science and Technology in Gwangju's high-tech district. The set recreated the Jeollanamdo Provincial Government building, where the Gwangju Democratization Movement started, as well as a military training facility, a water fountain, a hotel, and a clock tower. The urban buses, armored vehicles used by the militia, and military vehicles that were used in the filming of the movie remain here and there on the set, creating a realistic atmosphere. This is where incidents that occurred on Geumnam Road were filmed, such as the spectacular gunfight scene between the soldiers enforcing martial law and demonstrators as well as the demonstration scene involving about 1,700 members of the militia. The set, which vividly evokes scenes from the film, is a complete reproduction of Gwangju in the 1980s where roughly three billion won was invested in its construction.

Directions: Take a train from Seoul's Yongsan Station (Ten times a day: 06:05, 06:40, 7:15, 08:10, 09:20, 09:55, 11:10, 11:30, 13:10, 14:05; travel time: KTX: 3 hours (35,900 won); Saemaeul Train: 3 hours, 5 minutes (31,700 won); Mugunghwa Train: 4 hours, 40 minutes (21,400 won) -> Gwangju Station -> Take bus no. 30 in front of the Family Mart convenience store located in front of Gwangju Station -> Get off at Ssangam Park and go straight toward the Gwangju Institute of Science and Technology (ten minutes by foot)
Address: Within the High-tech Science Industrial Complex in Oryong-dong, Buk-gu, Gwangju City
Tourist information: +82-62-1330 (Korean, English, Japanese, Chinese)
* May 18 Freedom Park
Remnants of the Gwangju Democratization Movement can be seen throughout Gwangju, not just in the movie. If one wishes to learn about the Democratization Movement, a visit to May 18 Freedom Park is highly recommended. May 18 Freedom Park is a recreation of the military training facility where citizens who fought for democracy against political soldiers during the Democratization Movement were imprisoned and where military trials were carried out. There is an exhibition room that features photographs of historical events that demonstrate the cruelty of the time.

Directions: Take exit no. 3 from Sangmu Station of the Gwangju subway -> Walk ten minutes toward Sejeong Outlet -> It is across the street from the Kim Dae-jung Convention Center
Address: Chipyeong-dong, Seo-gu, Gwangju Metropolitan City
Tourist information: +82-62-1330 (Korean, English, Japanese, Chinese)
Hours: 09:00–18:00 (March–November); 09:00–17:00 (December–February)
* Geumnam Road, Gwangju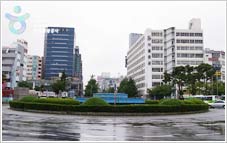 Geumnam Road, which is at the center of Gwangju, is a symbolic space in terms of democratization. It was the route the militia demonstration took to reach the front of the Jeollanamdo Provincial Government building. However, now it consists of a shopping area and an amusement center that is frequented by many youth. In front of the Jeollanamdo Provincial Government building is a fountain square. The meeting square located in the Geumnam Underground Shopping Center offers various things to browse and buy, such as clothing and accessories, and is a good place to shop.


Directions: Get off at Geumnam Road 4-ga Station on the Gwangju subway
Tourist information: +82-62-1330 (Korean, English, Japanese, Chinese)