Just a fifty-minute drive east from Juwangsan National Park is Yeongdeok-gun County, which sits quietly along the East Sea. Yeongdeok is probably most well-known for the Yeongdeok Blue Road, a popular walking course which was officially created in 2010. The 50 kilometer-long road stretches from Gangguhang Port to Goraebul Beach, leading travelers along the sea and past port villages and tourist sites along the way. Points of interest also include traditional towns, windmills, and an observatory, offering a little something for everyone. Along with the recent designation of the road, signboards were installed to allow even first-time visitors a convenient way of finding their next destination.

The starting point of the Blue Road, Gangguhang Port is the largest port in Yeongdeok-gun County and is especially famous for snow crab. During the snow crab season, which runs from November and lasts until April or May of the following year, snow crab boats flock to this location and a snow crab market is set up. There is even an annual Yeongdeok Snow Crab Festival held every March at the Samsa Maritime Park (Ganggu-myeon) to celebrate this tasty ocean treat.
Tip: Snow Crab Street of Gangguhang Port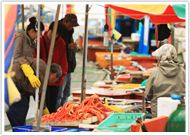 In Gangguhang Port is a 3 kilometer-long street lined with snow crab restaurants. Stop into any one of these restaurants for steamed snow crab and other delicious snow crab dishes.

Located along the coastal road of the East Sea, Sunrise Park has wooden decks, walking trails, an observatory, and rest areas. A perfect place for a relaxing seaside walk, the beauty of the trail is aided by calming music, fish sculptures, and a colony of reeds.

Chayu Village, located in Gyeongjeong-ri in Yeongdeok-gun County, has been called Daege because the legs of the snow crabs caught there are shaped like bamboo ('dae' means bamboo, 'gae' means crab). As a result, the village was renamed "Yeongdeok Daege Wonjo Village" and a local monument was erected to commemorate the new name. Visitors can get a great bird's-eye view of the East Sea from the observatory where the monument stands.

Goesi-ri is a traditional village nestled at the foot of a small mountain. The village road leads past 30 or so houses that are over 200 years old and winds by Mogeun Memorial and Mount Bonghwasan, giving visitors a sample of both the area's cultural and natural treasures.

[Photo courtesy of Yeongdeok Culture & Tour (http://tour.yd.go.kr)]
The ending point of Blue Road, Goraebul Beach is 30 kilometers north of Gangguhang Port. The long white sandy beach, which also connects to Daejin and Deokcheon Beach, has shallow waters and is neighbored by a thick grove of pine trees. As a favorite retreat for families on vacation, the beach has great convenience facilities like shower rooms, restrooms, water fountains, a convenience store, and a parking lot.
More Info
☞ Getting there
Dong Seoul Bus Terminal → Yeongdeok Intercity Bus Terminal (it takes 4 hours and 20 minutes, 26,700 won, first bus at 07:00, last bus at 17:30, 8 daily departures) → Take a bus for Ganggu → Get off at Ganggu Intercity Bus Terminal

☞ Accommodation
Yeongdeok County Culture & Tourism homepage (Korean, English, Japanese, Chinese)
Goodstay

☞ Food
Yeongdeok County is famous for steamed snow crabs. Restaurants can be found in the downtown area or nearby tourist sites, beaches, and Gangguhang Port. There are especially many steamed snow crab restaurants near the port. The Yeongdeok Snow Crab Festival is held in the spring every year.

☞ Yeongdeok Blue Road homepage: http://blueroad.yd.go.kr/ (Korean)
☞ Tourist Information
Korea Travel Hotline: +82-2-1330 (Korean, English, Japanese, Chinese)
Yeongdeok Tourist Information: +82-54-730-6396 (Korean)