In November, Juwangsan National Park turns into a colorful landscape tinged with rich autumn hues. The most vibrant leaves can be seen on the sides of valleys that run deep through the mountain, but you don't need to go far to start seeing signs of autumn. As soon as you enter the park, you'll be met by a mountain brook that runs all the way from the summit to the park entrance. Just 15 minutes from Mount Juwangsan is Jusanji Pond, which is just as lively with its own array of autumnal colors. The pond, a man-made reservoir created about 300 years ago, has a picturesque background of Juwangsan Mountain and fall colors.

Juwangsan Mountain is only 721 meters above sea level, but is a much sought-after travel destination between the end of October and early November when the leaves along the mountain turn into a palette of reds, oranges and yellow. The fall leaves can be seen from the park entrance and along the park path to Yongchu Falls (Waterfall 1, see below), Jeolgu Falls (Waterfall 2), Yongyeon Falls (Waterfall 3), and Naewon Village. The craggy rocks and waterfalls offer a neutral background, making the colors of the leaves even more eye-catching. During the peak of fall, the mountain is full of hikers, so make sure to visit early in the morning to avoid the crowds.

Daejeonsa is the main temple of Mount Juwangsan and sits right at the entrance of the national park, marking the starting point of the hiking trail. The temple is relatively small, but what it lacks in size, it more than makes up for in charm. The temple buildings, stone towers, and pagodas in the yard create a perfect balance and the whole area is pervaded by an overwhelming sense of peace. Beyond the main hall (Bogwangjeon), you can see the major peaks of Mount Juwangsan rising up along the horizon. Old gingko and maple trees stand guard in the temple yards, the golden gingko leaves adding an extra element of grace as they fall slowly down to the ground.
Rock Crags

As you go past Daejeonsa Temple, Baengnyeonam Hermitage will appear on your left. As you walk along Jubang Valley to the right, you'll come upon Palgakjeong Pavillion where the road branches off towards Juwanggul Cave. From there, large boulders appear one by one and the sheer rock slabs of Geupsudae Cliff, Sirubong Peak, and Haksodae Cliff seem to jump out from amongst the leaves.
Yongchu Falls

Past the bridge in front of Haksodae Cliff and through a quaint stone gate, you'll come upon Yongchu Falls cascading from a rocky peak crowned with leaves.
Yongyeon Falls

Yongyeon Falls is the largest and most beautiful of all the waterfalls in Jubang Valley. Plumes of fall foliage surround the waterfall and a viewing deck at the foot of the falls gives you a front row seat to the autumnal surroundings.
<Juwangsan Mountain Hiking Trails>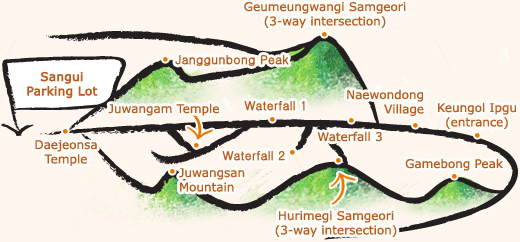 *Waterfall 1: Yongchu Falls, Waterfall 2: Jeolgu Falls, Waterfall 3: Yongyeon Falls
Juwangsan Mountain Hiking Trails

| Trail | Distance | Hours | Trail detail |
| --- | --- | --- | --- |
| Juwang Valley | 8.8km | 4 hours | Sangui Parking Lot → Daejeonsa Temple → Yongchu Falls → Yongyeon Falls → Naewon-dong → Sangui Parking Lot |
| Jubong | 8.9km | 4 hours 20 minutes | Sangui Parking Lot → Daejeonsa Temple → Juwangsan Mountain → Kaldeung Pass → Hurimegi Intersection → Yongchu Falls → Sangui Parking Lot |
| Janggunbong Peak - Geumeungwangi | 10.6km | 4 hours 50 minutes | Sangui Parking Lot → Daejeonsa Temple → Janggunbong Peak → Geumeungwangi → Yongyeon Falls → Yongchu Falls → Sangui Parking Lot |
| Woroe 1 | 12.3km | 5 hours | Woroe Park Protection Area → Dalgi Falls → Neogumaeul Village → Geumeungwangi Samgeori Intersection → Janggunbong Peak → Sangui Parking Lot |
| Woroe 2 | 12.2km | 5 hours 10 minutes | Woroe Park Protection Area → Dalgi Falls → Neogumaeul Village → Geumeungwangi Samgeori Intersection → Yongyeon Falls → Yongchu Falls → Sangui Parking Lot |
| Jeolgol | 13km | 6 hours 10 minutes | Jeolgol Exploration Support Center → Daemundari Bridge → Gamebong Peak →Yongyeon Falls →Yongchu Falls → Sangui Parking Lot |
| Gamebong Peak | 13.4km | 6 hours 20 minutes | Sangui Parking Lot →Yongchu Falls → Hurimegi Intersection →Gamebong Peak →Yongyeon Falls → Jeolgu Falls → Sangui Parking Lot |

Jusanji Pond (located to the south of Mount Juwangsan) is another natural gem not to be overlooked this fall. Calm with an almost unearthly beauty all year round, the pond comes into full glory when the colors of the fall foliage are reflected in the still waters each morning. On the banks of the lake, 30 or so willow trees stand guard, rooted in the very same spot for the past 150 years. When the fog that typically descends upon the pond is dense and low, the pond becomes its most tranquil. It is thanks to this mystic ambience that famous director Kim Ki-duk chose the pond as the filming location for his movie "Spring, Summer, Fall, Winter...and Spring."
☞ Related Column
Spring, Summer, Fall, Winter…and Spring
More Info
☞ Getting there
Dong Seoul Bus Terminal → Juwangsan Intercity Bus Terminal (it takes about 4.5 hours, 24,700 won, first bus at 06:30, last bus at 16:40, 6 daily departures) → Walk 800 meters → Juwangsan National Park

☞ Accommodation
Cheongsong County Culture & Tourism homepage (Korean, English, Japanese, Chinese)
Goodstay homepage (Korean, English, Japanese, Chinese)

☞ Food: Cheongsong-gun County is famous for dak-baeksuk (chicken stew), ori-baeksuk (duck stew), dak-bulgogi (chicken bulgogi), and sanchae bibimbap (wild vegetable bibimbap). Restaurants offering these local specialties can be found near Sinchon Yaksutang and Dalgi Yaksutang mineral springs. The area is also known for its apples and red peppers. The sweet and juicy apples are very popular among locals and visitors to the county and can be bought in downtown Cheongson-gun, at tourist sites, or from roadside stands.

☞ Tourist Information
Korea Travel Hotline: +82-2-1330 (Korean, English, Japanese, Chinese)
Cheongsong Tourist Information: +82-54-870-6244 (Korean)

☞ Columns related to Cheongsong
Mysterious Cheongsong – Juwangsan Mountain, Jusanji Lake Make Perfect Autumn Travel Destinations