Korea is the only divided country in the world. The Demilitarized Zone (DMZ) cuts the Korean Peninsula roughly in half and has become the symbol of this tragic conflict. The DMZ was established in 1953 when the Armistice agreement was signed after the Korean War. South Korea and North Korea drew a truce line across the Korean Peninsula, from the mouth of the Imjingang River in the west, to the town of Goseong in the east. On either side of the truce line is a 2km wide stretch of land where military activity is not permitted, this is known as the Demilitarized Zone. The zone has not been exposed to human disturbance for about four decades and has therefore, unintentionally, become a haven for wildlife.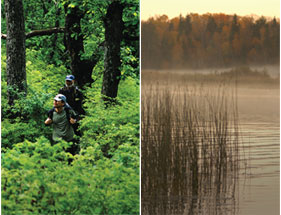 These days, it is possible to the vicinity of the DMZ. The DMZ reminds visitors of the tragedy of war, and causes them to talk about peace. The DMZ and its surroundings were once the site of fierce battles during the Korean War, but has recovered from its wounds over the last half-century to become a quiet lush green area inhabited by diverse living creatures.

The Peace and Life Zone (PLZ) includes the DMZ and other areas nearby, which contain historical, cultural, and natural treasures, which for years have been hidden away from the public eye. The name "Peace and Life Zone" pays reference to the unpolluted natural environment and the people's general hope for the arrival of a new peaceful era to both sides of the border. The PLZ covers Yeoncheon, Paju, Gimpo, Ongjin, Ganghwa, Cheorwon, Hwacheon, Yanggu, Inje, and Goseong.

This area has emerged from the ashes of the Korean War and has now become a symbol of peace and life. To help visitors discover the charms and treasures of the PLZ, a tour course has been specially designed taking visitors to the numerous attractions in this area. Visitors can walk or drive along this 545km-long-course and on special occasions will be able to go right up to the border of the DMZ itself. After decades of seclusion, the PLZ, with its incredible biodiversity and profound history, is awaiting discovery.