Korea's Winter Festivals
Heat up Korea's winter with these hot events! The following is a description of Korea's special winter festivals. Don't miss out on the thrilling offers only available in winter!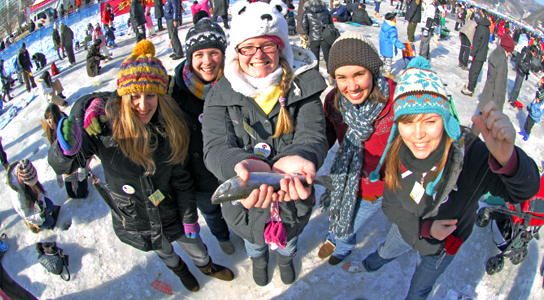 Photo: Catching Sancheoneo (Mountain Trout) with bare hands
One of the world's 7 wonders of winter
Hwacheon Sancheoneo Ice Festival has been continuously featured on CNN, the renowned international broadcasting network, as one of the seven major events to look out for when the year is coming close to an end. The festival attracts over 1 million visitors from domestic and all around each year, verifying its reputation as one of the world's major winter festivals. A wide variety of experience programs and attractions are available, including mountain trout fishing on ice, a zip track stretching across the festival venue, as well as various snow and ice sculptures on exhibitions. Indeed, this festival is a never-disappointing festival worth to check out!
Period: January 9-31, 2016
Venue: Hwacheoncheon Stream and its vicinity (three individual eup areas and myeon located in Hwacheon-gun, more details on locations are found at the official website.)
Inquiries: Nara Foundation +82-1688-3005
Website: www.narafestival.com (Korean, English, Japanese, Chinese)
Programs: Ice fishing for mountain trout, bare-hand fishing for mountain trout, ice sleds, bobsleighs, ice sculpture exhibits, and more.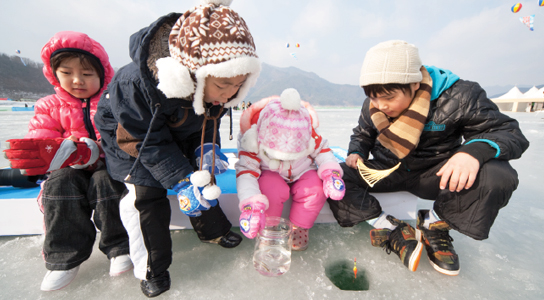 Photo: Fishing bingeo is an enjoyable event for all age groups
Spend a delightful day-out on a silver ice ground
When the translucent Soyanghosu Lake freezes solid, this signals the beginning of the Icefish Festival featuring bingeo (silver icefish) below the vast expanse of ice. With crowds of visitors wanting to experience the excitement of catching icefish, the lake is filled with the sounds of delight and laughter throughout the festival season. In addition to ice fishing, the festival features many unique events that can only be enjoyed in winter including icefish tasting, ice sledding, and ice soccer.
Period: January 16-24, 2016 (TBA)
Venue: Near Injedaegyo Bridge, Nam-myeon, Inje-gun, Gangwon-do
Inquiries: Inje Tourist Information Center +82-33-460-2170
Programs: Ice fishing, ice soccer, ice wall climbing, ice bowling, and more.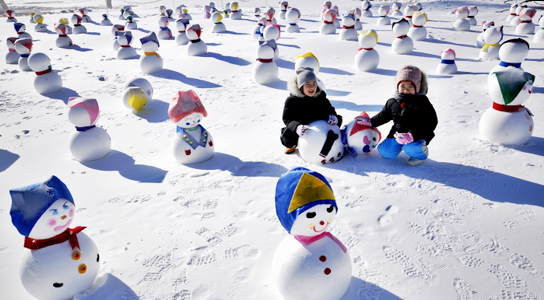 Photo: Children playing with snowman
A winter wonderland made by snow and ice
Held every winter in the snow-covered landscape of Taebaeksan Mountain, the Taebaeksan Snow Festival offers a true winter experience. Featuring magnificent sculptures by snow and ice sculptors in a nature-sculpted winter wonderland, the festival is brightly lit by the smiles of tourists.
Period: January 22-31, 2016
Venue: Taebaeksan Mountain Provincial Park
Inquiries: Taebaeksan Snow Festival Organizing Committee +82-33-550-2828
Website: festival.taebaek.go.kr (Korean, English)
Programs: International snow sculpture exhibition, snowman festival, snow climbing contest, traditional winter games, and more.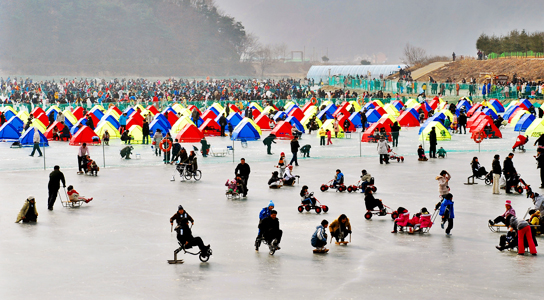 Photo: Traditional Korean ice sledding on frozen lake
A winter festival held in the home of snow!
When the season of snow and ice arrives, an outdoor trout festival is held at Odaecheon Stream in Pyeongchang-gun, the city dubbed as 'home of snow' as it usually receives the first snow every year. Pyeongchang's breathtaking views of snow-covered landscapes have earned it the nickname 'The Alps of Korea.' It is the perfect place to appreciate the beauty of winter and enjoy an exciting festival. It features a variety of hands-on programs including trout fishing, sledding, and traditional sledding and much more of excitements on the ice!
Period: December 18, 2015-January 31, 2016
Venue: Waterfront of Odaecheon Stream, Pyeongchang-gun, Gangwon-do.
Inquiries: Pyeongchang Trout Festival Committee +82-33-336-4000
Website: www.festival700.or.kr (Korean only)
Programs: Trout fishing, snow sledding, snow rafting, traditional sledding, and more.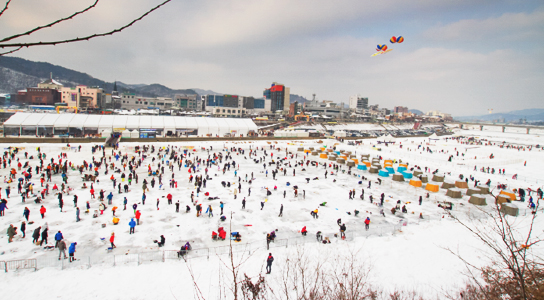 Photo: Trout fishing at Hongcheongang River
Fish for Hongcheon ginseng trout!
Every winter, visitors from across the country flock to the frozen Hongcheongang River to catch ginseng trout raised on a diet of six-year-old Hongcheon ginseng. In addition to ice fishing, which can be enjoyed by people of all ages, the festival features a wide range of attractions, cuisines, and entertainment including bare-hand trout fishing, Snow World (operated by top-class Daemyung Resort), charming views of thatched cottages, and traditional restaurants.
Period: January 1-17, 2016
Venue: Hongcheongang River at Noil-ri, Bukbang-myeon, Hongcheon-gun,
Gangwon-do
Inquiries: Hongcheon-gun Festival Committee +82-33-435-4350
Website: hongwinter.kr (Korean only)
Programs: Trout fishing, barehanded fishing for ginseng trout, Vivaldi Park Snow World, winter photo zone, ice soccer, and more.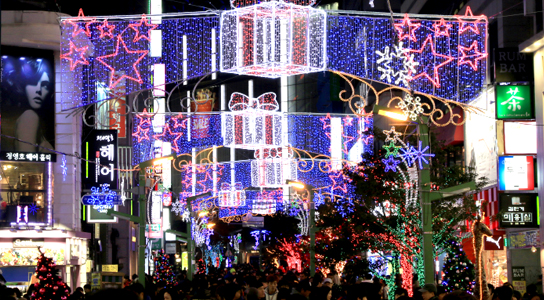 Photo: Beautiful luminaire decorating the street of Busan
Sparkling fun in downtown Busan
When the sound of carols echo in the streets with the arrival of the Christmas season, large Christmas trees and magnificent lights light up the night of Busan. Featuring decorations of varying themes surrounding a 20-meter tall Christmas tree, the Busan Christmas Tree Festival offers a variety of cultural performances such as NANTA and chorus songs.
Period: November 28, 2015-January 3, 2016
Venue: Gwangbok-ro, Jung-gu, Busan (During the festival, some streets will be made into 'car-free zone' restricting the traffics)
Inquiries: Christmas Tree Festival Organizing Committee +82-051-256-1225
Website: bctf.kr/g5 (Korean only)
Programs: Illumination, photo zone, wishing tree, snow time, flash mob, and more.
1330 Korea Travel Hotline: +82-2-1330 (Korean, English, Japanese, Chinese)
* This page was last updated in November 2015, and therefore information may differ from what is presented here. We advise you to check details from the official websites before visiting.
** The festival period and program details are subject to change depending on the weather condition and other unforeseen events.
<Last updated on November 19, 2015>