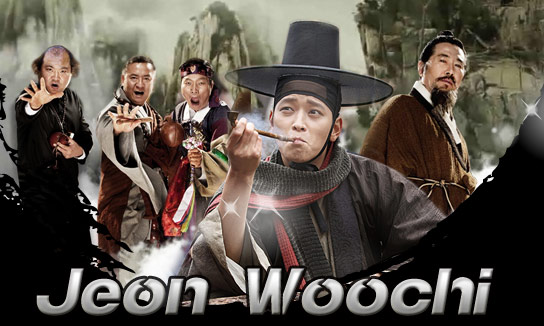 As of end of January 2010, the Korean movie Jeon Woochi is drawing raves, passing the 6 million viewers mark in just 40 days since it hit box offices. The movie's main characters were based on the Korean heroic classic of Jeonuchijeon, but the backdrop jumps ahead to the modern era. Presumed to be written in the early 17th century by an anonymous writer, Jeonuchijeon depicts the life of Jeon Woochi, who was a living figure of the Joseon Dynasty (1392~1910). In the novel, there lived a wizard named Jeon Woochi in Songgyeong (now Gaeseong) who wielded exceptional Taoist magic. Jeon Woochi has a chilvalrous spirit, punishing the bad and helping the good using his powers. However, Jeon Woochi is far from the typical image of a hero: he is a short-tempered anti-superhero who likes to give a hard time to those he dislikes. In the novel, Hwadam is the colleague and mentor of Jeon Woochi, but in the movie, he appears as a villain. The movie is the first to depict a classic Korean hero as a charming figure fit for the 21st century. All wizards in the movie wield Taoist magic. They can disappear or copy themselves using a talisman, move through time and space, hide freely behind objects, read through other's mind, and leap long distances in a snap. Jeon Woochi reveals the unique charms of martial arts of the East.
Movie Information
Director : Choi Dong-hun
Cast : Kang Dong-won, Kim Yun-seok, Lim Su-jeong, Yu Hae-jin
Release date : Dec. 23, 2009
Running time: 136 minutes
Genre : Comedy/adventure

Plot
Jeon Woochi begins in the Joseon Dynasty 500 years ago. Manpasikjeok, a prophetic pipe, gets into the hands of evil goblins, so a trio of Taoist wizards turn to Cheongwandaesa and Hwadam for help. They catch the goblins and divide the pipe into two, leaving each into the custody of Cheongwandaesa and Hwadam. In the meantime, Cheongwandaesa's immature disciple Jeon Woochi transforms himself into the Great Jade Emperor, causing trouble. To solve this problem, the trio and Hwadan call on Cheongwandaesa. Hwadam kills Cheongwandaesa to get hold of the pipe's other half and possess control of the goblins. Framed by Hwadam, Jeon Woochi is accused of killing his master Cheongwandaesa. In punishment, Jeon Woochi is sealed inside an ancient picture scroll with Choraengi. Jumping ahead to the year 2009, goblins appear in modern Seoul to wreak havoc all around. The trio wizards, who have been living a secluded life as a priest, monk, and fortune-teller, get together and look for Hwadam, who is nowhere to be found. Unwillingly, they call Jeon Woochi and Choraengi out of the ancient scroll. Jeon Woochi accepts the trio's offer for complete release from the seal if he succeeds in catching the goblins, and sets out to hunt them. The problem is Jeon Woochi is more interested in sightseeing and courting Seo In-kyeong, who is the look-alike of a woman he fell in love with at first site in the past (Joseon era). Then appears Hwadam, who confronts Jeon Woochi for the manpasikjeok pipe.
Cast
Kang Dong-won as Jeon Woochi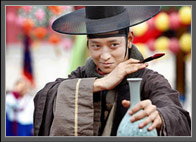 Kang Dong-won leaped into stardom through his appearance in Romance of their Own (Also known as Wolf's Temptation) in 2004. This time, he plays the role of Jeon Woochi, a mischievous hero. Jeon Woochi is anxious to show off his Taoist magic. He speaks straightforwardly, likes to drink and play, and to womanize. Falsely accused of killing his master Cheongwandaesa, he is sealed in an ancient scroll and released 500 years later. Though charged with catching goblins in return of a complete release from the seal, he is busy sightseeing. Due to his mischievousness, curiosity, and unfamiliarity with the modern world, he continues to create uproars. Using a talisman, he can quickly transform himself and move from one place to another.
Kim Yun-seok as Hwadam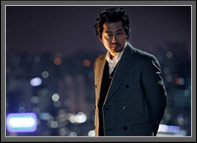 Kim Yun-seok is back in theaters for the first time since his appearance in The Chaser and Running Turtle. Hwadam, the character he plays, is the colleague and master of Jeon Woochi in the original novel; in the movie, he is his rival. Hwadam is a complex character of both virtue and evil. In Joseon, he is highly revered as the top Taoist master, but he reveals his evil side when he fights against Jeon Woochi to get hold of the pipe manpasikjeok. In Joseon, he frames Jeon Woochi and has him sealed in an ancient scroll; in modern Seoul, he faces off against Jeon Woochi for the pipe. He wields exceptional Taoist magic using fire.
Lim Su-jeong as a widow in Joseon and Seo In-kyeong in modern Seoul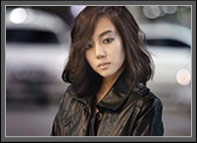 Recognized for her acting talents in A tale of two sisters and Happiness, Lim Su-jeong plays the role of Seo In-kyeong in Jeon Woochi. Despite her innocent looks, In-kyeong has a deep passion to become an actress. She seems to be quiet but always speaks her mind. She has the same face as the widow whom Jeon Woochi had kidnapped and fell in love with at first sight in Joseon. For this reason, Jeon Woochi falls for Seo In-kyeong, the attractive femme fatale.
Yu Hae-jin as Choraengi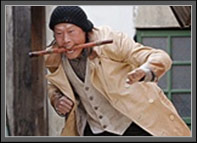 Yu Hae-jin had made an impressive comic appearance in The King and the Clown and War of Flower. He plays the role of Choraengi, who is a friend and colleague of Jeon Woochi. Jumping 500 years forward, he comes to modern Seoul with Jeon Woochi. Actually, Choraengi was a dog, which Jeon Woochi transformed into a human. As his name tells, he is restless and talkative. Though he doesn't have Taoist powers, he is very strong. The combination of Jeon Woochi and Choraengi reminds of Don Quixote and Sancho, offering fun to viewers.
Filming Locations
Hapcheon Image Theme Park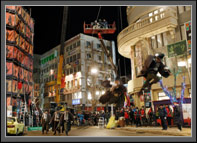 The scene where Jeon Woochi confronts goblins in the modern time was filmed in Hapcheon Image Theme Park. Jeon Woochi duplicates himself ten fold and puts on a great fighting scene against the backdrop of a posh modern street. Numerous Korean dramas and movies were filmed in Hapcheon Image Theme Park. Architecture from the 1930s and 1960s of Seoul are found here, including Seoul Train Station, Joseon Governor General office, and Bando Hotel.
Click here for Hapcheon Image Theme Park
Danyang Namhangang Reed Field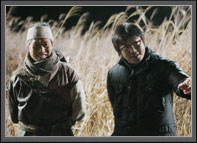 The scene where the widow (Seo In-kyeong in modern Seoul) passes through a field of reeds on a horse (Choraengi) in Joseon era is in Danyang Namhangang. Jeon Woochi appears out of nowhere and talks with the widow. In response to the widow's comment that she has never seen the sea, Jeon Woochi turns the reed field into a sea. The reed field spans 12 kilometers from Sapyeong-ri to Hyangsan-ri in Danyang Namhangang, Chungcheongbuk-do Province. The natural colony of reeds boasts a distinct landscape in every four season. In the field, there is a promenade, small paths, a labyrinth, and a rest area.
Admission : Free
How to get there : At Dong Seoul Bus Terminal, take a bus for Danyang (06:59-18:00 / departures every hour / Takes 2.5 hours / 12,100 won)  Get off at Danyang Bus Terminal and take a bus for Hawonbyeolbang/Yeongchun (or Guinsa Temple) at the main road (Bus for Hawonbyeolbang: 09:10, 13:00, 18:45; bus for Yeongchun (or Guinsa Temple) 06:40, 07:30, 08:30, 10:00, 12:30, 13:25, 15:00, 17:10, 18:30)  Get off at Gagok-myeon Office
Korea Travel Phone : +82-43-1330 (Korean, English, Japanese, Chinese)
Danyang Travel Phone : +82-43-420-3114 / Gagok-myeon Office: +82-43-420-3605
Seoul Cheonggyecheon
The place where Jeon Woochi faces off against Hwadam in modern Seoul is Cheonggyecheon in Seoul. Cheonggyecheon is the stream that runs along the border of Jongno-gu and Jung-gu in the heart of the city. A 5.8 kilometer section of the stream was restored to its original state, from Dong-A Ilbo Daily building to Sindapcheolgyo Bridge in Seongdong-gu. It is now a popular rest area and meeting place for Seoul citizens.
Click here for Cheonggyecheon Stream
- Photo courtesy: Movie Production Company