Specialities of Agyang Village

Daebong Persimmons
Agyang Village is known for the Daebong persimmons, which have been growing in the village since the early Joseon period. The Daebong persimmons were of such high quality that they specially reserved for the King. Blessed by the clear waters of the Seomjingang river, fresh air from Jirisan Mountain, and the rich Hadong soil, the persimmons certainly carry a distinguished taste. The high variations between day and night temperatures in this area create the optimum condition for drying the persimmons, so dried persimmons from this region have minimal loss of vitamins and extra sweetness. The dried persimmons of Hadong are well-known for their extraordinary size and sweetness, and it's said that once you try them, you will never forget the taste. Every year in November, a festival is held to celebrate the Daebong Persimmons.

Wild Green Tea


Strictly speaking, the green tea of Hadong should be referred to as wild green tea because the tea leaves are grown using traditional and organic planting methods and no agricultural chemicals, herbicides, or chemical fertilizers are used.

Each leaf is handled carefully and treated with the utmost respect, almost as if it was a work of art. These tea leaves are rich in tannin, caffeine, amino acids, carbohydrates, vitamins and minerals. They are known to clear the head, promote brain function and relieve fatigue. The tea leaves are grown at the foot of Jirisan Mountain, and as well as being healthy, they are truly delicious.

Nearby Tourist Attractions

Ssanggyesa Temple

Originally built in 723, this temple was once destroyed during the Imjin War (Japanese Invasion of Korea in 1592), but it was restored in 1632. The main building of the temple, which has been designated as Korea's Treasure No. 500, is a wooden building that dates back to the mid Joseon dynasty, and is recognized for both its high artistic and historic value.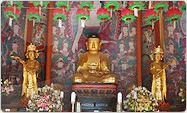 A small stream flows through the temple grounds between the gates and sanctuaries, creating a tranquil ambience. The area in the immediate vicinity of the temple is said to be where the green tea plantations first started. A monument in honor of this can be found in the temple's grounds.

Details on Ssanggyesa Temple


Hwagae Street Market

Agyang Village, which is located on the Jeollanam-do and Gyeongsangnam-do border, is also well-known for the nearby Hwagae Street Market (Hwagae Jangteo). Up until about 50 years ago, this market used to be one of the top five in the country, and although it has decreased in size these days, visitors can still get a feel of the old customs and traditions.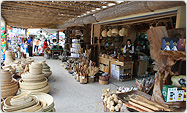 There are several restaurants or food stalls that serve simple meals, such as gukbap (rice and soup), dotorimuk (acorn starch jelly), jaecheopguk (marsh clam soup), which are local specialties, as well as dried foods such as wild mountain herbs and green tea.

There are also many vendors selling traditional art and craftworks and local farming produce. The road leading from the Hwagae Jangteo marketplace to the Ssanggyesa Buddhist Temple is well-known for its picturesque springtime scenery, when a natural tunnel of cherry blossoms forms.


Maeam Dawon Tea Garden


Maeam Dawon Tea Garden, which is located close to the Agyang Village Office, has a long history. A Tea plantation was started in this area in 1963, and it has been passed down to over three generations. This tea garden is actually rather like a huge green tea park. In various places throughout the garden, persimmon trees have been planted to provide natural shade for the tea leaves. There is an old piano and some wooden chairs and tables, which are used to hold small concerts.

Visitors can also serve themselves a cup of tea for 2,000 won in an unstaffed tea shop. The proceeds from which are sent to those in need at the end of the year. There is also a tea museum, which is housed inside a building that was built during the Japanese Colonial period. As many as 100 items relating to the traditional tea ceremony, including earthenware from the Three Kingdom Period and the Maksabal ceramics of the Joseon period, are on exhibit inside the building.


Choe Champan House of Pyeongsa-ri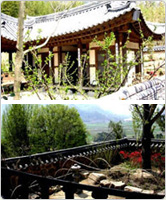 The late author Park Kyungni wrote a novel called <Toji>, which is regarded as a masterpiece and widely loved by Korean people. The novel is renowned for the intelligent way it depicts the history and sentiment of the Korean people. The houses of the novel's main characters actually exist and are located in the Pyeongsa-ri area of Agyang Village.

The houses are clustered together in Pyeongsari Park, which covers a large area of 10 square kilometers. These are traditional hanok style houses and various items are on display showing the way of life of the people during the late Joseon period. The Seomjingang river runs through this area and every Spring cherry blossoms bloom as across the river in Da-ap village, apricot flowers burst open. It's an extraordinarily beautiful sight. In October every year, the 'Toji Literature Festival' takes place here.

Festivals

Wild Tea Cultural Festival of Hadong


Every May, the Hadong Wild Tea Cultural Festival runs for 5 days. This festival is known for being well-organized, attracts visitors of all ages, and has been designated as one of the best festivals in Korea by the government. The five days are organized under different themes and offer a variety of programs for visitors. Visitors can try picking wild green tea for themselves and experience a traditional tea ceremony. Small operas take place in the tea fields and there is a madang-geuk (a traditional outdoor drama performance) as well as a Slow City walking program.

A highlight of the festival is sampling tea, which has been specially made by a tea artisan and comes from a tree that's over 1,000 years old. This type of tea is said to cost at least 13 million won per pack and there is a special photography service for visitors who take part in this program.

Details on the Wild Tea Cultural Festival

Food for Thought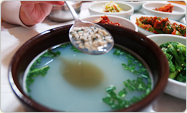 Specialties of the Hadong region are dishes made from marsh clams and mitten crabs, which are collected from the clear waters of the Seomjingang river.
Marsh clams are freshwater clams, which only live where the seomjingang river meets the sea water of Gwangyangman Bay. Although smaller than ordinary clams, these are rich in amino acids and vitamin B and have double the nutritional value.
One famous dish is marsh clam soup, which is said to be soothing for your stomach if you've had a night of heavy drinking. King crab stew is made from crabs and fish caught from the Seomjingang river with vegetables such as fernbrakes, a local leaf vegetable called Chwinamul, and shiitake mushrooms among others.
In most cases doenjang (soy bean paste) is used as the soup base, so it's a good dish for people who are not so keen on spicy food. This dish is served in the restaurants lining the Seomjingang river.

Getting To Agyang Village

By Train
From Seoul Train Station take a train to Hadong (There is only one train a day leaving at 10:05am, journey takes 7 hours 40 minutes, fare is 33,700won)-> From Hadong Bus Terminal get on a bus to Agyang (There is a bus bound for Ssanggyesa Temple, so you can travel on to Ssanggyesa Temple after your visit to Agyang)



By Bus
From Seoul Nambu Terminal take a bus to Hadong (07:30, 09:30, 11:30, 13:30, 15:30, 17:30, 19:30, 19:40, 8 buses daily, journey takes 4 hours 30 minutes, fare is 26,200won)-> From Hadong Bus Terminal take a bus to Agyang village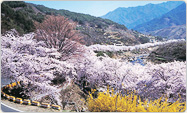 The best time to visit Hadong is really during spring, as this is when the green tea fields, cherry blossoms, and apricot flowers are all at their best. However, many travelers visit the Hadong region during springtime, so visitors should be aware that restaurants, accommodation, and transportation will be crowded.
There are several traditional hanok houses in the areas surrounding Agyang village, including one which is at least 160 years old, here visitors can experience some of Korea's historical customs.

To get a sense of Korea's traditional way of life, VisitKorea recommends taking a walking tour of the village. Participants will be able to observe the process of making tea (picking, roasting, drying), which is all carried out by hand.
The tour starts from downtown Hadong and takes you to Pyeongsari Park (The Choe Champan House), Hwagae Street Market, the Tea Culture Center, and Ssanggyesa Temple.