| | |
| --- | --- |
| | What Does the Term "Olle" Mean? |

In the local Jeju dialect "Olle (올레)" was originally used to refer to the narrow path between the street and one's doorstep. In the past, the word was quite commonly used, as children would often say, "let's meet at the olle". However, later this word came to be used more widely across Korea and the word came to mean the series of coastal walking paths in Jeju Island. The olle walking paths of Jeju start at the east point of the island and wind their way along the coast all the way to the island's southwest point. The charms of the olle walking paths are their proximity to nature and the picturesque combination of the blue ocean, dark green forests, and the charming local villages.

☞ Visit the Jeju Olle Walking Paths Official Website
The first of these walking paths opened in September 2007. As of March 2009, some 13 walking paths had been completed, 12 main paths and one "alpha" path. The walking paths collectively stretch to a length of approximately 216km. The olle are paths that have developed naturally over the years. They have been connected to each other using minimal human intervention. Depending on the pace of the individual or group, each route will take roughly four to six hours. Walking along these small paths that take you through the mountains and along the coast is the best way to experience the unique, startling beauty of Jeju Island.

Following an Olle Walking Path!
Blue or blue and yellow ribbons have been placed along an olle path to guide visitors. These are found throughout the route usually along the stone piled walls, rocks, or on the surface of the road.
Bathrooms and Restaurants!


As the olle have been arranged in an eco-friendly manner, there are not many toilets or restaurants along the way. However, convenience facilities can be found at the beginning or end of each path. Do take water and snacks with you.
What to Prepare!

*Shoes: visitors are advised to wear exercise or climbing shoes. During the summer, sandals will also be useful to walk along the beach area.
Extra Layers: Although the weather on Jeju-do is generally warm and pleasant, it is often windy and there are frequently unexpected showers. Walkers are advised to carry waterproof clothing and an extra, long-sleeved outfit with them.
Guidebook: A guidebook is available free of charge at the Information Desk of the Jeju International Airport. The guidebook will include useful information on the Olle walking paths, accommodation, and restaurants.

Route 1: Siheung Elementary School to Gwangchigi Beach
(Total 15km, 5-6 hour trip)

This was the first olle path to be completed and it takes walkers along the coast and past a number of oreums, which are volcanic cones that look like small mountains or hills and are found throughout Jejudo Island. In fact, in Jejudo Island, everything that appears to be a mountain or a hill is an oreum (with the exception of the majestic Hallasan Mountain) and there are 360 oreums on Jeju Island. This walk begins at a small local school (Siheung Elementary School) and leads to the Malmi and Al oreums and offers a panoramic view of some of Jejudo's famous sightseeing spots, such as the Seongsan Ilchulbong Peak and Udo Island. The route then leads to the Jongdal-ri Salt Fields and to the Siheung-ri beachside road, where the sight of Sungsan Ilchulbong Peak appears once again. The conclusion of the route is the deep blue ocean at Gwangchigi Beach, which is simply spectacular.

Route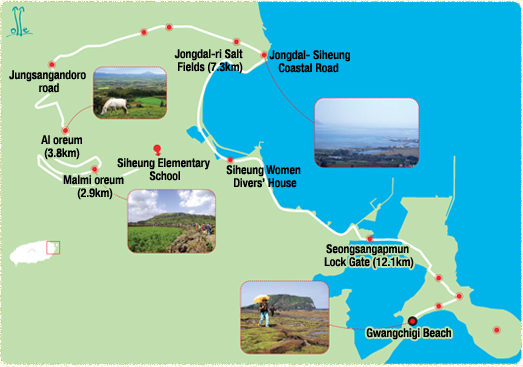 Siheung Elementary School (시흥초등학교)-> Malmi oreum (말미오름: 2.9km)-> Al oreum (알오름: 3.8km)-> Jungsangandoro road(중산간도로)-> Jongdal-ri Salt Fields (종달리 소금밭: 7.3km)-> Siheung Women Divers' House(시흥 해녀의 집)-> Seongsangapmun Lock Gate (성산갑문: 12.1km)-> Gwangchigi Beach (광치기해변)


| | |
| --- | --- |
| | Route 1-1: Udo Island (Total 16.1km, 4-5 hour trip) |

Shaped like cow lying down, Udo Island with its clean green fields, stonewalls, and striking lighthouse presents some of the best scenery in the Jeju area.
Udo is the largest of the 62 islands that surround Jeju, and with seas that are the color of indigo throughout the year, this is a walking course where you can feast your eyes on beautiful views. This Olle walking course is lined with the old stonewalls that are so cherished in the Jeju area, and takes you past Soemultong hill and along the dried embankments of fields of barley and rye.
Udo Island can be reached by taking a boat from Jeju Island. Walkers will arrive in either Cheonjinhang or Haumokdonghang Port. The route circumnavigates the island.

Route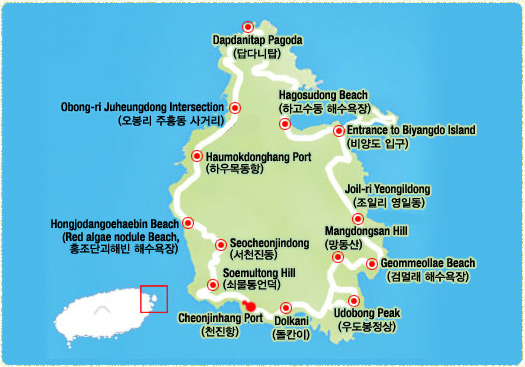 Cheonjinhang Port (천진항) → Soemultong Hill (쇠물통 언덕) → Seocheonjindong (서천진동) → Hongjodangoehaebin Beach (Red algae nodule Beach, 홍조단괴해빈 해수욕장) → Haumokdonghang Port (하우목동항) → Obong-ri Juheungdong Intersection (오봉리 주흥동 사거리) → Dapdanitap Pagoda (답다니탑) → Hagosudong Beach (하고수동 해수욕장) → Entrance to Biyangdo Island (비양도 입구) – Joil-ri Yeongildong (조일리 영일동) → Geommeollae Beach(검멀래 해수욕장) → Mangdongsan Hill (망동산) → Poppy Habitation (꽃양귀비 군락지) → Udobong Peak 우도봉정상 → Dolkani (돌칸이) → Cheonjinhang Port (천진항)


Route 2: Gwangchigi Beach to Onpyeong Pogu(Port) (Total 17.2km,
5-6 hour trip)

The second route starts from the where the first route finished at Gwangchigi Beach. The route then takes you past Goseong village and Daesusanbong Peak to the Onpyeong-ri seaside. From the top of Daesusanbong Peak, a panoramic view of the entire east coast of the island is spread out beneath you. The route also takes you past Honinji pond, where according to Samseong (the legend of the three stars), three gods (the founders of Jeju Island) had their wedding ceremony to three princesses, which they had bought down from the heavens. The name of the pond actually means wedding.

Route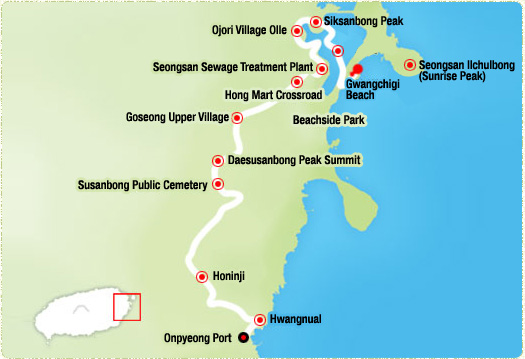 Gwangchigi Beach (광치기해변)-> Tide Embankment Road (방조제길)-> Siksanbong Peak (식산봉)-> Ojori Village Olle (오조리 마을 올레: 4.1km)-> Seongsan Sewage Treatment Plant (성산하수처리장 : 6.82km)-> Goseong Upper Village (고성윗마을)-> Daesusanbong Peak Summit (대수산봉 : 12.7km)-> Honinji (혼인지 : 16.4km)-> Hwangnual(황루알: 17km)-> Onpyeong Port (온평포구)


| | |
| --- | --- |
| | Route 3: Onpyeong Port to Dangke Port (Total 22km, 6-7 hour trip) |

The third route takes you through dark thick forests and past lots of low-lying black stone walls, which Jeju is famous for. The route is a relatively easy climb, and walkers should enjoy the wide-open spaces on top of 'Tong Oreum' and 'Dongjabong Peak', which offer good views. The Kim Young Gap Gallery, which is situated in a charming converted elementary school, makes for a good stop off. The path continues through the Bada Mokjang livestock farm, which has only recently been opened to the public. Walkers can stroll through the meadows and enjoy the fresh air, beautiful scenery, and the view of the nearby ocean.

Route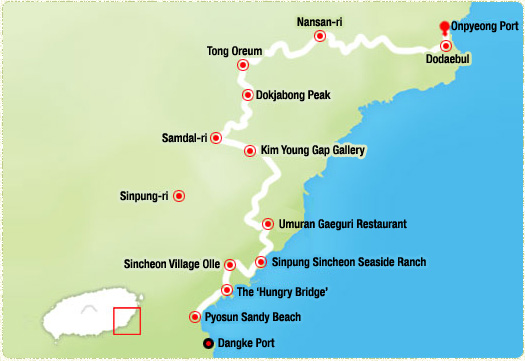 Onpyeong Port (온평포구)-> Tong Oreum (통오름: 9km)-> Dokjabong Peak (독자봉)-> Kim Young Gap Gallery (김영갑 갤러리: 14km)-> Sinpung Sincheon Seaside Ranch (신풍, 신천 바다목장: 17km)-> Pyoseon Sandy Beach (표선백사장)-> Dangke Port (당케포구)


| | |
| --- | --- |
| | Route 4: Pyoseon to Namwon Port (Total 23km, 6-7 hour trip) |

The first half of the fourth route takes walkers along the beautiful coastal area and the other half is through the hills (oreums). This path is a good choice for those who'd like to combine a short climb with a walk along the seaside. The route includes spots, such as Gamari Haenyeo (Women Divers) Olle and Geoseun Saemi, which offer rare sights of Jeju's famous women divers who dive deep down into Jeju's waters to collect various seafoods.

Route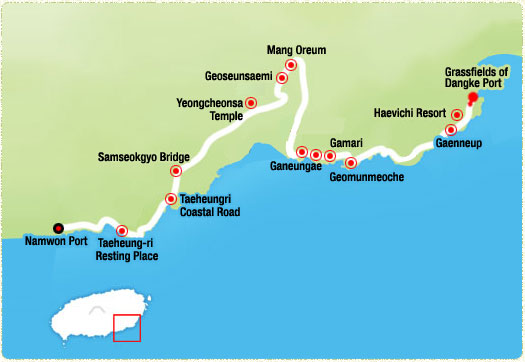 Grassfields of Dangke Port (당케포구 잔디광장)-> Haevichi Resort (해비치 리조트)-> Gamari (가마리: 5.5km)-> Gamari Haenyeo Olle (가마리 해녀 올레)-> Ganeungae (가는개)-> Mang Oreum (망오름: 11km)-> Geoseunsaemi (거슨새미)-> Samseokgyo Bridge (삼석교: 14km)-> Taeheungri Coastal Road (태흥리)-> Namwon Port (남원포구)


| | |
| --- | --- |
| | Route 5: Namwon Port to Soesokkak (Total 15km, 5-6 hour trip) |

The fifth route begins from where the fourth route finished off, Namwon Port. This route includes one of the most beautiful coastal walks in Korea, the Keuneong Promenade, and leads to Soesokkak estuary where the freshwater river meets the ocean. On this route you will walk through forests, past villages, and at the end there's a spectacular view of the ocean.

Route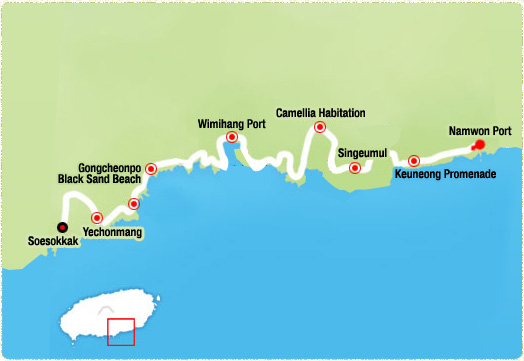 Namwon Port (남원포구)-> Keuneong Promenade (큰엉 산책로: 3km)-> Singeumul (신그물: 4.7km)-> Camellia Habitation (동백나무 군락지: 6.5km)-> Wimihang Port (위미항)-> Gongcheonpo Black Sand Beach (공천포: 11km)-> Yechonmang (예촌망: 13km)-> Soesokkak (쇠소깍)


Route 6: Soesokkak to Oedolgae Rock (Total 14.4km, 4 hour 30min -
5 hour trip)

Starting from the Soesokkak estuary, the sixth route cuts through downtown Seogwipo and leads past Cheonjiyeon Falls and finishes at Oedolgae rock. The route includes both coastal and downtown areas. The Soesokkak estuary, which is the starting point of this route, is where the freshwater river meets the sea, and it is famous for the beautiful view. Here visitors can take a ride on the traditional boats of Jejudo Island, which are called the 'Teu'. The coastal road along the Oedolgae is famous for its spectacular scenery. The part of the route around Cheonjiyeon Falls is a relaxing walk, and visitors can observe the forest and the ecology.

Take a ride on a Teu boat
The Teu boats travel along the Soesokkak estuary and are, perhaps, the slowest method of transportation in the world. The boat resembles a raft and moves manually by means of a rope, which is connected to the banks of the river. A typical trip on this unique boat will take between 40~50 minutes and is a good opportunity to relax and enjoy the scenery. (Fees: 5,000won for adults and 3,000won for children)


Route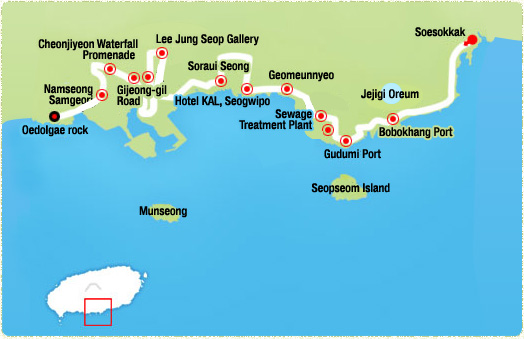 Soesokkak (쇠소깍)-> Jejigi Oreum (제지기오름: 2.34km)-> Gudumi Port (구두미포구: 3.95km)-> Seogwipo KAL Hotel (6.82km)-> Sojeongbang Falls (소정방폭포: 8.17km)-> Lee Jung Seop Gallery (이중섭 갤러리)-> Cheonjiyeon Falls Promenade (천지연폭포: 11km)-> Oedolgae (외돌개)


| | |
| --- | --- |
| | Route 7: Oedolgae Rock to Wolpyeong Port (Total 15.1km, 4-5 hour trip) |

Nearly all of this route is along the coast. It is lined with pampas grass and various wild flowers and offers spectacular views. One section of the route was actually an old goat path, but was then turned into a walking path by Kim Su-bong who used only a shovel and hoe. This section, which was named the Subongno after its creator, is a well-loved section of the route and has plenty of wildlife and plants.

Route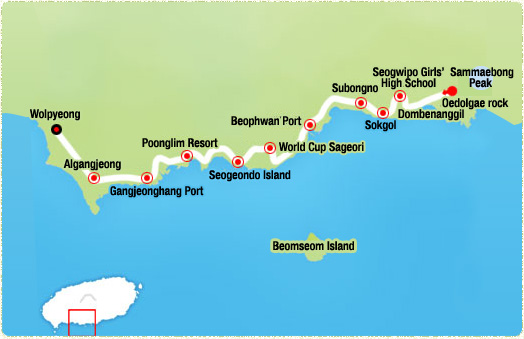 Oedolgae (외돌개)-> Subongno (수봉로: 3.81km)-> Beophwan Port (법환포구: 4.79km)-> World Cup Sageori(Intersection)-> Seogeondo Seaside Promenade (서건도: 7.74km)-> Poonglim Resort (풍림 리조트)-> Gangjeonghang Port (강정항: 13.2km)-> Wolpyeong Port (월평포구)


Route 7-1: World Cup Stadium to Oedolgae rock (Total 15.6km,
4-5 hour trip)

This olle route is not that steep, but walkers will reach spots where they can see Hallasan Mountain rising above them, the Southern ocean, and the entire area of the Seogwipo in one sweeping glance. This is the so-called "alpha" route, which starts from the Jeju World Cup Stadium and ends at the Oedolgae. This path includes fascinating rock formations, cliffs, and walkers are surrounded by nature. The route takes you through some of Jeju's rice paddy fields, which are very popular with walkers.

Route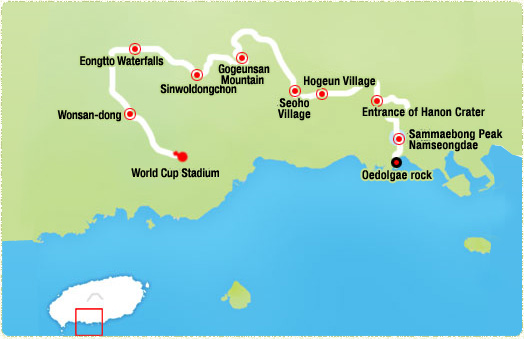 World Cup Stadium-> Eongtto Falls (엉또폭포: 4.03km)-> Gogeunsan Mountain (고근산: 8.09km)-> Entrance of Hanon Crater (하논 입구: 13km)-> Oedolgae (외돌개)


Route 8: Wolpyeong to Daepyeong Port (Total 17.6km, 5-5hour
30min trip)

This route winds along the coast, and the cliffs, dramatic rock formations, and beaches offer a spectacular view. The route takes you past the famous Jusang Jeolli Cliffs(pillar-shaped joint), where volcanic rock formations rise out of the sea like pillars, and the cliffs are covered with pampas grass. The route also includes a walk along a rocky beach, which traditionally was used only by Jeju's women divers, as well as taking you across a wide meadow called 'Nandeureu' that stretches all the way to the ocean, and past the village of Daepyeong-ri that sits alongside it.

Route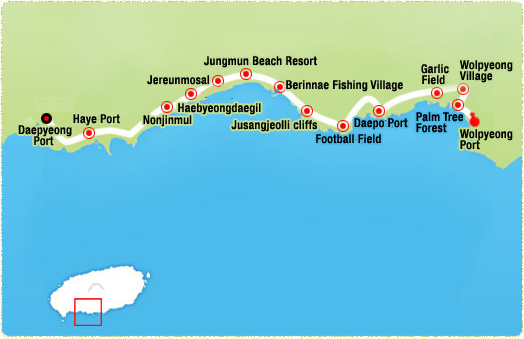 Wolpyeong Port (월평포구)-> Garlic Fields (2.86km)-> Daepo Port (대포포구: 4km)-> Jusang Jeolli Cliffs (주상절리)-> Jungmun Beach Resort (중문 해수욕장)-> Marine Corp Road (해병대길: 13.8km)-> Haye Seaside Road (하예 해안가)-> Daepyeong Port (대평포구)


Route 9: Daepyeong Port to Hwasun Beach Resort(Total 8.81km,
3-4 hour trip)

Although the ninth route is shorter, it is more strenuous and best suited for more intrepid hikers. The route starts off along the rocky cliffs, and then takes you through Andeok Valley. The nature in this region is wild, dramatic, and untouched, and the paths are not frequently used.

Reaching the Baksugijeong Cliffs
There are two ways to reach the breath-taking Baksugijeong cliffs, which are located between Molgil and Joseun bridge. The first route is a steep and dramatic and is recommended for the more intrepid hikers. The second route is wider and flatter and is therefore recommended for children and the elderly or when the weather is poor.


Route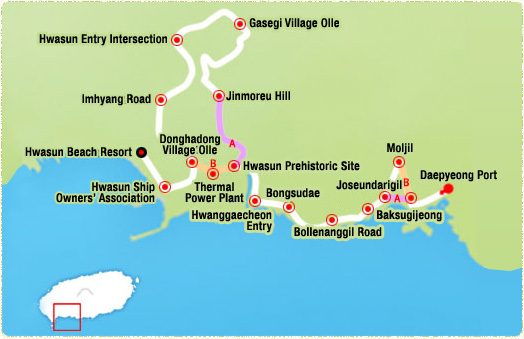 Daepyeong Port (대평포구)-> Moljil (몰질: 416m)-> Joseundarigil Road (조슨다리 길: 1.38km)-> Baksugijeong (박수기정)-> Hwanggaecheon Entry (황개천: 3km)-> Hwasun Prehistoric Site (화순 선사유적지)-> Jinmoreu Hill (진모르 동산: 5.1km)-> Gasegi Village Olle (가세기 마을올레: 6.9km)-> Hwasun Beach Resort (화순 해수욕장)


Route 10: Hwasun Beach Resort to Moseulpo (Total 14km,
4-5 hour trip)

For the entirety of route 10 you will be walking along the cliffs, and you will be able to enjoy a scenic view of the Sogeummak Hangmandae cliffs located below Sanbangsan Mountain. This area was largely unknown to the general public until the opening of the olle walking paths. This route will take you up Songaksan Mountain, which is an inactive volcano with a crater located at the southern tip of Jeju Island. From the summit of this mountain there is a panoramic view of Marado Island and other islands surrounding Jeju, which are extremely beautiful.

Route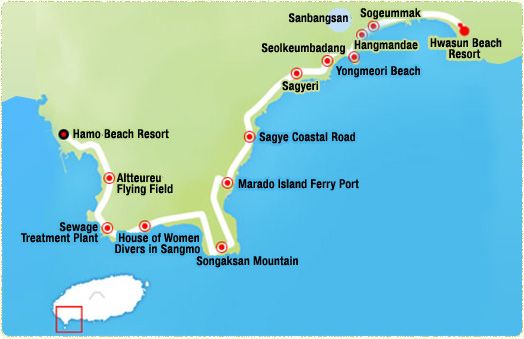 Hwasun Beach Resort (화순 해수욕장)-> Sogeummak (소금막)-> Coast along Sanbangsan Mountain (산방산 해안가: 1.84km)-> Yongmeori Cliffs (용머리 해안)-> Seolkeumbadang (설큼바당: 4.02km)-> Sagye-ri (사계리: 4.64km)-> Marado Island Ferry Port (마라도 유람선 선착장: 8.11km)-> Songaksan Mountain (송악산)-> Altteureu Airfield (알뜨르 비행장: 11.5km)-> Hamo Beach Resort (하모 해수욕장)


Route 11: Hamo Beach Resort to Mureung 2-ri (Total 20km,
6-7 hour trip)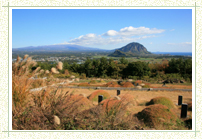 This eleventh route is famous for the spectacular view from the top of Moseulbong Peak, which was only recently open to the public. In the southwest part of the island there are numerous oreums, and the sight of them with the ocean stretching away behind them is very memorable. It is also the first time that the path between Sinpyeong and Mureung, which is called the Gotjawal olle, has been open to the general public.

Route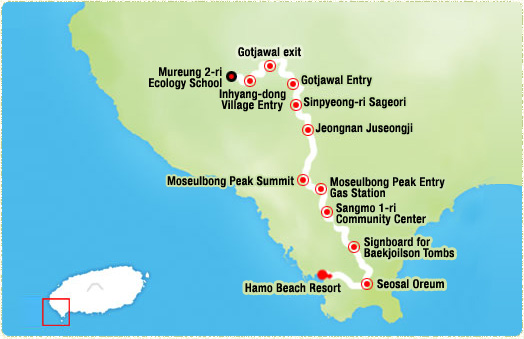 Hamo Beach Resort (하모 해수욕장)-> Seosal Oreum (섯알오름: 2.2km)-> Moseulbong Peak Entry (모슬봉: 8.8km)-> Jeongnan Juseongji (정난주성지: 12.2km)-> Gotjawal Entry (곶자왈 입구: 14.9.km)-> Gotjawal Exit (곶자왈 출구: 17.9km)-> Mureung 2-ri Ecology School (무릉2리 생태학교)


| | |
| --- | --- |
| | Route 12: Mureung 2-ri to Yongsu Port (Total 17.6km, 5-6 hour trip) |

Open since March 28, 2009, the twelfth route is the only olle walking path that includes a trip through downtown Jeju city. The plan is to start connecting the olle paths with some downtown roads that are unique, beginning with this twelfth route. Highlights of this route are the scenic road around Jagunae port and the breath-taking view from the top of the Dangsanbong Peak. The sight of the sun sinking it to the ocean is a fitting ending to a very special trip.

Route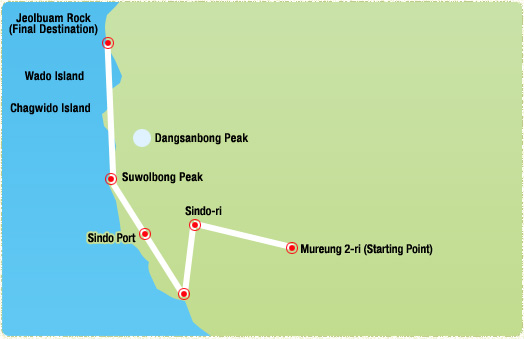 Mureung 2-ri Ecology School (무릉2리 생태학교)-> Sindo Pond (신도연못)-> Sindo Beach (신도 앞바다)-> Hanjangdong (한장동)-> Suwolbong Peak (수월봉)-> Eongalgil (엉알길)-> Jagunae Port (자구내포구)-> Dangsanbong Peak (당산봉)-> Saengigijeong Seaside Road (생이기정)-> Yongsu Port (용수포구)


| | |
| --- | --- |
| | Route 13: Yongsu to Jeoji (Total 15.3km, 4-5 hour trip) |

Unlike the other Olle Walking Paths that follow Jeju Island's coast, this new path turns inland. This route introduces walkers to the island's forest paths. Walkers can only see the sea from the starting point of this route at Yongsu Port, and then the route is connected to the forest. 3km of these forest paths were restored by a unit of commandoes especially for Olle walkers. This route takes you past the Yongsu reservoir, through forests, into a small village called Nakcheon-ri, through more dense forests and fields, before coming to the end of the route where walkers will hike up the Jeoji Oreum.

Route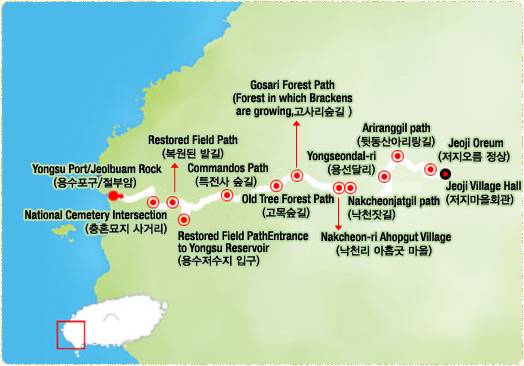 Yongsu Port/Jeolbuam Rock (용수포구/절부암) → National Cemetery Intersection (충혼묘지 사거리) → Restored Field Path (복원된 밭길) → Entrance to Yongsu Reservoir (용수저수지 입구) → Commandos Path (특전사 숲길) → Old Tree Forest Path (고목 숲길) → Gosari Forest Path (Forest in which Brackens are growing, 고사리 숲길)– Nakcheon-ri Ahopgut Village (낙천리 아홉굿 마을) → Nakcheonjatgil path (낙천잣길) → Yongseondal-ri (용선달리) → Ariranggil path (뒷동산 아리랑길) → Jeoji Oreum (저지오름 정상) → Jeoji Village Hall (저지마을회관)


☞ Related Article on Olle Experience : "Explore Jeju's Stunning Scenery on Foot"