Tradition Meets Modernity

[Jongno → Anguk-dong → Bukchon → Samcheong-dong]

INSA-DONG
인사동
To experience the traditional culture of Korea while staying in the city, visit Insadong. With art galleries, traditional craft stores, antique art dealers, traditional tea houses, restaurants and more, Insa-dong is for visitors who want to experience traditional aspects of Korea.

Jongno 3-ga Stn. Exit 5
Ssamziegil
쌈지길
Each fl oor of this uniquely designed building is connected like streets of a town. Visitors can see traditional arts and crafts here.

Jongno3-ga Stn.


10:00–20:30
BUKCHON HANOK VILLAGE
북촌한옥마을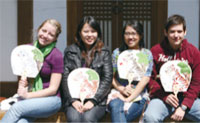 Bukchon is a traditional residential area. Its 600-year history spans the life of the city itself. Particularly charming and unique sites of the village were selected as the "Eight Views of Bukchon."

Anguk Stn. Exit 2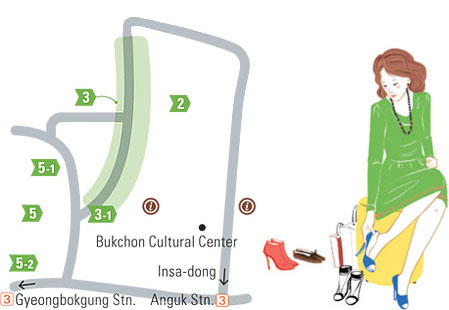 SAMCHEONGDONG-GIL
삼청동길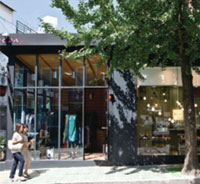 The street is lined with hanoks that have been renovated into cozy cafés, galleries and restaurants. It is a street where traditional and modern Korea were combined to create a more unique and chic atmosphere.

Anguk Stn. Exit 1
Hwagae-gil Shoe Street
화개길 구두거리
Handmade designer shoes are sold along this street. The nearby museums, galleries and cafés will make your shopping experience more fun and pleasant.

Anguk Stn. Exit 1
CHEONGWADAE SARANGCHAE
청와대 사랑채
This is a Korean presidential museum opened in January 2010 that exhibits Korea's past, present and future. Visitors can see and experience a day as the president of Korea.

Gyeongbokgung Stn. Exit 5

09:00–18:00; Closed Mondays
GYEONGBOKGUNG PALACE
경복궁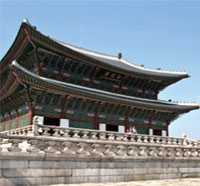 Built in 1395 as the main palace of the Joseon Dynasty (1392–1910) by its founder, King Taejo, Gyeongbokgung is the most comprehensive and grandest of the fi ve palaces of the period.

Gyeongbokgung Stn. Exit 5


09:00–18:00(18:30 Jun.–Aug.; 17:00 Dec.–Feb.); Closed Tuesdays
The National Folk Museum of Korea
국립민속박물관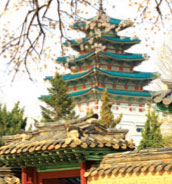 Located inside Gyeongbokgung Palace, the National Folk Museum of Korea is a place where you can see and experience the different stages of Korean society. Next to the National Folk Museum of Korea is the Children's Museum.

Gyeongbokgung Stn. Exit 5

Closed Tuesdays and January 1st
The National Palace Museum of Korea
국립고궁박물관
Treasures from the Royal Family of the Joseon Dynasty are exhibited here. More than 40,000 precious relics portray the grace and elegance of the palace.

Gyeongbokgung Stn. Exit 5

Closed Mondays
HANOK GUESTHOUSES
• Rakkojae Guesthouse

+82-2-742-3410

• Bukchon Guesthouse

+82-2-743-8530

• Anguk Guesthouse

+82-2-736-8304

• Urijip Guesthouse

+82-2-744-0536

• Tea Guesthouse

+82-2-3675-9877

• Gahoe Hanok Center

+82-2-591-4400

• Green House

+82-2-744-7017

• Maru Guesthouse

+82-2-744-8751

• Bongsan Guesthouse

+82-2-766-6638
TOURIST INFORMATION CENTERS
Insa-dong PR Center

Anguk Stn. Exit 6 / +82-2-737-7890

Buk Insa Tourist Information Center

Anguk Stn. Exit 6 / +82-2-2148-4170

Nam-insa Tourist Information Center

Jongno 3-ga Stn. Exit 4 / +82-2-737-7885

Bukchon Tourist Information Center

In front of Jaedong Elementary School
Anguk Stn. Exit 2 / +82-2-2148-4160
In front of Jeongdok Public Library
Anguk Stn. Exit 2 / +82-2-2148-4161