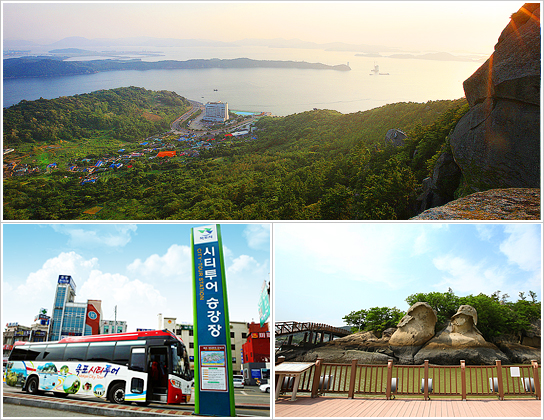 Located at the tip of Korea's southwestern coastal region, Mokpo is a small but important trade port city, and connects the peninsula to Jeju-do Island. The Mokpo City Tour takes visitors all over town, stopping at points of interest to allow visitors to explore the areas on foot. The old town area around Yudalsan Mountain is of particular interest, featuring architecture that dates back to the industrialization period of the early 1900s. On Culture Street, popular attractions include Gatbawi Rock, a prominent natural monument, as well as a number of cultural experiences offered at the National Maritime Museum, the Natural History Museum, the Ceramic Livingware Museum, and the Culture Arts Center.
Visitor Information
☞Itinerary:
Mokpo Station [09:30 departure] – Hall 2 of Mokpo Modern History Museum [25 minutes] – National Roads 1 and 2 Starting Points Monument [10 minutes] – Hall 1 of Mokpo Modern History Museum (Old Consulate of Japan) [20 minutes] – Yudalsan Mountain [50 minutes] – Lunch break [40 minutes] – Gatbawi Bohaenggyo Bridge [10 minutes] – Mokpo Gatbawi Rock Culture Town (National Maritime Museum or Natural History Museum) [55 minutes] – Samhakdo Island [50 minutes] – Seanam Seafood Distribution Center [20 minutes] – Mokpo Station [arriving at 15:40]
☞ Operating hours: 1 daily departure (departs at 9:30am, returns at 3:40pm). * No tours on Mondays
☞ Departure Point: City Tour Bus Stop in front of Mokpo Station
☞ Fare: Adults 5,000 won / Youth (ages 7-18) 2,000 won
(Museum admission fees not included).
☞ Reservations and inquiries: Chowon Travel +82-61-245-3088 (Korean) / Mokpo TIC +82-61-270-8598 (Korean, English, Japanese, Chinese)
☞ 1330 Korea Travel Hotline: +82-2-1330 (Korean, English, Japanese, Chinese)
☞ Mokpo Culture & Tourism Homepage: http://eng.mokpo.go.kr (Korean, English, Japanese, Chinese)


During Japanese colonial rule, one of the most difficult times in recent history, the museum was built by the Japanese, historically containing artifacts from a tragic time period in Korea's history. It was officially designated a cultural asset in 1999 due to the citizens' efforts after liberation. Now, it exhibits photos from the Japanese colonial era starting in 1897, when Mokpo Port opened.
* Hours: 09:00-18:00 (Closed on New Year's and Mondays)
* Admission: Free
The Start of National Roads 1 & 2 Monument
Mokpo also marks the center of the starting point of the two major national roads of the nation and has a monument to commemorate it. National Road 1 stretches north from Mokpo through Seoul and up to Sinuiju, while National Road 2 originates in Shinan and Mokpo before heading east to Busan.


Located in the heart of the city, Yudalsan Mountain (228 meters above sea level) offers expansive views of downtown Mokpo, nestled in the mountain valleys and along the coast. While hiking, visitors can rest at the gazebo near the top of the mountain and survey the sprawling cityscape. The surrounding cliffs rise like a folding screen in harmony with the trees.


The tour continues with a walk over Bohaenggyo, a pedestrian bridge that leads out over the sea to Gatbawi Rock, a rock appropriately named for its resemblance to a man wearing a gat (a cylindrical, traditional Korean hat). Gatbawi Rock is a natural occurrence, resulting from years of erosion by waves and currents. Because of its geological value, the formation was designated as a natural monument. Previously accessible only by ferry, visitors can now visit Gatbawi Rock by taking Boyaenggyo Bridge, which was built in 2008. From Gatbawi Rock, take a stroll along the coastal road and head to Culture Town for a visit to one of the area's many museums.


On the way from Mokpo Gatbawi Rock, Culture Town shows up where Mokpo Culture & Arts Center, Mokpo Natural History Museum and Mokpo Ceramic Livingware Museum are situated. Located on the oceanfront, the National Maritime Museum houses a relic museum and the Maritime Cultural Asset Research Institute, located on Culture Street, which is the nation's only institute for underwater archaeology. The museum recovers relics that were lost underwater hundreds of years ago for the purpose of preservation and exhibition. In the exhibits, which are organized into four themes, guests learn about the exploration of a trade ship that sank off the coast of Korea between the 11th and 14th century and the Goryeo celadon relics that were recovered during the exploration. In addition to the indoor pieces, an exhibit of full-sized Korean traditional ships is on display on the waterfront outside the museum.
* Hours: 09:00-18:00 (Mar – Oct 09:00 – 19:00 on weekends and national holidays/ Closed on Mondays)
* Admission: Free
* Services: Free rental of digital guide (Korean, English, Japanese, Chinese), wheelchairs, and strollers, etc
* Homepage (Korean, English, Japanese, Chinese)