Suwon City Tour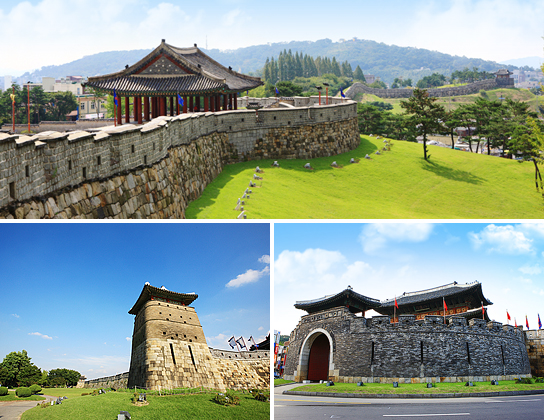 Hwaseong Fortress was built as part of a planned city constructed by King Jeongjo, the 22nd monarch of the Joseon Dynasty. It served as the southern gate of the capital city of Seoul during the Joseon Dynasty. Located in Suwon-si, Gyeonggi-do, the area was a strategic site for military security, and Hwaseong Fortress served as a key site for commerce. Today, Hwaseong Fortress is surrounded by many roads both small and large, in addition to the Gyeonggi Provincial Government Building, giving all the opportunity to view the scenic juxtaposition of old and modern architecture. For a quick and convenient way to visit a variety of attractions during your stay in Suwon, take a ride on the Suwon City Tour, operated by the Suwon City Government. Accompanied by guides who are proficient in English and Japanese, you'll be able to ride in comfort as you discover some of the most celebrated treasures of the city.
Visitor Information
☞ Period of operation: Year-round (no tours on Mondays)
☞ Itinerary:
Course 1 – Suwon Hwaseong Course
Suwon TIC
Haeujae
Hwaseomun Gate
Hwaseong Haenggung Palace
Janganmun Gate
Hwahongmun Gate
Yeonmudae
Suwon Hwaseong Museum
Suwon TIC

Course 2 – Hwaseong & Osan Course
Suwon TIC
Hwaseomun Gate
Janganmun Gate
Hwahongmun Gate
Hwaseong Haenggung Palace
Yeonmudae
Lunch (Jidong Market)
Yungneung / Geolleung
Yongjusa Temple
Mulhyanggi Arboretum

☞ Hours of operation:
Course 1: Tuesday-Sunday, two departures daily (10:00 & 14:00 / tour duration: 3hr, 30min)
Course 2: Sunday, one departure (09:30 / tour duration: 7hr)
☞ Tour bus fares:
Course 1: Adults (19+): 11,000 won / Youths (7-18): 8,000 won / Children (under 7): 4,000 won
Course 2: Adults (19+): 15,000 won / Youths (7-18): 11,000 won / Children (under 7): 5,000 won
☞ Boarding Point:
In front of Suwon Tourism Information Center (TIC), Suwon Station (Subway Line 1), Exit 4
☞ Inquiries & Reservation:
Online: http://www.suwoncitytour.kr/?lang=en (Korean, English, Japanese, Chinese)
Phone: +82-31-256-8300 (Korean, English, Japanese)
☞ Suwon Tourism Homepage: http://eng.suwon.ne.kr (Korean, English, Japanese, Chinese)
☞ 1330 Korea Travel Hotline: +82-2-1330 (Korean, English, Japanese, Chinese)
| Major Tourist Attractions


Hwaseomun Gate (National Treasure No. 403) is the western gate of the famous Hwaseong Fortress. The stately stone gate is topped with a single-story pavilion and is guarded by a protective semicircle stone wall, known as Ongseong.

Haenggung Palaces (행궁) refer to the temporary palaces built outside the capital city. Used by the royal family as a way to escape the dangers of war or to take a brief reprieve from the pressures of palace life, Hwaseong Haenggung Palace was also used occasionally by King Jeongjo during visits to his father's tomb. The palace is a magnificent display of architecture and is considered the most noteworthy of the Haenggung Palaces.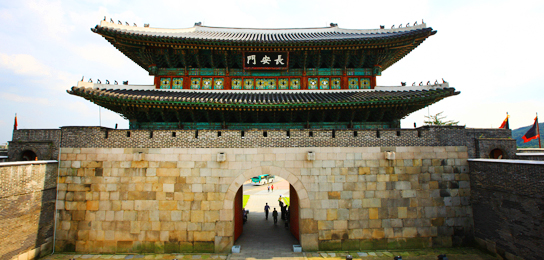 Janganmun Gate, on the northern side of Suwon's Hwaseong Fortress, is the main entrance to the fortress. "Jangan" means "capital city," and highlights the importance of the city of Suwon by giving it the same status as the capital city of Hanyang (modern-day Seoul) where the kings lived during the Joseon Dynasty. This particular gate was the gate through which the king entered on visits to Suwon. It is so large that it exceeds in size that of Sungnyemun Gate (National Treasure No. 1), the main gate to Seoul.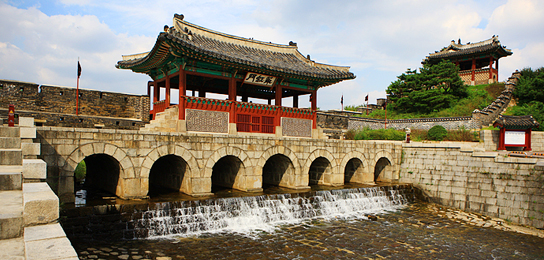 Hwahongmun Gate (화홍문), also known as Buksumun Gate (North Water Gate), is the northern floodgate of the fortress. The stone gate is topped with a single-story pavilion and is expertly designed with seven arches that allow the waters of Suwoncheon Stream to flow freely through the fortress to the south. The view of the water passing through the arches is so beautiful that is has been listed as one of the "Eight Scenic Beauties of Suwon."


Located on a hill in the northeast section of Hwaseong Fortress, Yeonmudae (연무대) is open on all sides and gives visitors an expansive view overlooking the fortress walls. In the past, soldiers gathered here for military training and exercises, and it is still used for archery practice today. Visitors can try their hand at archery, participate in traditional sports, or simply enjoy a relaxing walk around the grounds.


Suwon Hwaseong Museum presents an organized and comprehensive look at the cultural prowess and history of Hwaseong Fortress, a designated World Cultural Heritage. Exhibition halls detail the construction of the fortress as well as the history of the city and how it changed and developed over time. At the library, which remains open year round, visitors can learn more about the many people who played important roles in the construction of the impressive fortress.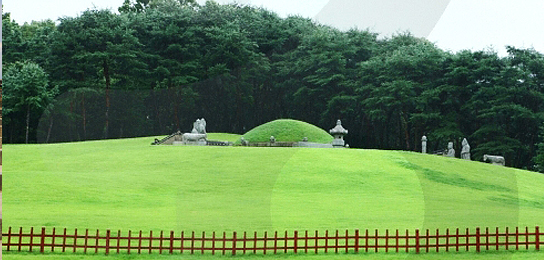 Yungneung (융릉) is the joint tomb of crown prince Sado Seja (Jangjo, 1735-1762, second son of King Yeongjo) and Sado's wife Hyegyeonggung Hongssi. Geolleung (건릉) is the joint tomb of King Jeongjo (son of Sado Seja) and his wife Queen Hyoui. The tombs are adorned with tombstones and a stone wall.


Yongjusa Temple (용주사) was built in the Silla era, but was burned down during a war. It was rebuilt in 1790 by King Jeongjo to mourn the tragic death of his father, Sado Seja, and to pray for the eternal rest of his father's soul. The temple is home to a seven storied stone pagoda and Cheonboru Pavilion, which is held aloft by two rows of six stone columns. Here, visitors will find traditional Buddhist architecture and a number of Buddhist relics.


Mulhyanggi Arboretum is a lush arboretum located in downtown Osan, Gyeonggi-do. Spread out over a plot of land measuring 100,000-pyeong (330,578.5 m2), the arboretum has 16 themed areas with over 1,700 species of plants and a range of subsidiary facilities. It takes approximately two hours to tour the entire arboretum at a leisurely pace.
☞ Related Column
UNESCO World Heritage Stamp Tour: World Heritage Sites in Seoul and Suwon
Last updated in November, 2014