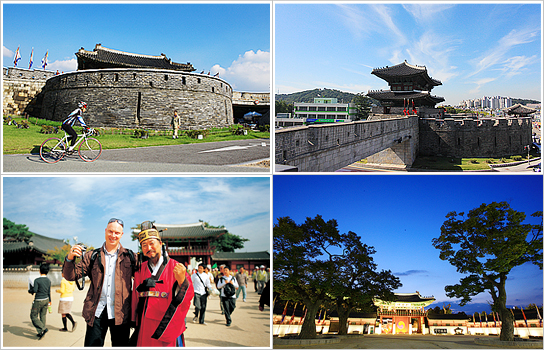 Hwaseong Fortress was built as part of a planned city constructed by King Jeongjo, the 22nd monarch of the Joseon Dynasty. It served as the southern gate of the capital city of Seoul during the Joseon Dynasty. Located in Suwon-si, Gyeonggi-do, the area was a strategic site for military security, and Hwaseong Fortress served as a key site for commerce. Today, Hwaseong Fortress is surrounded by many roads both small and major in addition to the Gyeonggi Provincial Government Building, giving many the opportunity to view the scenic juxtaposition of old and modern architecture. For a quick and convenient way to visit a variety of attractions during your stay in the city, take a ride on the Suwon City Tour, operated by the Suwon City Government. Accompanied by guides who are proficient in English and Japanese, you'll be able to ride in comfort as you discover some of the most celebrated treasures of Suwon.
Visitor Information
☞ Period of operation: Year-round (except most Mondays)
☞ Itinerary:
Itinerary 1 – Hwaseong Fortress Course
Suwon TIC
Haeujae
Hwaseomun Gate
Hwaseong Haenggung Palace
Janganmun Gate
Hwahongmun Gate
Yeonmudae
Suwon Hwaseong Museum
Suwon TIC

Itinerary 2 – Hwaseong & Osan-si Course
Suwon TIC
Hwaseonmun Gate
Janganmun Gate
Hwahongmun Gate
Hwaseong Haenggung Palace
Yeonmudae
Lunch
Yungneung / Geolleung
Yongjusa Temple
Mulhyanggi Arboretum


☞ Hours of operation:
Itinerary 1: Two departures daily (Tues. through Sun. / 10:00 & 14:00 / tour duration: 3hr, 30min)
Itinerary 2: One departure a week (Sundays at 09:30 / tour duration: approx. 7hr)
☞ Tour bus fare:
Itinerary 1: Adults (19+): 11,000 won / Youths (7-18): 8,000 won / Children (under 7): 4,000 won
Itinerary 2: Adults (19+): 15,000 won / Youths (7-18): 11,000 won / Children (under 7): 5,000 won ☞ Point of departure:
Suwon Station (Subway Line 1), Exit 4, in front of Suwon Tourist Information Center
☞ Inquiries & Reservation:
Online: www.suwoncitytour.co.kr (Korean, English, Japanese, Chinese)
Phone: +82-31-256-8300 (Korean, English, Japanese)
☞ Suwon Tourism Homepage: http://eng.suwon.ne.kr (Korean, English, Japanese, Chinese)
☞1330 Korea Travel Hotline: +82-2-1330 (Korean, English, Japanese, Chinese)
<Major Tourist Attractions>
* Note
Crown Prince Sado (King Jangjo, 1735-1762) was the second son of King Yeongjo, the 21st king of the Joseon Dynasty (1392-1910). King Yeongjo (1724-1776) is known as one of the greatest kings in history and is credited with turning the kingdom into a powerful dynasty during the 18th century. The honorable king is known for his efforts and relative success in relieving cutthroat political tensions between different factions as well as for his implementation of policies that reduced the burden of excess taxes on the people.

During his reign, the king tragically fell prey to an evil scheme concocted by opposing parties and was tricked into killing his own son by trapping him in an airtight rice bin. After realizing his terrible mistake, Yeongjo was deeply grieved and appointed Jeongjo, the son of Crown Prince Sado, as king. Later, King Jeongjo had his father's grave moved to Suwon and visited frequently with his subordinates to pay tribute and give his heartfelt respects to his father.