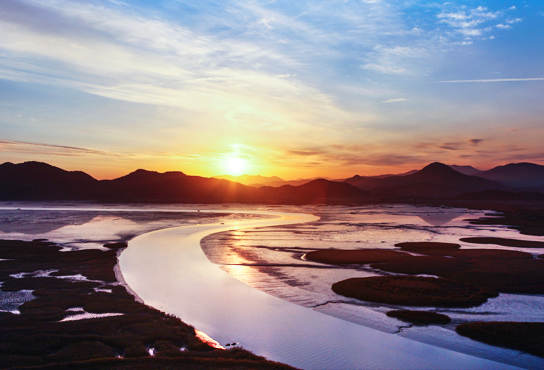 Photo: Suncheonman Bay Ecological Park
The city of Suncheon, well known as the ecological capital of Korea, offers dozens of attractions where people can really immerse themselves in 'eco tourism,' learning about a natural ecosystem that has remained almost completely untouched.

Start off your eco tour with Suncheonman Bay Ecological Park, which has continuously earned global recognition for ecological values, and teaches about and inspires people to protect the wetlands and reed fields. On the other hand, the thousand-year-old heritage of Seonamsa Temple and Songgwangsa Temple make people stop their hurried traveling to take in the wonderful natural sceneries filling their backdrop.
Checking out one of Suncheon's popular city tour itineraries listed below will make your trip and time much more worthwhile as it is not just a regular city tour; it is an ecotourism experience!
☞ Suncheon City Tour Course Itinerary
• Downtown Course (Tuesday-Friday)
- Meeting point: In front of Palma Gymnasium (09:40), Suncheon Station (10:00)
- Days of operation: Tuesdays, Wednesdays, Fridays (except on New Year's Day, Seollal (Lunar New Year's Day) and Chuseok (Korean Thanksgiving Day) holidays)
- Length of tour: 8 hours (09:40–17:40)
- Itinerary: Suncheon Station → Suncheon Open Film Set → Sangsa Dam (Water Cultural Center) → Utjang Traditional Market (Culture Street) → Suncheon Bay Garden → Suncheonman Bay Ecological Park → Suncheon Station
- Fare: Adults 13,500 won / Youth 10,500 won / Children 5,800 won
(※ Temporary discounts apply until July 31, 2015. Fare adjusted as Adults 10,500 won / Youth 8,000 won / Children 4,500 won)

• Downtown Course (Saturday-Sunday)
- Meeting point: In front of Palma Gymnasium (09:40), Suncheon Station (10:00)
- Days of operation: Saturdays and Sundays (except on New Year's Day, Seollal (Lunar New Year's Day) and Chuseok (Korean Thanksgiving Day) holidays)
- Length of tour: 8 hours (09:40–17:40)
- Itinerary: Suncheon Station → Suncheon Open Film Set → Bonghwasan Dulle-gil Trail → Araejang Traditional Market → Suncheon Bay Garden → Suncheonman Bay Ecological Park → Suncheon Station
(※ Additional charge may apply when making detour via Naganeupseong Folk Village in case of rain.)
- Fare: Adults 13,500 won / Youth 10,500 won / Children 5,800 won
(※ Temporary discounts apply until July 31, 2015. Fare adjusted as Adults 10,500 won / Youth 8,000 won / Children 4,500 won)

• Seonamsa Temple Course
- Meeting point: In front of Palma Gymnasium (09:10), Suncheon Station (09:30)
- Days of operation: Wednesdays, Fridays, Sundays (except on New Year's Day, Seollal (Lunar New Year's Day) and Chuseok (Korean Thanksgiving Day) holidays)
- Length of tour: 8.5 hours (09:10–17:40)
- Itinerary: Suncheon Station → Suncheon Open Film Set → Naganeupseong Folk Village → Ppurigipeunnamu Museum → Seonamsa Temple → Suncheon Wild Tea House → Suncheon Station
- Fare: Adults 16,000 won / Youth 12,300 won / Children 7,900 won
(※ Temporary discounts apply until July 31, 2015. Fare adjusted as Adults 14,700 won / Youth 11,600 won / Children 7,550 won)

• Songgwangsa Temple Course
- Meeting point: In front of Palma Gymnasium (09:10), Suncheon Station (09:30)
- Days of operation: Tuesdays, Thursdays, Saturdays (except on New Year's Day, Seollal (Lunar New Year's Day) and Chuseok (Korean Thanksgiving Day) holidays)
- Length of tour: 8.5 hours (09:10–17:40)
- Itinerary: Suncheon Station → Suncheon Open Film Set → Naganeupseong Folk Village → Ppurigipeunnamu Museum → Goindol (Dolmen) Park → Songgwangsa Temple → Suncheon Station
- Fare: Adults 14,800 won / Youth 10,300 won / Children 6,100 won
(※ Temporary discounts apply until July 31, 2015. Fare adjusted as Adults 13,500 won / Youth 9,600 won / Children 5,750 won)

• Night City Tour Course (Culture Tour Course)
- Meeting point: Suncheon Station (19:00) (※ Time is temporarily adjusted to 18:30 until July 18, 2015)
- Days of operation: Tuesdays-Sundays / 6 days per week (※ Dates are temporarily adjusted to Thursdays to Saturdays until July 18, 2015 / 3 days per week.)
- Length of tour: 3 hours (19:00–22:00) (※ Time is temporarily adjusted to 18:30-21:30 until July 18, 2015)
- Itinerary: Suncheon Station → Suncheon Culture Street → Suncheon Bay Garden → Suncheon Bay Observatory → Suncheon Station
- Fare: Adults 9,000 won / Youth 7,000 won / Children 4,500 won

※ The fares include tourist attraction admission fees; however, lunch is not provided.
※ The above programs are subject to change depending on local circumstances (i.e. if festivals are included in the program, the daily tour course may change.)
Visitors Information
☞ Reservations and inquiries
New Sam-U Tour Agency: +82-61-742-5200 (Korean only)
Suncheon Tourist Information Center: +82-61-749-3107 (Korean, English, Japanese, Chinese / Language assistance service may vary depending on the day of the week.)
Suncheon City Hall: +82-61-749-5808 (Korean only)

☞ Online reservations: yeyak.suncheon.go.kr (Korean only)
-Reservations should be made in advance either online or over the phone. A Korean tour commentator will accompany each tour group, and brochures will be available in English, Japanese and Chinese.
-The tours are designed for individual travelers and cannot accommodate the registration of groups of 20 or more people.

☞ 1330 Korea Travel Hotline: +82-2-1330 (Korean, English, Japanese, Chinese)
☞ Suncheon Tourism: tour.suncheon.go.kr (Korean, English, Japanese, Chinese)
Major Tour Sites