There are around 800 million infertile couples in the world according to the WHO. Infertility is considered as the inability to conceive a child. A couple may be considered infertile if the woman has not become pregnant after two years of regular sexual intercourse without contraception. Primary infertility is infertility in a couple that has never had a child. Secondary infertility is failure to conceive following a previous pregnancy.
Infertility may be caused by various reasons including problems in any phases from fertilization to implantation. Other causes include decreased ovarian function, ovulation disorders, damaged oviducts, problems in the uterus and immunity related problems stemming from the man. Sometimes, there is no obvious underlying cause.
One can be labeled infertile if the woman has no uterus or one of the partners has no reproductive cells. Other than these causes, however, it is right to call it a difficulty conceiving since the couple can conceive someday even though it may take a long time, as some say.
It is hard to say preventive method as there are various causes of infertility. In this regard, even 40% of success rate for treating infertility is considered as very high.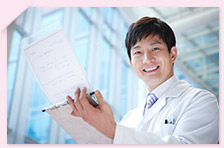 Korea is a country with a success rate of with 40% or more in treating infertility. In 1978, the first test-tube baby was born in Britain and 7 years later Korea succeeded in helping a couple have a test tube baby in 1985 and since then has become one of the top countries in treating infertility.
The Korea government compared the country's health and medical technology with that of other countries with 1,830 experts in the relevant field. According to the research, Korea will have the same level of medical technology as the U.S. which has the world's best technology in 1.8 years. Among 34 core technologies for treating diseases including cancer, organ damage, dementia and allergic disease, Korea recorded the highest score in infertility treatment. Korea also offers treatment at an affordable rate. The cost of having a test tube baby in Korea is 1/3 of that of the U.S. and other infertility treatments are as much as 1/6 cheaper than in the U.S. Infertility treatment in Korea is also much lower than in other countries such as Singapore and Thailand.

Lyudmila (37) and Sergei (46) received treatment at various hospitals to have a baby as they were having difficulties conceiving a baby after 8 years of marriage. They were told to wait as there was no obvious cause but it was not easy to conceive. The couple was under enormous stress and had to lie to their relatives by saying that "we have no plan to have a baby yet." One day, they learned about Korea's excellent test-tube baby technology and visited Korea's MizMedi hospital in July, 2011 and received an examination. The sperm test result for Sergei was not good and Lyudmila was told that she needed to receive immunosuppressive therapy as she had problems related to her immune system. The couple was glad to know the cause finally and decided to have a test-tube baby after being told that they may have a baby through the treatment. Lyudmila burst into tears at the first session with the doctor because she remembered all the lies she told at every family gathering.
The couple extended their vacation to receive tests and hormones. Fertilized eggs were transplanted into the womb and she was pregnant within one month. As infertility treatment requires no hospitalization, they traveled Seoul when they weren't required to be in the hospital, enjoying the feeling of returning to their newlywed days.
The couple was so happy to hear of the results of the pregnancy and were careful not to have a miscarriage. They returned to their country and gave birth to a son in March, 2012. Once they had a son, they wanted to have another child and contacted MizMedi hospital saying they would like to schedule another visit.


A number of patients have visited the hospital from abroad in 2011 and 80% of them received infertility treatment. Recently, MizMedi hospital increased the success rate to 50% through the removal of embryo fragmentation which occurs in the process of fertilized embryo division.
As the success of infertility treatment is directly linked to a close relationship and reliability between patients and medical staff and professional counseling, medical staff at the hospital monitors patients' conditions frequently and offer supportive treatment to alleviate the nervousness and anxiety of patients from abroad.
Tel : +82-2-2007-1245 (Russian +82-2-2007-1275,6)
https://www.mizmedi.com/eng/main/main.asp

Marina (aged 38) in Khabarovsk, Russia could not have a baby for more than 20 years of marriage. She suffered from two miscarriages and subsequent infertility. She visited every famous hospital in Russia, but could not learn of the cause of her infertility. Two rounds of test-tube baby processes ended in failure. Eventually, she gave up on having a baby.
One day, she learned about Korea's excellent medical technology through TV programs and the media and one of her acquaintances was able to have a baby after receiving the infertility treatment at Cheil General hospital in Korea. She decided to come to Korea thinking that it was the last chance.
Early this year, Mrs. Marina had an examination for finding out the cause of her repeated miscarriage. She was told that the reduction of blood from the placenta to the fetus was the reason. That was the moment her sorrow of 20 years washed away.
After that, she tried the first test-tube baby therapy on April 3, and finally got pregnant. She also received treatment to stimulate the supply of blood to the placenta. She is now 27 weeks pregnant. Mrs. Marina experienced the joy of the first fetal movement after 20 years of marriage. "I am so happy to have the baby I wanted to have over the last 20 years thanks to Cheil General hospital. I will teach many things about Korea to my baby so he or she can think Korea as his/her second country" said Mrs. Marina before she returns to Russia.



Cheil General Hospital has the largest medical team for infertility treatment in Korea with 10 specialists, 20 researchers and 30 nurses. The hospital boasts the highest pregnancy rate by finding the exact cause of infertility and offering customized treatment. The hospital has special centers such as habitual miscarriage clinics, an endometriosis clinic and an ovarian function preservation clinic and boasts the best performance and technology for male infertility.
Tel : +82-2-2000-7071
http://www.cheilmc.co.kr/cheilmcenglish/index.html


People with warm bodies tend to have babies more easily than those with lower temperatures. Drinking hot tea and exercising regularly can help keep your body warm. Other than that, a couple spa can be a romantic event for couples while they are having infertility treatment. They can grow the love and keep healthy by receiving couple massages and soaking in warm water. In Seoul, you can go to the Banyan Tree Club & Spa where you can enjoy night views atop of Mt. Namsan. The Healing Stone Spa, located in Seoul and Jeju island, have a professional therapist present at all times. Another place is the Plaza Spa Club where you can enjoy a spa along with a doctor's diagnosis.