Pyeongchang Trout Festival (평창송어축제)
Pyeongchang Trout Fe...

Period
12.18.2015 ~ 01.31.2016
Address
3623, Gyeonggang-ro, Jinbu-myeon, Pyeongchang-gun, Gangwon-do
강원도 평창군 진부면 경강로 3623 (진부면)
Location
Odaecheon Stream (오대천) area
Telephone
• 1330 Travel Hotline: +82-2-1330
(Korean, English, Japanese, Chinese)
• For more info: +82-33-336-4000

VisitKorea does not guarantee the quality of products or services introduced on its site and is not responsible for any direct or indirect losses resulting from use of said products or services.
Sponsors / Management
Pyeongchang Trout Festival Committee /
Introduction
The Pyeongchang Trout Festival takes place during winter in the town of Jinbu-myeon in Pyeongchang-gun district. Visitors to the festival can enjoy a variety of programs including ice and lure fishing for trout, snow programs, ice programs, folk programs, and more. There will also be traditional folk games including sledding and top spinning, and visitors can try out sports such as riding 4-wheel ATVs, snow rafting, sleigh trains. Any trout caught from ice fishing and lure fishing can be prepared right away at a nearby restaurant.

Trout farming first started in Pyeongchang due to its cold, clear waters. Trout offer plenty of nutrition, and their natural taste makes them delicious when eaten raw.
Performance Times
09:00-17:00 (times may vary for experience programs)
Admission/Participation Fees
Varies by progam, please check the official website for up-to-date information.
Age Limit
None (Visitors of all ages are welcome)
Transportation
[Bus]
From Dong Seoul Bus Terminal, take an intercity bus to Jinbu (진부).
(Intervals: approx. 30-40min)
Odaecheon Stream is a 7-min walk from the Jinbu Bus Terminal.
Event Map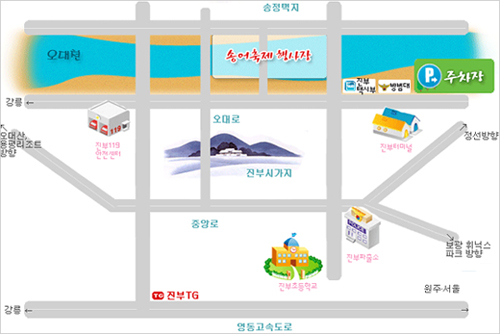 Homepage
festival700.or.kr (Korean only)