Suwon Hwaseong Cultural Festival (수원 화성문화제)
Suwon Hwaseong Cultu...

Period
09.27.2013 ~ 10.01.2013
Address
15, Sinpung-ro 23beon-gil, Paldal-gu, Suwon-si, Gyeonggi-do
경기도 수원시 팔달구 신풍로23번길 15 (신풍동)
Location
Suwon Hwaseong, Hwaseong Haenggung Palace
Telephone
• 1330 Travel Hotline: +82-2-1330 (Korean, English, Japanese, Chinese)
• For more info: Suwon Cultural Foundation +82-31-290-3562 (Korean)
Sponsors / Management
Suwon City / Suwon Cultural Center, Suwon Artistic & Cultural, Suwon Hwaseong Cultural Foundation, Suwon Hwaseong Management Foundation
Introduction
Suwon Hwaseong Cultural Festival is a landmark festivity held in the Suwon region every October in celebration of Suwon Citizen's Day.

Hwaseong Fortress (a UNESCO World Cultural Heritage), a must-see attraction throughout the year, truly comes alive during the festival period. A range of events including the Reenactment of the Royal Parade of King Jeongjo the Great (22nd ruler of the Joseon Dynasty), Jangyongyeong Guards Ceremony, Citizens' Parade, and other traditional performances are held. As an added bonus, the Hwaseong Food Culture Festival is held during the same period, allowing guests to sample traditional dishes from around the world and enjoy a full program of performances.
Programs
[Main Events]
Hwaryungjeon Jakhunui (Tea Ceremony), citizens parade, King Jeongjo's procession, opening ceremony in Haenggung Plaza, Jinchanyeon for Hyegeonggung Hong (the 60th Birthday Party for King Jeonjo's birth mother Hyegeonggung Hong), Walking Hwaseong Fortress in straw shoes, Suwoncheon strem performance, lantern festival, gallery project under the bridge, Yongyeon's dream performance, etc.

- Permanent performances: Martial arts 24Gi, Jangyongyeong guard ceremony, Traditional tightrope walk
- Hwaseong-si related Programs : Yoongneungjehyang (ancestral rites), Baeksooyeon and Hyohaeng (Filial conduct) award
- Related Programs : Food culture festival

Admission/Participation Fees
Free of charge
Additional Events
Creative markets at Suwoncheon, building Suwon Hwaseong experience, Dasan Academy, beautiful Haenggung Palace Road, Art markets on Gongbang street, Buksudong mural alley tour, etc.
Transportation
Suwon Station (Seoul Subway Line 1), Exit 6.
Cross the road, turn right, and walk 100m to the Yeokjeon Market bus stop.
Take Bus 7, 7-2 or 32-1 and get off at Hwaseong Fortress.
Walk down the street until you reach a pharmacy at the three-way intersection.
Turn right and cross the road to reach the festival site.

Event Map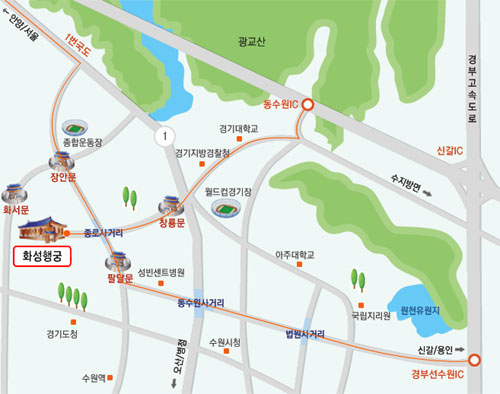 Homepage
shfes.suwon.ne.kr (Korean, English, Japanese, Chinese)