Ganghwa Icefish Festival (강화빙어축제)
Ganghwa Icefish Fest...

Period
12.27.2014 ~ 02.28.2015
Address
90, Hwangcheongpogu-ro 443beon-gil, Naega-myeon, Ganghwa-gun, Incheon
인천광역시 강화군 내가면 황청포구로443번길 90
Location
The area of Hwangcheong Fishing Site
Telephone
• 1330 Travel Hotline: +82-2-1330 (Korean, English, Japanese, Chinese)
• For more info: +82-32-933-0105

VisitKorea does not guarantee the quality of products or services introduced on its site and is not responsible for any direct or indirect losses resulting from use of said products or services.
Sponsors / Management
Incheon-si Ganghwa-gun Korea Council of Sport for All Fishing association in Ganghwa branch / Hwangcheong Fishing Site, Yongdure Village
Introduction
Organized by the Fishing Association of the Ganghwa branch of Incheon-si Korea Council of Sport for All, the Ganghwa Icefish Festival takes place at the Hangcheong Fishing Site in Hwangcheong-ri, Naega-myeon, Ganghwa-gun, Incheon.

This festival features various hands-on programs like icefish fishing, old-fashioned snow sledding, riding a bike on ice, riding a carriage on ice and food sampling.

All visitors can have a relaxing and exciting vacation at the festival with family and friends alike.
Programs
[Hwangcheong Fishing Site]
- Icefish fishing
- Ice silde
- Ice sledding
- Ice carriage
- Kicking around a jeji

[Youngdure Village]
- Kite flying
- Making rice cakes
- Migratory bird watching
Performance Times
08:00-17:00
Admission/Participation Fees
5,000 won
* Free admission for pre-school and younger
How to Particpate
On-site registration
Age Limit
Open to all visitors
Transportation
Take Bus 3000 bound for Ganghwa Terminal at Sinchon Station (Seoul Subway Line 2) Exit 4 Bus Stop.
Get off at Ganghwa Terminal Bus Stop.

[Yongdure Village]
Take Bus 37 or 38 at Ganghwa Terminal Bus Stop and get off at Jungchon Bus Stop and walk toward Yongdure Village.

[Hwangcheong Fishing Site]
Take Bus 37 or 38 at Ganghwa Terminal Bus Stop and get off at Jungchon Bus Stop and walk toward Yongdure Village. Continue walking for 910m from the bus stop and the fishing site will be located ahead.

Or, from the Ganghwa Bus Terminal, cross the road to take Bus 30, 31 or 36 and get off at Oepo Samgeori (three-way intersection) Bus Stop. From the bus stop, visitors can take a taxi to the venue.
(about 4.23 km away / about 13 min-ride)
Event Map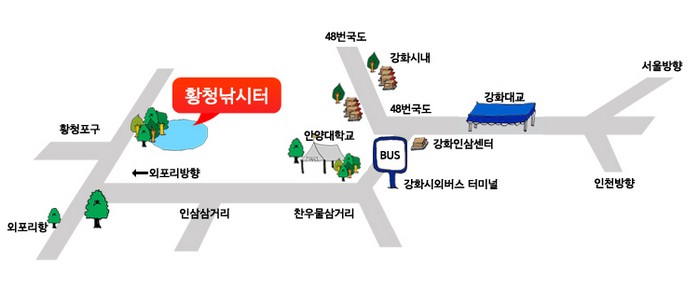 Homepage
www.hcfestival.co.kr (Korean only)
Detailed Info on the Location
www.hwangcheong.co.kr (Korean only)