Yeongju Korea Seonbi Culture Festival (영주한국선비문화축제)
Yeongju Korea Seonbi...

Period
05.20.2015 ~ 05.24.2015
Address
2740, Sobaek-ro, Sunheung-myeon, Yeongju-si, Gyeongsangbuk-do
경상북도 영주시 순흥면 소백로 2740 (순흥면)
Location
Seonbichon Village, Sosuseowon Confucian Academy
Telephone
• 1330 Travel Hotline: +82-2-1330 (Korean, English, Japanese, Chinese)
• For more info: +82-54-639-6064~5
+82-54-633-7597

VisitKorea does not guarantee the quality of products or services introduced on its site and is not responsible for any direct or indirect losses resulting from use of said products or services.
Sponsors / Management
Committee of Yeongju Seonbi Culture Festival / Yeongju-si
Introduction
The Yeongju Seonbi Culture Festival takes place from early to mid May every year at the Seonbichon Village and Korean Seonbi Culture Training Center in Sunheung-myeon, Yeongju-si.
A celebratory ribbon-cutting ceremony is held on the first day, marking the beginning of the festivities. Other activities included a calligraphy performance, Seonghaksipdo Pangakgoyje ceremony and a bibimbap performance added more fun and entertainment to the first day.
Following the opening celebration, a special parade entitled 'Shinbaram Street Parade' inspired by the ideals, spirit and patriotism of Sambong Jeong Do-Jeon (one of the major figures in Yeongju) takes place. Other festival events include Jangseong (traditional totem pole) sculpting competition, Sobaeksan Mountain Trail Hiking, Samgyetang (ginseng chicken soup) Cooking Competition, traditional wedding ceremony for multi-cultural families, Hanbok (Korean traditional costume) fashion show, writing contest, children's Seonbi exercise presentation, traditional head of the family cuisine exhibition, and a concert at an time-honored traditional house. Details on programs are subject to change for each year.
Admission/Participation Fees
Free
Transportation
From Dong Seoul Bus Terminal, take an intercity bus bound for Yeongju(영주).
* Bus schedule: 06:15-21:45, 30min intervals
From Yeongju Bus Terminal, take Bus 53 bound for Sosuseowon Confucian Academy(소수서원).
Event Map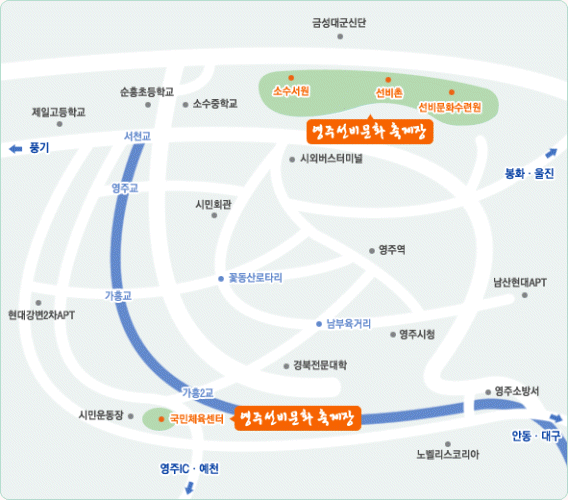 Fax
+82-54-639-6069
E-Mail
kmj9816@korea.kr
Homepage
www.seonbifestival.com
(Korean only)