Trash: Gwangju Toechon Tomato Festival (퇴촌토마토축제)
Trash: Gwangju Toech...

Period
06.19.2015 ~ 06.21.2015
Address
20, Gwangdong-ro, Toechon-myeon, Gwangju-si, Gyeonggi-do
경기도 광주시 퇴촌면 광동로 20 (퇴촌면)
Location
The district of Gwangdong-ro, Toechon-myeon
Telephone
• 1330 Travel Hotline: +82-2-1330 (Korean, English, Japanese, Chinese)
• For more info: +82-31-760-4599,
+82-31-760-4958 (Korean)

VisitKorea does not guarantee the quality of products or services introduced on its site and is not responsible for any direct or indirect losses resulting from use of said products or services.
Sponsors / Management
Toechon Tomato Festival Organizing Committee / Executive Committee
Introduction
Gwangju Toechon Tomato Festival takes place in Toechon, which has been growing tomatoes since the 1970s. In addition to programs and performances involving tomatoes, the festival will feature the famous Tomato Well-Being Food Tasting & Exhibition.
Programs
[Main Experience]
- Tomato recreation
- Tomato pool
- Tomato harvesting, etc.

[Sampling & Selling Event]
- Discounted selling of Toechon tomato
- Selling the seeds of tomato
- Selling regional excellent agricultural products, etc.

[Exhibition Event]
- Tomato exhibition
- Excellent quality of tomato tasting, etc.
Transportation
1) Gangbyeon Station (Seoul Subway Line 2), Exit 1.
Take Bus 13-2, and get off at Toechon Nonghyeop. (Travel time: 1hr 40 min)

Transfer to Bus 38-4, and get off at Jeongji 2-ri.

Walk along the alleyway to arrive at the event hall.

2) Take an express bus to (Gyeonggi-do) Gwangju Intercity Bus Terminal.

Cross the street, and go towards to the city bus stop.

Take Bus 35-21, 35-24, 35-8 or 38-4, and get off at Jeongji 2-ri.
Event Map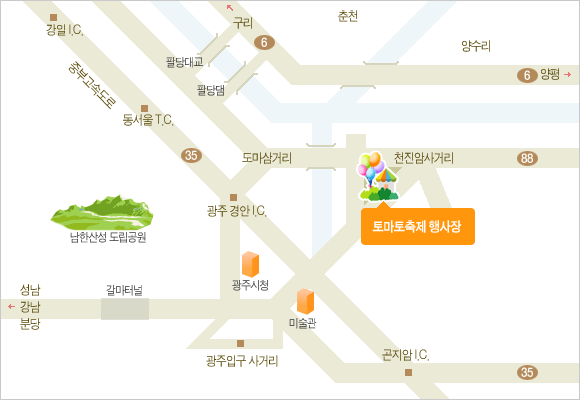 Fax
+82-31-760-2661
Homepage
tomato.gjcity.go.kr (Korean only)