Seoul Lantern Festival (서울빛초롱축제)
Seoul Lantern Festiv...

Period
11.06.2015 ~ 11.22.2015
Address
110, Sejong-daero, Jung-gu, Seoul
서울특별시 중구 세종대로 110 (태평로1가)
Location
Cheonggyecheon Plaza to Supyogyo Bridge
Telephone
• 1330 Travel Hotline: +82-2-1330 (Korean, English, Japanese, Chinese)
• For more info: +82-2-120

VisitKorea does not guarantee the quality of products or services introduced on its site and is not responsible for any direct or indirect losses resulting from use of said products or services.
Sponsors / Management
Seoul Metropolitan Government/Cultural Heritage Administration / Seoul Lantern Festival Join Promotional Committee/Seoul Tourism Organization
Introduction
Since its inception in 2009, the annual Seoul Lantern Festival has managed to put on remarkable displays of lanterns on the famous Cheonggyecheon Stream in downtown Seoul. During the festival period, hundreds of lanterns, each with a unique design and story, will be lit on Cheonggyecheon Stream.

Visitors can expect to see lanterns made by international artists, as well as local citizens.
Admission/Participation Fees
Free
Duration of Performance
Approx. 1-2 hrs
Additional Events
1. Wishing Lantern
www.visitseoul.net
2. Lantern Making contest
www.visitseoul.net
3. Flying Lantern
www.visitseoul.net
4. New Year Wishing Paper
www.visitseoul.net

Transportation
*Cheonggye Plaza/Gwanggyo/Jangtonggyo Bridge

[Subway]
Jonggak Station (Seoul Subway Line 1), Exit 4 or 5.
-Walk straight for 3 mins.

or

Euljiro 1-ga Station (Seoul Subway Line 2), Exit 2 or 3.
-Walk straight for 5 mins.

[Bus]
Blue bus: 101, 150, 163, 402, 405, 504, 506
Green bus: 1711, 7016, 7017, 7021,8000
Circular bus: 92S tour

*Samilgyo

[Subway]

Euljiro 3-ga Station (Seoul Subway Line 2, 3), Exit 1, 2, 3, or 4,
-walk straight for 10 mins.

[Bus]
Blue bus: 140, 163, 470, 471, 501, 701
Direct bus: 1150, 5000, 5005, 5007, 7900, 9001, 9003, 9300
Express bus: 8100
Red bus: M4101, M4102

*Seungyo

[Subway]
Jongno 3-ga Station (Seoul Subway Line 1, 3), Exit 12, 13 or 14,
-Walk straight for 10 mins.

Euljiro 3-ga Station (Seoul Subway Line 2, 3), Exit 1, 2, 4 or 5.
-Walk straight for 10 mins.

[Bus]
Blue bus: 163
Event Map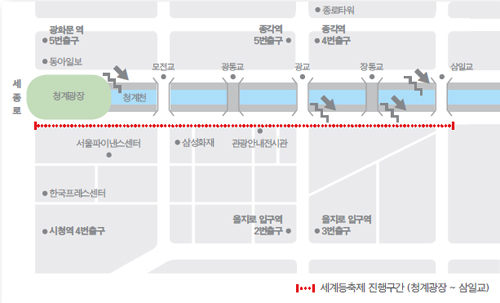 E-Mail
jylee@seoulwelcome.com
Homepage
www.seoullantern.visitseoul.net (Korean, English, Japanese, Chinese)
blog.naver.com/seoullantern (Korean only)
Detailed Info on the Location
visitseoul.net (Korean, English, Japanese, Chinese)