Grand Hyatt Seoul Ice Skating Rink (그랜드하얏트 서울 아이스링크)
Grand Hyatt Seoul Ic...

Address
322, Sowol-ro, Yongsan-gu, Seoul
서울특별시 용산구 소월로 322 (한남동)
Inquiries
• 1330 Travel Hotline: +82-2-1330 (Korean, English, Japanese, Chinese)
• For more info: +82-2-799- 8112, 8113 (Korean)
Homepage
www.grandhyattseoul.co.kr
(Korean, English, Japanese)

VisitKorea does not guarantee the quality of products or services introduced on its site and is not responsible for any direct or indirect losses resulting from use of said products or services.
Introduction
The Grand Hyatt Hotel's beautiful ice skating rink has been featured in a number of Korean TV commercials and dramas. It's particularly popular with couples as the rink's gorgeous lights, night view of the city, and smooth music make it very romantic.

The Grand Hyatt Hotel holds several events:

* Mondays - 50% off couple admissions and skate rentals
* Tuesdays - Free skate rentals from 5:00pm to 9:00pm
* Wednesdays - Free polaroid picture and a rose for couples
* Thursdays - Free ice skating all day long
* Fridays - Proposal event (other additional fees may apply)
Opening Date
Decembe 22, 2012 - January 27, 2013
Operating Hours
 Weekdays(Mon~Thurs) 12:00pm ∼ 9:00pm
 Weekend (Fri ∼ Sun) and Holidays 10:00am ∼ 10:00pm 
Administration
+82-2-799-8113
Maximum Occupancy
150 guests
Main Facilities
Snack bar
Rental Fees
Admission - Weekdays 19,800 won / Weekend 24,200 won
Rental fee - 15,400 won
Discount Information
Monday: Free admission and 50% off skate rental for couples
Tuesday: Free rental skates from 17:00-21:00
Wednesday: Two free hot chocolate drinks for couples
Thursday: Unlimited skating all day
Directions
To get there, take subway line 6 to Noksapyeong station exit #1, cross the road at the crosswalk and take bus #3 to the Grand Hyatt Hotel bus stop. You may also take bus #402 from Seoul station to the Grand Hyatt Hotel bus stop.
Map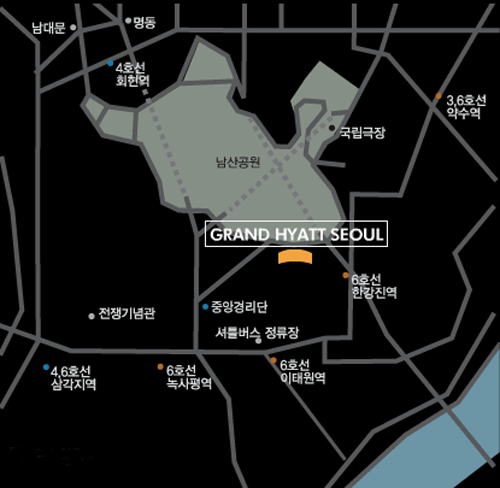 Related Tour Packages
Data not found